The Lonely Polygamist: A Novel (Hardcover)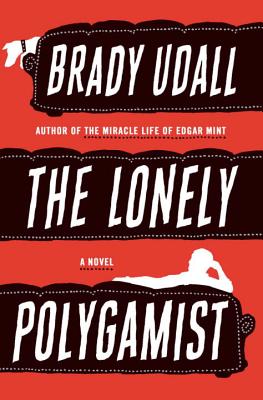 $26.95

Special Order - Subject to Availability
Staff Reviews
---
Brilliant! Each chapter of this first novel is written from the viewpoint of a different teen attending an end of school year party. There is the cool kid, the wallflower, the athlete and the rest, and each chapter continues and expands the story, by not only giving you one characters' personal experience, but their view of their peers.
—
Cindy
May 2010 Indie Next List
---
"The Lonely Polygamist is the story of 45-year-old Golden Richards, a hapless soul, whose four wives, 28 children, and one paramour run his life. By turns laugh-out-loud funny and hauntingly sad, this novel is a big, fat, satisfying read that will make you reconsider what it means to be part of a family. Plus, it contains the naughtiest, goofiest 11-year-old boy who will ever break your heart."
— Roberta Dyer, Broadway Books, Portland, OR
Description
---
From a luminous storyteller, a highly anticipated new novel about the American family writ large.
Golden Richards, husband to four wives, father to twenty-eight children, is having the mother of all midlife crises. His construction business is failing, his family has grown into an overpopulated mini-dukedom beset with insurrection and rivalry, and he is done in with grief: due to the accidental death of a daughter and the stillbirth of a son, he has come to doubt the capacity of his own heart. Brady Udall, one of our finest American fiction writers, tells a tragicomic story of a deeply faithful man who, crippled by grief and the demands of work and family, becomes entangled in an affair that threatens to destroy his family's future. Like John Irving and Richard Yates, Udall creates characters that engage us to the fullest as they grapple with the nature of need, love, and belonging.
Beautifully written, keenly observed, and ultimately redemptive,
The Lonely Polygamist
is an unforgettable story of an American family—with its inevitable dysfunctionality, heartbreak, and comedy—pushed to its outer limits.
About the Author
---
Brady Udall is the author of New York Times bestseller The Lonely Polygamist, The Miracle Life of Edgar Mint, and Letting Loose the Hounds. He teaches at Boise State University and lives in Boise, Idaho, with his wife and children.
Praise For…
---
[An] exceptional tale of an exceptional family.
— The New York Times Book Review

The novel you must read this summer.... a riveting emotional tornado of a novel.
— Entertainment Weekly

Starred Review: A superb performance . . . Udall's polished storytelling and sterling cast of perfectly realized and flawed characters make this a serious contender for Great American Novel status.
— Publishers Weekly

Starred Review: Lovers of good writing will find this a pleasure, period.
— Kirkus Reviews

Starred Review: Udall observes with a keen eye for the ridiculous while showing compassion. Enthusiastically recommended.
— Library Journal

There's something cinematic about the way Udall presents this tale, with at least a handful of dramatic scenes that seem to beg for a big-screen treatment. Furthermore, Udall's poetic rendering of the Southwestern landscape brings to mind the lingering, panoramic shots of films like Brokeback Mountain and A River Runs Through It. But most of all it's Golden, Rusty and the novel's other complex characters that make The Lonely Polygamist a potential classic. They remain with the reader after the last page is turned.

— San Francisco Chronicle

The Lonely Polygamist is both an astounding feat and a sumptuous feast. This is the Second Coming of the Great American Novel. Or is it the Third? Who's counting? Read this brilliant book.

— Rabih Alameddine, author of The Hakawati

A profoundly satisfying read, written with a ferocious verve and authenticity.
— Cleveland Plain Dealer

Uproarious . . . Udall's storytelling [displays] ease and humor.
— Philadelphia Inquirer

An absorbing, moving entertaining novel that will transport the reader into Golden's chaotic world.
— Dallas Morning News

I don't know how true to life this story may be. But it feels right, and it reads beautifully and often hilariously, and I liked it an awful lot.
— Portland Oregonian

A brilliantly crafted mini-epic that is at turns hilarious, terrifying, and heartbreaking . . . Cinematic . . . A potential classic.
— Associated Press

Entertaining . . . very moving . . . Impressive.
— Chicago Tribune

If you're looking for a big, funny, moving novel to read this spring, look no farther.
— New West

A rich, poignant look at a family whose lifestyle may seem absolutely aberrant, but for whom life's issues are wholeheartedly normal.
— Boise Weekly

One of the best novels I've read in a while . . . Golden Richards, middle-aged, 6-foot-6 polygamist with an overbite, is one of the most appealing, original, and brilliantly tragicomic protagonists to appear in American fiction in some time.
— Newsday

Terrifically thought-provoking . . . a constantly shifting but marvelously controlled story.
— Bookreporter.com

[A] compelling, rollicking story.
— Salt Lake Tribune

The Lonely Polygamist is a great American novel, perhaps the great American novel of the year.

— BookPage

How often does The Great American Novel truly come along?
— Sexy Prime

What is so great about this unflinching, superbly crafted, big hearted novel is the way it makes us recognize the polygamist(and sister wife) in all of us. Golden Richards' struggles and desires are no different from ours, he just has them in multiples of four. His story not only demystifies and humanizes polygamist culture, it takes a dramatic stand on behalf of families everywhere—from the most conservative to the most alternative—and suggests a way to foreground, amidst all our failings, the rare moment of success.
— Pam Houston, author of Cowboys Are My Weakness

The Lonely Polygamist is a hefty, eager, and bittersweet novel, and it is a page-turner. Brady Udall deals with familial chaos, reckless behavior, and alarming pyrotechnics with wit, grace, and tenderness. He's an enchanter who casts his spell with exquisite sentences and unerring, evocative details. Here is a writer of inordinate compassion and formidable intelligence. Read this remarkable novel, friend, live with it, and I promise you this, little Rusty Richards will haunt your dreams.

— John Dufresne, author of Love Warps the Mind a Little

The Lonely Polygamist cracks open the door to plural marriage and lets in the light. Brady Udall explores the Richards family with the greatest care and humor, building memorable characters that readers will immediately love. Funny and wise, The Lonely Polygamist stands with other great family novels such as The Corrections and Middlesex, and sets Udall on the top shelf of America's writers.

— Hannah Tinti, author of The Good Thief and Animal Crackers

This is big-hearted American storytelling, the best new book I've read in years.
— Bonnie Jo Campbell, author of American Salvage