Introducing the Ancient Greeks: From Bronze Age Seafarers to Navigators of the Western Mind (Hardcover)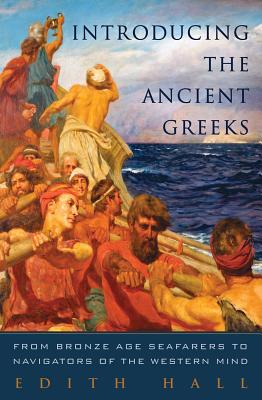 $26.95

Special Order - Subject to Availability
Description
---
What made the Greeks unique in their time and why their influence lives on today.
The ancient Greeks invented democracy, theater, rational science, and philosophy. They built the Parthenon and the Library of Alexandria. They wrote down the timeless myths of Odysseus and Oedipus, and the histories of Leonidas's three hundred Spartans and Alexander the Great. But understanding these uniquely influential people has been hampered by their diffusion across the entire Mediterranean. Most ancient Greeks did not live in what is now Greece but in settlements scattered across Turkey, Syria, Egypt, Libya, France, Italy, Bulgaria, Russia, and Ukraine. They never formed a single unified social or political entity. Acclaimed classics scholar Edith Hall's
Introducing the Ancient Greeks
is the first book to offer a synthesis of the entire ancient Greek experience, from the rise of the Mycenaean kingdoms of the sixteenth century BC to the final victory of Christianity over paganism in AD 391.
Each of the ten chapters visits a different Greek community at a different moment during the twenty centuries of ancient Greek history. In the process, the book makes a powerful original argument: A cluster of unique qualities made the Greeks special and made them the right people, at the right time, to take up the baton of human progress. According to Herodotus, the father of history, what made all Greeks identifiably Greek was their common descent from the same heroes, the way they sacrificed to their gods, their rules of decent behavior, and their beautiful language. Edith Hall argues, however, that their mind-set was just as important as their awe-inspiring achievements. They were rebellious, individualistic, inquisitive, open-minded, witty, rivalrous, admiring of excellence, articulate, and addicted to pleasure. But most important was their continuing identity as mariners, the restless seagoing lifestyle that brought them into contact with ethnically diverse peoples in countless new settlements, and the constant stimulus to technological innovation provided by their intense relationship with the sea.
Expertly researched and elegantly told, Introducing the Ancient Greeks is an indispensable contribution to our understanding of the Greeks.
About the Author
---
Edith Hall is one of Britain's foremost classicists, having held posts at the universities of Cambridge, Durham, Reading, and Oxford. She is the author and editor of more than a dozen works and now teaches at King's College London.
Praise For…
---
In Edith Hall's new and groundbreaking study of ancient Greek culture, society, and mentality over a millennium and more, from Agamemnon to Constantine, theater takes its due place among the Greeks' manifold memorable and pioneering achievements. Professor Hall acutely identifies and brilliantly explores ten defining qualities that together explain why we simply cannot do without the ancient Greeks.
— Paul Cartledge, A. G. Leventis Professor of Greek Culture, University of Cambridge, and the author of The Greeks: A Portrait of Self and Others

Edith Hall's characteristically original approach to the world of classical antiquity is on full display in this introductory survey of the ancient Greeks and their enduring accomplishments. Covering such disparate topics as the love of seafaring, a passion for excellence, suspicion of authority, addiction to speech and rhetoric, a zest for wit and polish, and an enduring search for beauty (to name only a few), Hall will accompany the reader on a voyage of both pleasure and discovery.
— Froma Zeitlin, Ewing Professor of Greek Language and Literature, emerita, Princeton University

What accounts for the glory that was Greece? In this vivacious and learned book, Edith Hall distills the essence of Hellenic culture to discover the secrets of its success and stamina. Filled with striking anecdotes and little-known facts, this book will delight any student of the ancient Greek world.
— Adrienne Mayor, Stanford University, author of The Poison King

A superb introduction, informative and inspiring. With deep expertise and unabashed enthusiasm, Edith Hall surveys the whole history of the ancient Greeks and pinpoints the shared traits that explain their enduring achievements.
— Sheila Murnaghan, professor of classics studies and Alfred Reginald Allen Memorial Professor of Greek at the University of Pennsylvania

Penetrating and acute.
— James Romm - James Romm

A hearty, delightful voyage through 2,000 years of Greek history, written with wit and verve and deep insight.
— Mark Gamin - Cleveland.com