The Throwback Special: A Novel (Hardcover)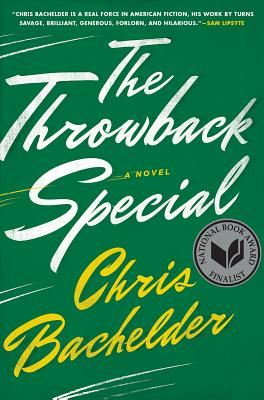 Staff Reviews
---
Ostensibly, this is a book about a group of 40-year-old men reenacting a 1985 football play. What it's really about is male brotherhood and ritual. Whether it's the urinal decision (which one to choose when two out of five are occupied), the joys of all-you-can-eat breakfast, or unspoken muscle envy....if you're a guy, you are going to recognize yourself (or someone you know) in these pages. And if you are a woman, this book may just provide a window into the unfathomable male mind...(or at least, help explain that glazed over look the next time you are at dinner). There is a lot of truth and heart here. A helpful hint....don't worry too much about all the different personalities. There are 22 men in a 200 page book. You will drive yourself crazy trying to remember all the names and miss out on the fun. Rather, just enjoy all the manliness and let the narrative unfold.
—
Walt
Description
---
2016 National Book Award Finalist in Fiction

Winner of the Paris Review's 2016 Terry Southern Prize for Humor



A slyly profound and startlingly original novel about the psyche of the American male, The Throwback Special marks the return of one of the most acclaimed literary voices of his generation.
Here is the absorbing story of twenty-two men who gather every fall to painstakingly reenact what ESPN called "the most shocking play in NFL history" and the Washington Redskins dubbed the "Throwback Special": the November 1985 play in which the Redskins' Joe Theismann had his leg horribly broken by Lawrence Taylor of the New York Giants live on Monday Night Football.
With wit and great empathy, Chris Bachelder introduces us to Charles, a psychologist whose expertise is in high demand; George, a garrulous public librarian; Fat Michael, envied and despised by the others for being exquisitely fit; Jeff, a recently divorced man who has become a theorist of marriage; and many more. Over the course of a weekend, the men reveal their secret hopes, fears, and passions as they choose roles, spend a long night of the soul preparing for the play, and finally enact their bizarre ritual for what may be the last time. Along the way, mishaps, misunderstandings, and grievances pile up, and the comforting traditions holding the group together threaten to give way.
The Throwback Special is a moving and comic tale filled with pitch-perfect observations about manhood, marriage, middle age, and the rituals we all enact as part of being alive.
About the Author
---
Chris Bachelder is the author of Bear v. Shark, U.S.!, Abbott Awaits, and The Throwback Special and his writing has appeared in McSweeney's and The Paris Review. He lives in Cincinnati, where he teaches at the University of Cincinnati.
Praise For…
---
Wistful and elegantly written…The Throwback Special conjures the rewarding melancholy of Richard Ford's Frank Bascombe novels

— John Williams - New York Times Book Review

Powerful, intelligent, and entertaining. . . . Chris Bachelder works a kind of poignant comedic magic, expertly locating and drawing out central truths about life.
— Drew Nellins Smith - Los Angeles Times Book Review

A gem . . . Bachelder's 'football' novel is an eerie, witty work dissecting a modern-day sacrificial ritual.
— Matt Seidel - The Millions

The Throwback Special is 2016's first Great Book. . . . A hilariously sorrowful rendering of American masculinity and a wise, patient examination of American culture.

— Weston Cutter - Minneapolis Star Tribune

A comic meditation about marriage, ritual, friendship, parenthood, aging, and unlikely obsessions, The Throwback Special is a funny, insightful, and surprisingly poignant book.

— Julie Schumacher, bestselling author of Dear Committee Members

[A] comic dissection of male bonding. . . . Sharply observed and sympathetic and funny enough to win over even those readers who abhor football and its fans.
— Kirkus Reviews (starred review)

Bachelder reveals the magic of professional sport spectating, the silliness and profundity of traditions, and the tender illogic of friendship. . . . There is absolutely something for everyone (even the sports-averse) in this rollicking, irreverent but sweet human drama.
— Julia Jenkins - Shelf Awareness (starred review)

[A] wryly amusing rumination on manhood and male bonding. . . . Filled with subtle humor and incisive insights, Bachelder's novel will resonate with anyone who has pondered the game of life.
— Publishers Weekly
Coverage from NPR