Wedding Toasts I'll Never Give (Hardcover)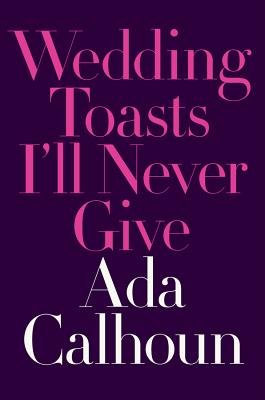 $24.95

Special Order - Subject to Availability
Staff Reviews
---
To be completely honest, I picked this book up on a whim because I liked the color scheme of the cover. I'm not married, I don't particularly enjoy weddings, and the only toast I'm interested in is the bread kind. But I read Wedding Toasts I'll Never Give in one sitting! Because it's not just about weddings, it's about how to be and how other people are. I felt like I was given a no-holds-barred glimpse into someone's life and I was fascinated. Plus, Ada Calhoun is a clever, succinct writer and reading her words was a pleasure. Read this book and give it to others (maybe with a piece of toast, just a suggestion), make them read it too!
—
Lauren
Description
---
Inspired by her viral New York Times "Modern Love" essay "The Wedding Toast I'll Never Give", Ada Calhoun's memoir is a witty, poignant exploration of the beautiful complexity of marriage.
We hear plenty about whether or not to get married, but much less about what it takes to stay married. Clichés around marriage—eternal bliss, domestic harmony, soul mates—leave out the real stuff. After marriage you may still want to sleep with other people. Sometimes your partner will bore the hell out of you. And when stuck paying for your spouse's mistakes, you might miss being single.
In Wedding Toasts I'll Never Give, Ada Calhoun presents an unflinching but also loving portrait of her own marriage, opening a long-overdue conversation about the institution as it truly is: not the happy ending of a love story or a relic doomed by high divorce rates, but the beginning of a challenging new chapter of which "the first twenty years are the hardest."
Calhoun's funny, poignant personal essays explore the bedrooms of modern coupledom for a nuanced discussion of infidelity, existential anxiety, and the many other obstacles to staying together. Both realistic and openhearted, Wedding Toasts I'll Never Give offers a refreshing new way to think about marriage as a brave, tough, creative decision to stay with another person for the rest of your life. "What a burden," Calhoun calls marriage, "and what a gift."
About the Author
---
Ada Calhoun has written for the New York Times, New York magazine, and the New York Post. Her book St. Marks Is Dead was named a New York Times Editors' Choice and a Boston Globe Best Book of the Year.
Praise For…
---
One of the 10 best memoirs of 2017 . . . This frank collection meditates on marriage as an ever-evolving thing, one full of failure and triumph and lots of change, tackling the whimsical idea of soulmates and "the boring parts" of being partnered up. A hilarious relief from the 'happily ever after' narrative.
— W Magazine

Ada Calhoun is the friend we all need—the one who lets us behind the curtain of her good marriage to help us better understand our own. She's smart, funny, and, best of all, willing to bare all.
— Emma Straub, New York Times best-selling author of Modern Lovers

By turns hilariously candid, thought-provoking, and romantic, Wedding Toasts I'll Never Give gave me a richer view of the joys and challenges of marriage—especially my own marriage.

— Gretchen Rubin, New York Times best-selling author of The Happiness Project

Ada Calhoun has written the definitive meditation on marriage in all of its mystery and imperfection. It should be required reading for anyone considering it, and highly recommended for those who want to be reminded of why they did it in the first place.
— Molly Ringwald

Extremely funny and deeply insightful. With its generous spirit and breathtaking honesty, Ada Calhoun's instruction manual of a book recalls another all-time favorite, Anne Lamott's classic Bird by Bird. This slim volume is brimming with practical advice and should be mandatory reading for married people and anyone who's contemplated taking the leap.

— Davy Rothbart, author of My Heart Is an Idiot

A warm, tart, corrective to the persistent conviction that a wedding is the neat end of a love story.
— Rebecca Traister, New York Times best-selling author of All the Single Ladies

Brutally honest, hilarious and unsentimental—but never unkind—this is a book for anyone who has ever had a thought (good or bad) about the institution of marriage. I devoured this gem in one sitting. I want to marry this book.
— Susannah Cahalan, New York Times best-selling author of Brain on Fire

What a witty, sexy, surprising testimony to the institution of marriage! It's the best essay collection I've read in a long time, just astoundingly honest and insightful about what marriage really means. And I say that as someone who has been married 20 years.
— Karen Abbott, New York Times best-selling author of Sin in the Second City

[Calhoun's] witty, enthusiastic, emotional, and hard-headed reflections ought to be required reading for anyone entering, experiencing, leaving or avoiding marriage.
— Jonathan Sale - Guardian

By turns funny, melancholy, and profound. A thoughtful read of the monogamous, non-monogamous, and every relationship iteration in between.
— New York Magazine

A lighthearted approach to the toils and snares of marriage…. [O]riginal, engrossing.
— Heather Havrilesky - New York Times Book Review

[A] lovely meditation on what it means to be married and faithful in this age…. I just felt a lot of affection for this book.
— John Williams - New York Times Book Review Podcast

Raise a glass to these reality-check essays that are equal parts ode to marriage… and sly acknowledgment of its challenges.
— O Magazine, "10 Titles to Pick Up Now"

A fine gift to tuck between negligees and garter belts at the more literary bride's shower....[Calhoun's] wry, likable voice is at its Ephronesque best.
— Lisa Zeidner - Washington Post

You really need to read this book.
— Wayne Alan Brenner - Austin Chronicle

Raw and relatable.
— Jill Sieracki - Brides

Wedding Toasts I'll Never Give does away with the fabled 'happily ever after'… This isn't a manifesto against the institution; rather, Calhoun shows how challenging yet rewarding it can be.

— Stephanie Topacio Long - Bustle, Best Nonfiction Books of the Month