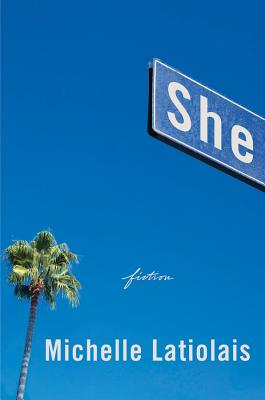 Staff Reviews
---
"She" is incredible. It begins with a teenage girl, hiding on a bus with a backpack of her meager possessions, smudging her white Keds on her way to someplace better. She ends up in L.A. and the stories that follow alternate between her (self-possessed, afraid but hopeful) and the people she encounters (lost, broken, strange). I couldn't put it down, I kept telling myself I was just going to read ONE more story and then I'd get sucked in. I'd recommend this collection to anyone looking for that oh-so-rare combination: a good writer who is also a good storyteller!
—
Lauren
Description
---
"Latiolais is as close to Alice Munro as a writer can get, but with a more modern edge."—Los Angeles Times
A nameless fifteen-year-old runs away to Los Angeles, seeking life beyond the harsh constraints of her evangelical upbringing. She is the narrative of her passage, from her escape on a bus through her quiet, determined progress across the city's unforgiving terrain. The journey takes her into and around the lives of Angelinos from all walks: a dancer whose hyperactive sense of smell makes her fiance's presence insufferable; a penniless botanist who earns her keep creating sugar-icing flowers to decorate glamorous wedding cakes she can never afford; a dentist lamenting the abuses done to the teeth of a patient for whom he has cared dutifully. Her odd encounters, set against the backdrop of Los Angeles's flagrant wealth, cast into relief its eccentricities and the everyday trials faced by its collection of lost souls. Together these stories reflect and refract one another, illuminating a poignant, unflinching portrait of loss and the search for identity in its wake.
About the Author
---
Michelle Latiolais, the author of the short story collection Widow and the novels A Proper Knowledge and Even Now, is an English professor and codirector of the Programs in Writing at the University of California at Irvine.
Praise For…
---
Stylishly emblematic....What unites the characters is an openness to the workings of serendipity and a yearning for transformation.
— Sam Sacks - The Wall Street Journal

Remarkable.
— Vanity Fair

[Latiolais is a] writer of delving insight and exhilarating exactitude in the mode of Lucia Berlin and Amy Hempel….Entrancing and rigorous, arch and jolting, Latiolais' concentrated and astute dramas illuminate loneliness, womanhood, and the quest for meaning.
— Booklist

The underappreciated master of short- and long-form fiction brilliantly combines the two in She…with haunting portraits of women trying to survive in a ruthless world.

— O Magazine

A brilliantly unconsoling work of fiction…. She asks for readers' intelligent involvement with painful emotion presented with rare clarity and honesty. As a writer, Michelle Latiolais runs risks that would cause lesser writers to quake in their boots. She writes with the authority of profound loss profoundly confronted. In its wild originality, She transforms our sense of how deeply a short-story collection can move us.

— Elizabeth Tallent

It is intense and beautiful, following Michelle Latiolais's characters through her sun-drenched, ruthless Los Angeles, these women and girls always seemingly on the verge of disappearing, becoming nameless ghosts, yet tough, elemental, persevering, even though hope is as fragile as flowers made of sugar, and its sweetness always possibly the delusion of wishful thinking. These stories are as compassionate as they are unsentimental.
— Paul Harding, Pulitzer Prize–winning author of Tinkers

In this unnervingly candid and heartfelt collection, Michelle Latiolais reveals her fierce understanding of hope and its adversaries; the astonishing precision of her prose offers us a powerful mosaic which is lush and exact and utterly original. The stories are written from deep within these lives, each woman reaching for solace in the random meanness of our American moment, and the stories are woven into a young girl's journey in a way that doubles, then triples the voltage. This is a remarkable and affecting book.
— Ron Carlson, author of The Signal

She startled me. It's been a long time since I've read a work that so captures the contradictions of Los Angeles, a seemingly beautiful and mild place that is so filled with ugliness and harshness, a city that people love to hate while they flock to it. The language, the structure, the conception of this book artfully paint the place and the people. I wish I could have written this, but I am neither as funny nor as smart at Michelle Latiolais.

— Percival Everett