Sweet Lamb of Heaven: A Novel (Hardcover)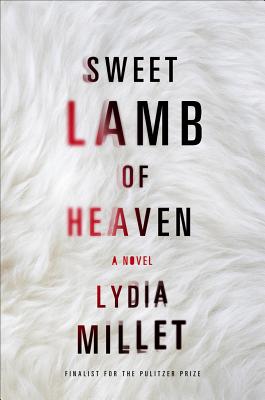 $25.95

Special Order - Subject to Availability
Staff Reviews
---
What do you do when you hear the voice of God and don't believe? Lots of research and a good support group helps, and Anna has the best. She's fled from her home in Alaska with her daughter to coastal Maine, trying to escape her increasingly sociopathic husband who's just launched a campaign for political office. Hiding out in a cheap motel, she's beginning to realize it wasn't such happenstance that brought her there like she thought. Like the other guests, it seems as if she was drawn here by something. Was it that voice? And if it's not God, then what is it? Not to be confused with a hokey spiritual romp, this thriller is haunted with a sense of the apocalyptic that will keep you flipping pages until it's over.
—
Jeremy
Description
---
Longlisted for the National Book Award for Fiction
A Washington Post Best Book of 2016
A New York Best Book of 2016
A Kirkus Best Book of 2016
Lydia Millet's chilling new novel is the first-person account of a young mother, Anna, escaping her cold and unfaithful husband, a businessman who's just launched his first campaign for political office. When Ned chases Anna and their six-year-old daughter from Alaska to Maine, the two go into hiding in a run-down motel on the coast. But the longer they stay, the less the guests in the dingy motel look like typical tourists—and the less Ned resembles a typical candidate. As his pursuit of Anna and their child moves from threatening to criminal, Ned begins to alter his wife's world in ways she never could have imagined.
A double-edged and satisfying story with a strong female protagonist, a thrilling plot, and a creeping sense of the apocalyptic, Sweet Lamb of Heaven builds to a shattering ending with profound implications for its characters—and for all of us.
About the Author
---
Lydia Millet has won awards from PEN Center USA and the American Academy of Arts and Letters, and her books have been finalists for the Pulitzer Prize, the National Book Award, the National Book Critics Circle Award, and the Los Angeles Times Book Prize. She lives outside Tucson, Arizona.
Praise For…
---
Sweet Lamb of Heaven confounded me, delightfully so…I have little patience with literary novels that claim to have the propulsive momentum of a thriller, yet Millet pulls it off…It is Anna's voice—cool, intelligent, passionate, contradictory—that makes this novel so affecting…[H]ow I missed it when it was gone, how I yearned for it to speak to me again.

— Laura Lippman - New York Times Book Review

[W]e have a real thriller on our hands…part of a higher-stakes game being played by Millet, one that will ultimately, unabashedly touch on time, beauty, horror, God, demons and the very nature of being. By novel's end…the stakes have been raised through the roof.
— Laird Hunt - Los Angeles Times

[A]n extraordinary metaphysical thriller from one of America's most inventive novelists.
— Laura Miller - Slate

A rare pleasure to read… Millet's fine prose [is] as rich with fresh imagery as it is open-minded to life's hidden possibilities.
— Matthew Gilbert - The Boston Globe

Lydia Millet is not as popular as she should be. This novel will change that…Her ambitious new novel, Sweet Lamb of Heaven, is part fast-paced thriller, part quiet meditation on the nature of God.

— Lisa Zeidner - Washington Post

[O]nce it gets its hooks into you, it doesn't let go.
— John Warner - Chicago Tribune

Millet's prose is stunning…you'll have a hard time putting this down.
— Isabella Biedenharn - Entertainment Weekly

Millet's sense of pacing is acute and her prose is glittering and exact.
— New Yorker

[A] hypnotic novel of psychological and philosophical suspense.
— O Magazine

[A]ddictive, unsettling… sneaks in some high-minded themes (the nature of reality, the fragility of human connection) without distracting one iota from the suspense. A winner.
— People

[A] novel so eerie, so chilling and provocative, that you might find yourself rethinking everything you thought you knew about language, belief, and where our human race might be going.
— Caroline Leavitt - San Francisco Chronicle

[P]repare to be surprised by more than plot twists. . . . the Pulitzer finalist's philosophical fireworks add layers of energy and mystery.
— Boris Katchka - Vulture

We didn't know we needed a metaphysical thriller, but here Millet is with a fine one… A feat of genre-breaking.
— Mark Athitakis - Minneapolis Star Tribune

Millet evinces a rare capacity to surprise and fascinate readers… Unpredictable in the best sense, Millet's eye-opening stories and conceptions are irresistibly interesting. This may be her most beguiling and accessible creation yet.
— David Wright - The Seattle Times

A peculiar, stirring thriller. . . . Millet has a knack for planting plainspoken, world-weary narrators in otherworldly circumstances, and Anna is one of her sharpest, most intriguingly philosophical creations.
— Kirkus Reviews

Millet weaves a satisfying cat and mouse game… Her novel reads like top-notch psychological suspense…This is a page-turner from a very talented writer, and the result is a crowd-pleaser.
— Publishers Weekly

Operating, as always, on multiple levels with artistic panache, emotional precision, and profound intent, Millet transforms a violent family conflict into a war of cosmic proportions over nothing less than life itself.
— Donna Seaman - Booklist