Death Is Not an Option: Stories (Paperback)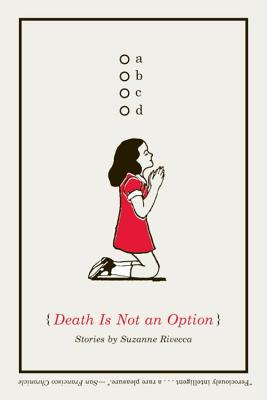 $19.95

Not Available In-Store - Usually Ships from Warehouse in 1-5 Days
Staff Reviews
---
This may be the first time you've heard of Suzanne Rivecca, but it will not be the last. Take note of the Lorrie Moore quote on the front cover, and the Jim Shepard quote on the back—two masters of the short story are blurbing her first book! In Death is Not an Option, Rivecca demonstrates a deep understanding of human beings when facing major turning points in their lives. In one story, a woman confronting a stalker is forced to examine her own dishonest past. In another, a first-year teacher struggles with confronting parents she suspects of child abuse, only to have the most unlikely resolution when she visits their home. In each story you will experience moments of sharp recognition; I was especially moved by her depiction of adolescent girls at camp (did I really act like that?!). I urge you to check out these stories by a rising literary talent!
—
Sarah B.
Description
---
"Ruthlessly frank. . . . Recalls Holden Caulfield by way of John Hughes."—The New York Times Book Review (Editors' Choice)
In these stories, a teacher obsesses over a student who comes to class with scratch marks on his face; a Catholic girl graduating high school finds a warped kind of redemption in her school's contrived class rituals; and a woman looking to rent a house is sucked into a strangely inappropriate correspondence with one of the landlords. These are just a few of the powerful plotlines in Suzanne Rivecca's gorgeously wrought collection. From a college student who adopts a false hippie persona to find love, to a young memoirist who bumps up against a sexually obsessed fan, the characters in these fiercely original tales grapple with what it means to be honest with themselves and the world.
These stories explode "with piercing insight . . . illuminating the dangerous dance between victims and saviors. [They] deliver us to the edge of grief, that precarious place where the moral compass spins—where codes of love and law and religion fail. Mercy here depends on a tiger's sublime grace, our capacity to resist deeper harm, and the right of every broken being to remain silent" (Melanie Rae Thon).
About the Author
---
Suzanne Rivecca's fiction has appeared in Best New American Voices 2009, among other publications. A winner of the Pushcart Prize and a former Wallace Stegner Fellow at Stanford University, she lives in San Francisco.
Praise For…
---
Refreshing tales, laced with bitter humor and '90s pop- culture references.
— Elle

Ferociously intelligent. . . . Rivecca populates her stories with imperfect, acutely drawn characters, which is a rare pleasure, simply because her approximations are so believable.
— San Francisco Chronicle

[Rivecca's] talent allows her to impressively flex the muscle of fiction, making us keep our attention where it belongs—on these bracing stories promising a fine career.
— NPR

Recalls early Gaitskill in its stark depiction of girls who lost their innocence long before they knew it was theirs to lose.
— Vogue

These sizzling coming-of-age stories are served on a plate of shattered glass, with a side of lacerating humor. Rivecca's audacious narrators—all ask the question, What am I doing here? The answers in this gutsy, heart- rattling debut collection are deliciously complicated and always unexpected.
— Pam Houston - More

I was astonished and transported by the stories in this collection which are simultaneously hilariously funny and sharply, sometimes painfully, perceptive. I stayed up reading them late into the night because I did not want to put them down and I thought about them for a long time after I finished the last one. I think about them still.
— Emily Mitchell, author of The Last Summer of the World

With exquisite patience and piercing insight, Suzanne Rivecca illuminates the dangerous dance between victims and saviors. Death Is Not an Option delivers us to the edge of grief, that precarious place where the moral compass spins—where codes of love and law and religion fail.  Mercy here depends on a tiger's sublime grace, our capacity to resist deeper harm, and the right of every broken being to remain silent.

— Melanie Rae Thon, author of Sweet Hearts and First, Body

The intensity of thought and feeling in Suzanne Rivecca's stories is remarkable.... The stories are brilliant, funny, and scary. This book is a major achievement.
— Charles Baxter, author of The Soul Thief and The Feast of Love

Suzanne Rivecca is a wonderfully lively and fearless new writer. I greatly admired the stories in Death Is Not an Option.

— Lorrie Moore, author of A Gate at the Stairs and Birds of America