Sweet Heaven When I Die: Faith, Faithlessness, and the Country In Between (Paperback)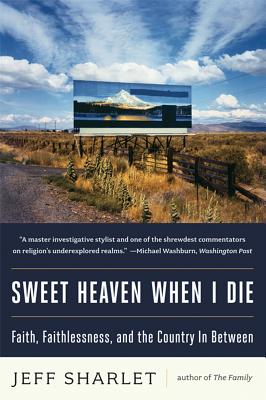 $15.95

Special Order - Subject to Availability
Staff Reviews
---
You may remember Jeff Sharlet from his last book, The Family, an expose about a shady religious group that wields tremendous influence in Washington, D.C. In his latest, Sharlet takes on a similar topic — faith in America. Sweet Heaven When I Die is a collection of essays based on Sharlet's experiences exploring faith and culture around the country, and he writes with surprising earnestness about groups ranging from born-again Christian teens to a New Age New York ex-lawyer. With each group Sharlet exposes the faults and strengths of its beliefs, without demeaning the individuals involved, making for an interesting, moving read. - Sarah B.
— From
Social Sciences (page 1)
Description
---
"A master investigative stylist and one of the shrewdest commentators on religion's underexplored realms."—Michael Washburn, Washington Post
In this gorgeous collection of essays that has drawn comparisons to the work of Joan Didion, John McPhee, and Norman Mailer, best-selling author Jeff Sharlet reports back from the far reaches of belief, whether in the clear mountain air of "Sweet Fuck All, Colorado" or in a midnight congregation of anarchists celebrating a victory over police. Like movements in a complex piece of music, Sharlet's dispatches vibrate with all the madness and beauty, the melancholy and aspirations for transcendence, of American life.
About the Author
---
Jeff Sharlet is a contributing editor for Vanity Fair and best-selling author or editor of seven books, including The Family, adapted into a Netflix documentary series. He is the winner of the National Magazine Award for Reporting, the Molly Ivins Prize, and the Outspoken Award, among other honors. He is the Frederick Sessions Beebe '35 Professor in the Art of Writing at Dartmouth College and lives in Vermont.
Praise For…
---
Brilliant portraits of faith, despair and the fictions that keep people going. . . . [Sharlet's] often-elegiac prose rumbles with

the fierce rhythms of the blues.

— Seven Days

The book belongs to the tradition of long-form, narrative journalism best exemplified by writers such as Joan Didion, John McPhee, Norman Mailer and Sharlet's contemporary David Samuels. Sharlet deserves a place alongside such masters, for he has emerged as a master investigative stylist and one of the shrewdest commentators on religion's underexplored realms.
— Michael Washburn - The Washington Post

For Sharlet, the story of American religion is not a polarized one of fundamentalists vs. secularists. It's a vast landscape, and each essay in his remarkable new collection of literary journalism explores a different crag or cranny of it…. There's no better guide to this 'country in between.'
— Brook Wilensky-Lanford - The Boston Globe

Superb… Compelling… Stunning… A fine book, by a deeply thoughtful writer.
— Steve Yarbrough - The Oregonian

A Must-Read…. Brilliant portraits of the religious fringe…fleshed out in lush three-dimensional detail—a lifetime in a dozen pages, a biography distilled to its purest elements…. Sharlet impresses with his ability to mine the common humanity that lingers in even the most radically minded thinkers.
— The Daily Beast

Sharp and intimate.
— Rolling Stone

The characters in Sweet Heaven When I Die are rough, unfulfilled, often doomed. But that's what makes this collection so strong, so human. We always suspect that by the end, they will be betrayed by their beliefs, will be disillusioned or destroyed. But failure doesn't make belief meaningless. It may be the only thing that gives faith meaning at all.

— Kansas City Star

[A] collection of beautifully written narratives.... Sharlet's previous works have incisively critiqued fundamentalism and American power; Sweet Heaven is equally thoughtful, but tender, acknowledging that between the extremes of snake handlers and nihilists, most of us wander through life groping for meaning, with consolation that in the act of finding, we too, may be found.

— Durham, NC Independent

Part reporter, part prophet, Jeff Sharlet is an American visionary in the lineage that runs from Twain to Robinson Jeffers to Sam Shepard and Joan Didion. In Sweet Heaven When I Die, he scours the desert margins of our culture, politics, and religion, training his eye on outlaws, anarchists, fanatics, and saints. In this way, he reveals the unexpected shape of our nation's center, which is to say, our heart.

— Peter Trachtenberg, author of 7 Tattoos and The Book of Calamities