Spillover: Animal Infections and the Next Human Pandemic (Paperback)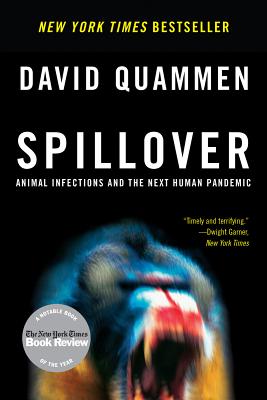 $18.95
Not Available In-Store - Usually Ships from Warehouse in 1-5 Days
Staff Reviews
---
Quammen is my favorite non-fiction writer, and Spillover is no exception to his merit. Having read this book, I understand so much more about how viruses operate, why outbreaks occur, and perhaps most importantly, how our disturbance of ecosystems and the tearing down of the less-explored areas of nature are bringing to the forefront viruses we once would have had little chance of being exposed to. Told with Quammen's natural storyteller gift, this both informs and entertains, and might leave you just a little frightened.
—
Em
Description
---
"[Mr. Quammen] is not just among our best science writers but among our best writers, period." —Dwight Garner, New York Times
The next big human pandemic—the next disease cataclysm, perhaps on the scale of AIDS or the 1918 influenza—is likely to be caused by a new virus coming to humans from wildlife. Experts call such an event "spillover" and they warn us to brace ourselves. David Quammen has tracked this subject from the jungles of Central Africa, the rooftops of Bangladesh, and the caves of southern China to the laboratories where researchers work in space suits to study lethal viruses. He illuminates the dynamics of Ebola, SARS, bird flu, Lyme disease, and other emerging threats and tells the story of AIDS and its origins as it has never before been told. Spillover reads like a mystery tale, full of mayhem and clues and questions. When the Next Big One arrives, what will it look like? From which innocent host animal will it emerge? Will we be ready?
About the Author
---
David Quammen is the author of The Song of the Dodo, among other books. He has been honored with the John Burroughs Medal for nature writing, an Academy Award in Literature from the American Academy of Arts and Letters, an award in the art of the essay from PEN, and (three times) the National Magazine Award. Quammen is also a contributing writer for National Geographic. He lives in Bozeman, Montana.
Praise For…
---
David Quammen [is] one of that rare breed of science journalists who blend exploration with a talent for synthesis and storytelling.
— Nathan Wolfe

An adventure-filled page-turner…told from the front lines of pandemic prevention.
— Lizzie Wade

As page turning as Richard Preston's The Hot Zone…[Quammen is] one of the best science writers.


David Quammen might be my favorite living science writer: amiable, erudite, understated, incredibly funny, profoundly humane.
— Kathryn Schulz

Quammen balances the technical terms with gorily gripping description and scenes from his own fearless journeys…But his real gift is his writing, with its nice balance of reverence and whimsy.
— Chloë Schama

Quammen's more teacher than Jeremiah. So he calms when he can; but he's blunt when he must be.
— Jeffrey Burke

The scariest book you'll read this year.

[An] ambitious and encyclopedic voyage…Mr. Quammen does a beautiful job of showing how so much of scientific knowledge is provisional, with great unknowns about infectious diseases.
— Richard Preston, author of The Hot Zone

David Quammen has done it again. Fascinating and terrifying, Spillover is a real-life thriller with an outcome that affects us all.

— Elizabeth Kolbert, author of The Sixth Extinction

This is a frightening and fascinating masterpiece of science reporting that reads like a detective story. David Quammen takes us on a quest to understand AIDS, Ebola, and other diseases that share a frightening commonality: they all jumped from wild animals to humans. By explaining this growing trend, Quammen not only provides a warning about the diseases we will face in the future, he also causes us to reflect on our place as humans in the earth's ecosystem.
— Walter Isaacson, author of Leonardo Da Vinci
Coverage from NPR