Kitty Genovese: The Murder, the Bystanders, the Crime that Changed America (Paperback)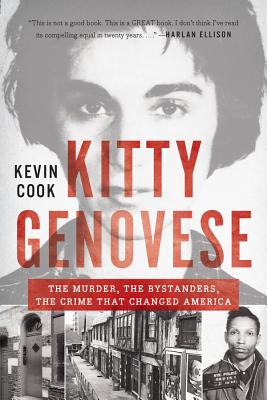 $15.95

Not Available In-Store - Usually Ships from Warehouse in 1-5 Days
Staff Reviews
---
On a New York night, Kitty Genovese was murdered just outside her apartment building while people in the surrounding buildings watched. For five decades since her murder, the infamous Kitty Genovese case has captured the attention of the American public, spurring what is known as the bystander effect. In his book, Kevin Cook examines this crime from perspectives such as Kitty's killer, Winston Moseley, to her girlfriend, Mary Ann Zielonko, to residents of the buildings near where the crime was committed. Cook also debunks several myths that have come to be commonly associated with the case. A fantastic overview of the murder, investigation, and trial, Kitty Genovese is an excellent read for both true crime enthusiasts and those new to the genre.
—
STAFF PICKS BY HEATHER H.
Description
---
"Vividly transforms Ms. Genovese from an iconic urban martyr to a three-dimensional protagonist in a case that transformed the criminal justice system." —Sam Roberts, New York Times
In 1964 Catherine "Kitty" Genovese was brutally stabbed to death on her front stoop in plain view of numerous witnesses. Her sensational case provoked an anxious outcry and became the stuff of urban legend. Kevin Cook's "provocative" (Wall Street Journal) investigation upends the simple story we thought we knew. His unprecedented minute-by-minute reconstruction of the crime shatters the fable of the 38 passive witnesses—a myth perpetuated by the New York Times, movies, TV programs, and countless psychology textbooks. For the first time, Cook introduces us to a neighbor who did intervene, and he brings to life a vibrant and charismatic Kitty, working (and dancing) her way through the colorful, fast-changing New York of the '60s.
About the Author
---
A former senior editor at Sports Illustrated, Kevin Cook is the author of Titanic Thompson, Tommy's Honor, Kitty Genovese and The Dad Report. He lives in New York City.
Praise For…
---
Cook is [an] adept storyteller. His peppy knowing style calls to mind pop-culture products from the time of the murder…he is firmly and persuasively in the revisionist camp.
— The New Yorker

Provocative.
— The Wall Street Journal

Provocative… As much about the alchemy of journalism as urban pathology.
— Edward Kosner - The Wall Street Journal

Kevin Cook is raising big questions.
— NPR's All Things Considered

Cook's restoration helps make Kitty human, not merely iconographic.
— Cleveland Plain Dealer

A fully-realized portrait of Kitty… Readers won't forget that she was a person, not a player in an anecdote.
— Michael Washburn - Boston Sunday Globe

Smart…suspenseful. [Cook's] reporting…is rich and deep.
— Tampa Bay Times

Cook manages to maintain an impressive level of tension…[M]oving…compelling.
— Jordan Michael Smith - Christian Science Monitor

Kevin Cook rips the cover off an enduring urban myth. He's done a first-rate reporting job, one that delivers the truth at last about an infamous murder that came to define an age.
— Kevin Baker, author of The Big Crowd and Paradise Alley

This is not a good book. This is a GREAT book. I don't think I've read its compelling equal in twenty years. Every page reveals astonishing new facts about one of the most paralyzing events in the flawed soul of the American character. This is modern history at its storytelling best, ignored at the reader's peril.
— Harlan Ellison
Coverage from NPR