The Fall Guy: A Novel (Paperback)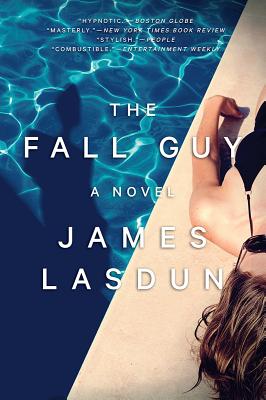 Staff Reviews
---
It should have been the perfect summer. Matthew is planning to stay with his wealthy cousin, Charlie, and Charlie's beautiful wife in their luxurious summer home. He'll earn his keep by fixing mouthwatering gourmet meals and they'll wile the days away in a kind of rich person stupor. But somehow it doesn't turn out like that...THE FALL GUY is the perfect read: tightly paced and filled with murky, unknowable characters. I sped through the book with a growing sense of unease and suspense: who could I trust? And who should I root for? James Lasdun's writing reminded me of James M. Cain's classic noir, books filled with dreamy dames, lazy days, and a slow-burning violence. I don't throw the word "unputdownable" around willy-nilly, but this book merits it!
—
Lauren
November 2016 Indie Next List
---
"The Fall Guy, which starts innocently enough, introduces its three main characters as they leave the hustle and bustle of New York City for a calm summer sojourn upstate. Things take a Lynchian turn when Charlie and Chloe's guest, Charlie's cousin Matthew, notices what appears to be duplicitous behavior within and outside their home. Lasdun does an incredible job of slowly ratcheting up the suspense, earning the reader's trust with his spare, pitch-perfect language, and upending expectations on every page. Morally complex characters, a sly and inventive take on the guilt and shame of modern-day banking, and prose as sensuous as some of the novel's sexiest scenes are just a few of the many rewards of Lasdun's latest, and greatest, novel."
— John Francisconi (E), Bank Square Books, Mystic, CT
Description
---
In this taut psychological thriller, a couple and their houseguest find themselves caught in a deadly web of secrets, obsession, and revenge.
It is summer, 2012. Charlie, a wealthy banker with an uneasy conscience, invites his troubled cousin Matthew to visit him and his wife in their idyllic mountaintop house. As the days grow hotter, the friendship between the three begins to reveal its fault lines, and with the arrival of a fourth character, the household finds itself suddenly in the grip of uncontrollable passions. As readers of James Lasdun's acclaimed fiction can expect,
The Fall Guy
is a complex moral tale as well as a gripping suspense story, probing questions of guilt and betrayal with ruthless incisiveness. Who is the real victim here? Who is the perpetrator? And who, ultimately, is the fall guy? Darkly vivid, with an atmosphere of erotic danger,
The Fall Guy
is Lasdun's most entertaining novel yet.
About the Author
---
James Lasdun is the author of The Fall Guy, The Horned Man, Seven Lies, several poetry and short story collections, and a memoir. He lives in Brooklyn.
Praise For…
---
"[Lasdun has] the natural capacity to wield words with uncanny and disorienting power. . . .The Fall Guy has the quality of a dream that follows its own terrible logic, impossible to break free from, never to be forgotten after you wake up."


Exceptionally entertaining…The Fall Guy reads like early Ian McEwan or late Patricia Highsmith…Lasdun is masterly in his story's construction…This is exactly what a literary thriller should be: intelligent, careful, swift, unsettling.


"With its deftly constructed narratives of guilt and buried resentment, The Fall Guy is more accessible than Lasdun's previous novels. . . . [W]atching Matthew, Charlie and Chloe lure one another into a trap not quite of their own making has a certain shivery fascination . . . you think of Highsmith or Hitchcock."

What a sinister and searching novel this is—and what a delight. James Lasdun is one of our great writers.
— Joseph O'Neill, author of Netherland

Elegant and disturbing… This simple-seeming novel, so graceful in its unfolding, proves dense with psychological detail and sly social observations.

James Lasdun has written an elegantly suspenseful novel set in a brilliantly realized affluent upstate New York community not unlike Woodstock—his characters are achingly real, and the self-deceptions that drive them so insightfully depicted, we might almost mistake them for our own. Truly a 'page-turner'—propelled toward just the right ending.
— Joyce Carol Oates

Expertly playing the noir card, Lasdun dissects the mercurial relationships among a wealthy financier, his photographer wife and an aimless cousin during a long hot summer in upstate New York. There are plenty of lies and betrayals in this stylish thriller, but it's the slow burn of obsession that makes it sing.

In The Fall Guy, James Lasdun brings the signature gifts to contemporary noir that he's displayed in other literary venues—wit, style, an attractive gravitas. And the tale itself is sharp, acute in its observations, and absorbing. It's a rich read.

— Norman Rush, author of Subtle Bodies

A twisty, chilly, exquisitely written, and tautly suspenseful exploration of big ideas in the guise of a psychological thriller. . .Lasdun's prose is both lapidary and hypnotic.

As the pages turn, the nervous tension ticks ever higher in Lasdun's combustible psychological thriller.

Exquisitely written yet propulsively entertaining all at the same time. . . a journey into the psyche of a stalker by someone who has been stalked.

[A] terrific novel of suspense. . . Lasdun presents the inexorable turnings of fate in a subtle and disconcerting way.

Lasdun's controlled, devious storytelling style infuses every tick of the clock with tension.