Sing, Memory: The Remarkable Story of the Man Who Saved the Music of the Nazi Camps (Hardcover)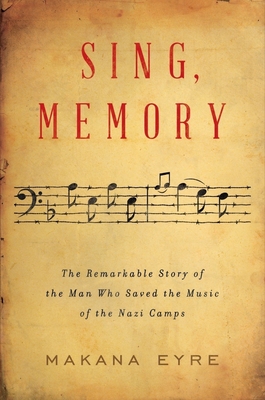 Description
---
A Polish musician, a Jewish conductor, a secret choir, and the rescue of a trove of music from the Sachsenhausen concentration camp.
On a cold October night in 1942, SS guards at the Sachsenhausen concentration camp violently disbanded a rehearsal of a secret Jewish choir led by conductor Rosebery d'Arguto. Many in the group did not live to see morning, and those who survived the guards' reprisal were deported to Auschwitz-Birkenau just a few weeks later. Only one of its members survived the Holocaust. Yet their story survives, thanks to Aleksander Kulisiewicz. An amateur musician, he was not Jewish, but struck up an unlikely friendship with d'Arguto in Sachsenhausen. D'Arguto tasked him with a mission: to save the musical heritage of the victims of the Nazi camps.
In Sing, Memory, Makana Eyre recounts Kulisiewicz's extraordinary transformation from a Polish nationalist into a guardian of music and culture from the Nazi camps. Aided by an eidetic memory, Kulisiewicz was able to preserve for posterity not only his own songs about life at the camp, but the music and poetry of prisoners from a range of national and cultural backgrounds. They composed symphonies, organized clandestine choirs, arranged great pieces of music by illustrious composers, and gathered regularly over the course of the war to perform for one another. For many, music enabled them to resist, bear witness, and maintain their humanity in some of the most brutal conditions imaginable.
After the war, Kulisiewicz returned to Poland and assembled an archive of camp music, which he went on to perform in more than a dozen countries. He dedicated the remainder of his life to the memory of the Nazi camps. Drawing on oral history and testimony, as well as extensive archival research, Eyre tells this rich and affecting human story of musical resistance to the Nazi regime in full for the first time.
About the Author
---
Makana Eyre is an American journalist based in Paris, covering politics, the far right, and the media, with a focus on Europe. His work has appeared in publications, including the Washington Post, the Nation, the Guardian, and Foreign Policy.
Praise For…
---
Soulful.... meticulous.
— Tunku Varadarajan - Wall Street Journal

[Eyre] skilfully recounts the remarkable story of Kulisiewicz's survival.... He is a deft storyteller, with a limpid style, moving his characters to centre stage, aside, then back again. He weaves a compelling, well-informed narrative and illuminates the inner dynamics of the camp's power structure.... Sing, Memory is a moving story of courage and determination amid overwhelming loss, all the more powerful for its heartbreaking sense of what might have been.

— The Economist

Riveting.... Masterfully written.
— Beth Dwoskin - Jewish Book Council

Eyre's narrative captures the poignancy of Kulisiewicz's life story.
— Julia M. Klein - Forward

Beginning with its perfect title, this nonfiction work is an astonishing chronicle of musical resistance.
— Sandee Brawarsky - Hadassah Magazine

What a remarkable story of the art of survival and its costs! Makana Eyre is the gifted narrator that his astounding and until now ironically unsung protagonist deserves.
— Peter Hayes, author of Why? Explaining the Holocaust

Makana Eyre has written a book of searing effect, a wholly unsentimental testament to the power of music as a form of both principled resistance and historical memory. Sing, Memory is an unforgettable addition to Holocaust literature and scholarship.

— Samuel G. Freedman, National Jewish Book Award–winning author of Jew vs. Jew: The Struggle for the Soul of American Jewry

Through meticulous research and vivid, passionate writing, Makana Eyre has done an extraordinary job of bringing Aleksander Kulisiewicz to life. Sing, Memory is a rich, dense, palpable account of a situation that otherwise would be beyond our imagining.

— Nicholas Lemann, Pulitzer Moore Professor of Journalism and dean emeritus, Columbia Journalism School, and author of Transaction Man

Poignant.... Sparely written yet deeply moving, this is a powerful study of the healing power of art.
— Publishers Weekly

An uplifting story of music emanating from the depths of one of the 20th century's most horrific periods.... A significant new chapter of Holocaust history.
— Kirkus Reviews