Goodbye, Things: The New Japanese Minimalism (Hardcover)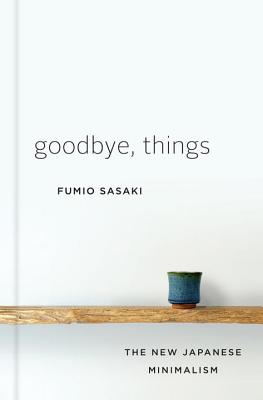 Staff Reviews
---
I find my interest in minimalism-as-lifestyle contradictory to the part of my personality that has an extensive CD collection, and refuses to part with it. Oh well.
The immediate comparison that came to mind when picking this up was The Life-Changing Magic of Tidying Up, but while the end goal is the same - living a less cluttered-by-stuff life - the path is different. Without frills or "sparks" Sasaki details his journey from borderline hoarder to someone divesting himself of nearly all physical possessions. While I don't see the need for such an extreme measure in my life, I found his reasoning sound and insightful. There's a gaining of freedom when curating your belongings - and arguably, your life. This book helped me narrow down how I'd like to curate my minimal collection of physical belongings, and showed me what things I might actually be lacking.
—
Amy
Description
---
Fumio Sasaki is not an enlightened minimalism expert or organizing guru like Marie Kondo--he's just a regular guy who was stressed out and constantly comparing himself to others, until one day he decided to change his life by saying goodbye to everything he didn't absolutely need. The effects were remarkable: Sasaki gained true freedom, new focus, and a real sense of gratitude for everything around him. In Goodbye, Things Sasaki modestly shares his personal minimalist experience, offering specific tips on the minimizing process and revealing how the new minimalist movement can not only transform your space but truly enrich your life. The benefits of a minimalist life can be realized by anyone, and Sasaki's humble vision of true happiness will open your eyes to minimalism's potential.