In Teachers We Trust: The Finnish Way to World-Class Schools (Hardcover)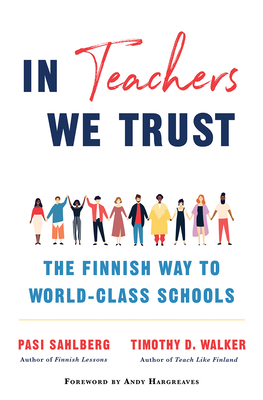 Description
---
Seven key principles from Finland for building a culture of trust in schools around the world.
In the spring of 2018, thousands of teachers across the United States—in states like Oklahoma, Kentucky, and Arizona—walked off their jobs while calling for higher wages and better working conditions. Ultimately, these American educators trumpeted a simple request: treat us like professionals. Teachers in many other countries feel the same way as their US counterparts.
In Teachers We Trust presents a compelling vision, offering practical ideas for educators and school leaders wishing to develop teacher-powered education systems. It reveals why teachers in Finland hold high status, and shows what the country's trust- based school system looks like in action.
Pasi Sahlberg and Timothy D. Walker suggest seven key principles for building a culture of trust in schools, from offering clinical training for future teachers to encouraging student agency to fostering a collaborative professionalism among educators. In Teachers We Trust is essential reading for all teachers, administrators, and parents who entrust their children to American schools.
About the Author
---
Pasi Sahlberg is a Finnish educator who has worked as a schoolteacher, teacher-educator and policymaker in Finland and advised national education reforms around the world. Pasi has published over 100 articles and books about education and school improvement. His bestseller, Finnish Lessons: What Can the World Learn from Educational Change in Finland? has contributed to better understanding Finland's education system. He is a recipient of several education awards, including the 2013 Grawemeyer Award and the 2016 Lego Prize. Pasi is professor of education policy at the University of New South Wales in Sydney, Australia.

Timothy D. Walker is an American teacher who taught in Finland for six of the eight years he lived there. He lives in Milford, Connecticut, and is author (with Pasi Sahlberg) of In Teachers We Trust: The Finnish Way to World-Class Schools.

Andy Hargreaves is Research Professor at Boston College and holds professorships at the University of Ottawa, Hong Kong University, Swansea University, and the University of Stavanger. He is founder & president of ARC Education Project: a group of nations committed to excellence, equity, wellbeing, inclusion, democracy and human rights.
Praise For…
---
Most significantly, this book is hopeful. It provides sensible evidence that thoughtfully crafting schools and classrooms that exemplify trust could not only re-enliven teaching and learning but even contribute to restoring trust beyond the schoolhouse door...This book is powerful, thought-provoking, uplifting—& sad. Its timing is spot-on.
— Carol Ann Tomlinson, Ed.D., author of How to Differentiate Instruction in Academically Diverse Classrooms (3rd edition)

Are you eager for—aching for—schools where children and adults thrive and learning flourishes? With a balance of deep insights and practical suggestions for implementation, In Teachers We Trust is a must-read for educators who are ready to shift school cultures from ones driven by fear and accountability to ones that foster trust and true academic engagement for children and staff. 

— Mike Anderson, award-winning teacher and education consultant and author of What We Say and How We Say It Matter

In Teachers We Trust powerfully documents how trusting students, teachers, and schools can radically improve education outcomes and student and teacher well-being. With countless vivid examples, the authors show the difference between systems that are trust-based and those that aren't, and what can be done to strengthen trust at all levels. This book is a must-read for every educator and policymaker. 

— Tony Wagner, Senior Research Fellow, Learning Policy Institute and best-selling author

The essence of Finnish education is having trust in our teachers. This beautiful book explains both why and how. 
— Saku Tuominen, Chair & Founder, HundrED

During my career, I have collaborated with both authors, Pasi and Tim, and I can only wonder at how truly and thoroughly they have been to define trust, which is the common framework in Finnish education. This book really takes you to the heart of the success of Finnish education. 
— Leena Liusvaara, PhD, Principal, Ressu Comprehensive School, Helsinki, Finland

The book includes school-based case studies that highlight the mentoring, extensive training, and collaborative approach that shape Finnish schools. . . . For all readers, especially educators and parents, seeking a persuasive explanation for the excellent results of Finnish schools.
— Library Journal

Short, clear and practical, this book includes opportunities for readers to reflect on how trust operates (or doesn't) in their own schools — and how to increase trust in even the most distrustful system. It describes an education system in action, building trust every day, not some idealized utopia.
— The Tyee

[I]t is hard to imagine a school-wide professional development team that would have difficulty using these chapters as a guide to examining trust in their schools.
— Teachers College Record