The Authority Gap: Why Women Are Still Taken Less Seriously Than Men, and What We Can Do About It (Hardcover)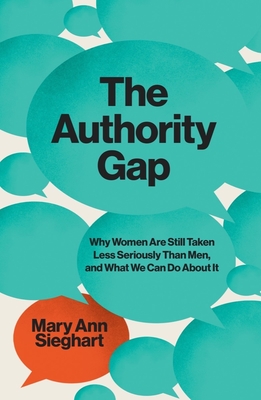 $28.95

Special Order - Subject to Availability
Description
---
An incisive, intersectional look at the mother of all gender biases: a resistance to women's authority and power.
Every woman has a story of being underestimated, ignored, challenged, or patronized in the workplace. Maybe she tried to speak up in a meeting, only to be talked over by male colleagues. Or a client addressed her male subordinate instead of her. These stories remain true even for women at the top of their fields; in the U.S. Supreme Court, for example, female justices are interrupted four times more often than their male colleagues—and 96 percent of the time by men. Despite the progress we've made toward equality, we still fail, more often than we might realize, to take women as seriously as men.
In The Authority Gap, journalist Mary Ann Sieghart provides a startling perspective on the gender bias at work in our everyday lives and reflected in the world around us, whether in pop culture, media, school classrooms, or politics. With precision and insight, Sieghart marshals a wealth of data from a variety of disciplines—including psychology, sociology, political science, and business—and talks to pioneering women like Booker Prize winner Bernardine Evaristo, renowned classicist Mary Beard, U.S. Secretary of the Treasury Janet Yellen, and Hillary Clinton. She speaks with women from a range of backgrounds to explore how gender bias intersects with race and class biases.
Eye-opening and galvanizing, The Authority Gap teaches us how we as individuals, partners, parents, and coworkers can together work to narrow the gap. Sieghart exposes unconscious bias in this fresh feminist take on how to address and counteract systemic sexism in ways that benefit us all: men as well as women.
About the Author
---
Mary Ann Sieghart is a London-based journalist and broadcaster who has worked for the Times, the Independent, the Economist, the Financial Times, and the BBC. She researched The Authority Gap as a Visiting Fellow of All Souls College, University of Oxford.
Praise For…
---
Persuasive.… [P]unchy and incisive.… I would warmly recommend [this book] to men.
— James McConnachie - Sunday Times

Mary Ann Sieghart combines an absorbing review of the contemporary evidence on the systematic undervaluing of women with some powerful new insights. There is much to learn from this book, including some very practical tips on creating change that you can implement the minute after you turn the last page.
— Julia Gillard, former prime minister of Australia

Well-written and illuminating.… [The Authority Gap] has some excellent comebacks, statistics and arguments for the rest of us to use against the office sexists, or to understand better the gap that harms even very successful women.

— Isabel Berwick - Financial Times

At last, here is a credible roadmap that is capable of taking women from the margins to the center by bridging the authority gap that holds back even the best and most talented of women.
— Mary McAleese, former president of Ireland

Sieghart draws together a remarkable wealth of research… to analyse and deconstruct this pervasive underestimation of women's competence.… An impassioned, meticulously argued and optimistic call to arms for anyone who cares about creating a fairer society.
— Stephanie Merritt - Observer

Thorough and sometimes enraging.… [Sieghart] takes something ubiquitous, something that perhaps many have become desensitised to, and slowly exposes its far-reaching implications.
— Nesrine Malik - Guardian

Sieghart writes with empathy, clarity and passion.… The book is enormously authoritative, knitting together academic studies with interviews of leading public figures.
— Frieda Klotz - Irish Independent