The Complete Guide to Absolutely Everything (Abridged): Adventures in Math and Science (Hardcover)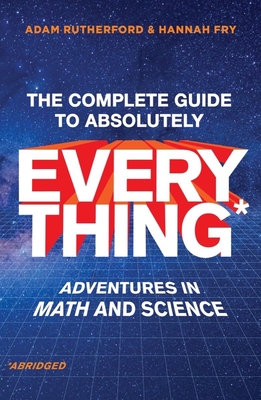 $24.00

Not Available In-Store - Usually Ships from Warehouse in 1-5 Days
Description
---
The complete story of the universe and absolutely everything in it (minus the boring parts).
Despite our clever linguistic abilities, humans are spectacularly ill-equipped to comprehend what's happening in the universe. Our senses and intuition routinely mislead us. The Complete Guide to Absolutely Everything (Abridged) tells the story of how we came to suppress our monkey minds and perceive the true nature of reality. Written with wit and humor, this brief book tells the story of science—tales of fumbles and missteps, errors and egos, hard work, accidents, and some really bad decisions—all of which have created the sum total of human knowledge.
Geneticist Adam Rutherford and mathematician Hannah Fry guide readers through time and space, through our bodies and brains, showing how emotions shape our view of reality, how our minds tell us lies, and why a mostly bald and curious ape decided to begin poking at the fabric of the universe.
Rutherford and Fry shine as science sleuths, wrestling with some truly head-scratching questions: Where did time come from? Do we have free will? Does my dog love me? Hilarious sidebars present memorable scientific oddities: for example, hypnotized snails, human-sized ants, and the average time it takes most animals to evacuate their bladders. (A surprisingly consistent twenty-one seconds, if you must know.)
Both rigorous and playful, The Complete Guide to Absolutely Everything (Abridged) is a celebration of the weirdness of the cosmos, the strangeness of humans, and the joys and follies of scientific discovery.
About the Author
---
Adam Rutherford is the author of A Brief History of Everyone Who Ever Lived. He lives in London, UK.

Hannah Fry is the author of Hello World. With Adam Rutherford, she hosts the BBC Radio 4 show The Curious Cases of Rutherford & Fry. She lives in London.
Praise For…
---
If only Adam Rutherford and Hannah Fry were on tap to all of us, all the time: we could turn to them whenever we wanted delicious explanations, narratives, and theories to make sense of the material world. But we do have this deeply addictive book as a companion. The pair have such a gift for making life, numbers, and the forces at work in the universe all the richer, stranger, funnier, and more marvelous.
— Stephen Fry

Like the universe itself, this book is multifaceted, surprising, and full of wonders. It's also funny, wise, and exceedingly brainy. You really owe it to yourself to read it.
— Tim Harford

A wonderfully engaging blend of wit, enthusiasm, clarity, and knowledge.
— Bill Bryson

The illustrations are truly excellent.
— Alice Roberts

Compelling popular science with an ambitious underlying theme.
— Kirkus Reviews

[T]eeming with curious facts and interesting anecdotes....The science is detailed and comprehensive in this fun and fascinating read.
— Booklist

[A]n informative and entertaining look into the science behind everyday phenomena and questions….Their writing is clever and personable, and they incorporate immersive stories of culture, art, and rudimentary science to explain seemingly complex topics…in consumable morsels.
— Library Journal