American Inheritance: Liberty and Slavery in the Birth of a Nation, 1765-1795 (Hardcover)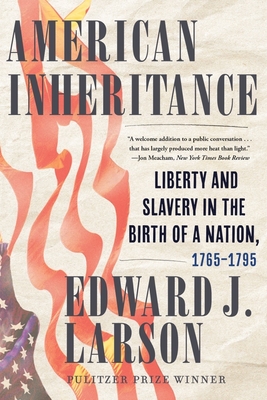 Description
---
A New York Times Book Review Editors' Choice

A Kirkus Reviews Best Nonfiction Book of 2023



From a Pulitzer Prize winner, a powerful history that reveals how the twin strands of liberty and slavery were joined in the nation's founding.
New attention from historians and journalists is raising pointed questions about the founding period: was the American revolution waged to preserve slavery, and was the Constitution a pact with slavery or a landmark in the antislavery movement? Leaders of the founding who called for American liberty are scrutinized for enslaving Black people themselves: George Washington consistently refused to recognize the freedom of those who escaped his Mount Vernon plantation. And we have long needed a history of the founding that fully includes Black Americans in the Revolutionary protests, the war, and the debates over slavery and freedom that followed.
We now have that history in Edward J. Larson's insightful synthesis of the founding. With slavery thriving in Britain's Caribbean empire and practiced in all of the American colonies, the independence movement's calls for liberty proved narrow, though some Black observers and others made their full implications clear. In the war, both sides employed strategies to draw needed support from free and enslaved Blacks, whose responses varied by local conditions. By the time of the Constitutional Convention, a widening sectional divide shaped the fateful compromises over slavery that would prove disastrous in the coming decades. Larson's narrative delivers poignant moments that deepen our understanding: we witness New York's tumultuous welcome of Washington as liberator through the eyes of Daniel Payne, a Black man who had escaped enslavement at Mount Vernon two years before. Indeed, throughout Larson's brilliant history it is the voices of Black Americans that prove the most convincing of all on the urgency of liberty.
About the Author
---
Edward J. Larson's many acclaimed works in American history include the Pulitzer Prize–winning history of the Scopes trial, Summer for the Gods. He is University Professor of History and holds the Hugh and Hazel Darling Chair in Law at Pepperdine University.
Praise For…
---
Edward J. Larson's American Inheritance is a welcome addition to a public conversation, in the wake of The New York Times's 1619 Project, that has largely produced more heat than light…. Larson's sober new book…repays reading, for it has a good deal to teach those who want to see the American story in overly simplistic terms.

— Jon Meacham - New York Times

Mr. Larson is a calm but vigorous storyteller who melds sophisticated historical analysis with telling anecdotes to vivify a graceful narrative…. While acknowledging that the study of liberty and slavery in the Revolutionary era remains a 'partisan minefield,' Mr. Larson plunges in, sparing none of the era's most prominent revolutionaries from scrutiny. Mr. Larson is scrupulously careful to acknowledge their considerable accomplishments—but does not shrink from exposing the gaping blind spot that even some of their contemporaries recognized.
— Harold Holzer - Wall Street Journal

[A]n elegantly written, engaging, and immensely informative account of attempts by colonists to reconcile the implications of liberty with the reality of slavery for Blacks.
— Glenn C. Altschuler - Pittsburgh Post-Gazette

Compelling.…Larson is a judicious and often eloquent guide.
— Fergus M. Bordewich - The American Scholar

Larson's stirring narrative.…[is] an authoritative contribution to the dismal history of race in America.
— Kirkus Reviews (starred review)

[A]n accessible and informative overview of the paradox at the heart of the American experiment.
— Publishers Weekly

Timely and compelling. American Inheritance relates the vital story of liberty and slavery in Revolutionary America with balance and nuance.

— Susan Dunn, author of Jefferson's Second Revolution

Larson deftly explores the dramatic lives and revealing words of free and enslaved Americans who sought either to preserve or erase the pervasive tension between liberty and bondage in the Revolutionary era.
— Alan Taylor, author of American Republics

A seminal and soulful account of the antagonistic role slavery played in the founding of the United States. Every chapter is anchored in deep research, fine-tuned analysis, and good old-fashioned storytelling.
— Douglas Brinkley, author of Silent Spring Revolution

Larson makes clear how inseparable were the concepts of freedom and bondage in these early years, and thereby makes understandable why the contradictions they created have vexed us so long.
— H. W. Brands, author of Our First Civil War

Larson has brought a true historian's sensibility to the fierce new debate over slavery at the founding. American Inheritance unearths a legacy of unexpected ironies, terrible tragedies, and fateful opportunities—a legacy with which Americans still struggle today

— John Fabian Witt, author of Lincoln's Code

A master storyteller and meticulous analyst, Larson offers a wise and balanced account of the founding era's thorniest themes: liberty, equality, slavery, and race. Larson's trademark blend of deep erudition and easygoing prose animates every page of this instant classic.
— Akhil Reed Amar, author of The Words That Made Us