Mike Mulligan Y Su Máquina Maravillosa (Paperback)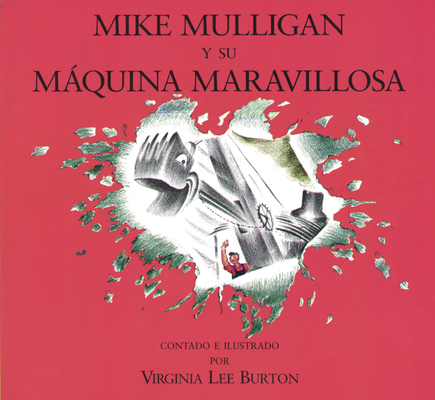 $7.99

Special Order - Subject to Availability
Description
---
Un clásico moderno que ningún niño debe perderse. Desde que fue publicado en 1939, Mike Mulligan y su máquina maravillosa ha deleitado a generaciones de niños. Mike y su confiable excavadora de vapor, Mary Anne, excavan profundos canales para que viajen los barcos, cortan montañas para que pasen los trenes y vacían sótanos para los rascacielos citadinos —el símbolo mismo de la América industrial—. Pero con el progreso llegan nuevas máquinas y pronto el dúo inseparable se queda sin trabajo. Mike cree que Mary Anne puede excavar en un día lo mismo que pueden excavar cien hombres en una semana y ambos tienen una última oportunidad para probarlo y salvar a Mary Anne del desguace. Lo que sigue en el pequeño pueblo de Popperville es un testimonio a su amistad y al viejo trabajo duro y la ingenuidad.
 A modern classic now available in Spanish. Mike Mulligan and His Steam Shovel is the story of a steam-shovel operator and his steam shovel - the beguiling Mary Anne - which he would not desert, even though competition from gas and diesel-motored shovels was ruining him. The solution to Mike's problem is classic in its simplicity. Under pressure to show Mary Anne at her best, Mike digs the foundation for the town hall of Popperville and in his haste forgets to leave a way for Mary Anne to get out! The ingenious townspeople suggest that Mary Anne be remodeled into a furnace and Mike be retained to keep her heart and boiler warm. This is a classic story of the old being replaced by the new and the nostalgia often felt for archaic things. Mary Anne and Mike are a team to be admired, and now their tale can be enjoyed and shared by Spanish- and English-speaking children alike.
About the Author
---
Virginia Lee Burton (1909-1968) was the talented author and illustrator of some of the most enduring books ever written for children. The winner of the 1942 Caldecott Medal for THE LITTLE HOUSE, Burton's books include heroes and happy endings, lively illustrations, and a dash of nostalgia. She lived with her two sons, Aristides and Michael, and her husband George Demetrios, the sculptor, in a section of Gloucester, Massachusetts, called Folly Cove. Here she taught a class in design and from it emerged the Folly Cove designers, a group of internationally known professional artisans. She is the author of many classic children's picture books, including MIKE MULLIGAN AND HIS STEAM SHOVEL and KATY AND THE BIG SNOW.
Praise For…
---
"This is fun both in its text and gray crayon drawings. Mike Mulligan remains faithful to his steam shovel Mary Anne, against the threat of the new gas and diesel-engine contraptions, and digs his way to a surprising and happy ending." The New Yorker —