Born to Receive: Seven Powerful Steps Women Can Take Today to Reclaim Their Half of the Universe (Paperback)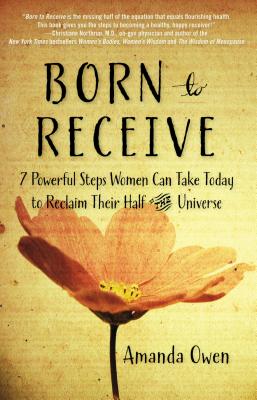 $15.95
Special Order - Subject to Availability
Description
---
Discover the seven secrets women can use to get ahead in the world!
This book from consultant-coach Amanda Owen (author of The Power of Receiving) presents self-improvement strategies for women and a radically different approach to helping them achieve their goals, reduce stress, and create better health and happiness by using the power that already exists within them. Born to Receive offers women seven effective, practical steps that they can integrate easily into their daily lives and includes inspiring examples of women who have changed their lives for the better by tapping into their receptive power. With exercises, special tips, and resources throughout, this book provides life-changing advice with a simple message: it's okay to receive!
About the Author
---
Amanda Owen is the author of The Power of Receiving: A Revolutionary Approach to Giving Yourself the Life You Want and Deserve (Tarcher/Penguin, 2011) and Born to Receive: 7 Powerful Steps Women Can Take Today to Reclaim Their Half of the Universe (Tarcher/Penguin, 2014.)

With a background in social work and a twenty-five year practice as a counselor/coach, Amanda has been presenting lectures and workshops since the mid-eighties.

New York Times-bestselling author Christiane Northrup, MD calls Amanda's power-of-receiving philosophy "brilliant, elegant, profound, and enormously practical." Maria Shriver calls her work "insightful," and Elaine Shamos, the Director of The Women's Health Resource Center at Dartmouth-Hitchcock Medical Center says, "Amanda's presentation skills are outstanding and, most importantly, her message is life-changing."
Praise For…
---
In her latest book, consultant and coach Owen (The Power of Receiving) aims to empower women. She offers a different approach for women to reach their goals, reduce stress, and become healthier and happier by using their inner power. Because women often focus on others more than themselves, she encourages readers to tap into their own receptive power, which she calls a "birthright," to create stability and become whole, balanced individuals. Each step gets its own chapter, with inspirational stories and practical exercises aimed at cutting through emotional and physical clutter. Owen's approach will undoubtedly help women feel better about themselves. Readers will find valuable insights.
—Publishers Weekly

"What I liked most about this book is the practicality of it all. As I worked through the steps with my own life I found that the simplicity and sheer common sense of it all was a refreshing approach that shifted my perspective while honoring my needs."
—Cheryl Maloney, Simple Steps, Real Change Magazine

"Amanda Owen takes on a big problem—women's difficulty in asking for and receiving what they want. Women are expert at giving—at being endlessly generous, thoughtful, and self-sacrificing. Born to Receive teaches us that women need to complement these skills with those of receiving, of learning how to ask for and accept what we want. Using wit, anecdotes, exercises, and helpful insights, she turns this task into one that is manageable and promises to be very helpful. Owen makes the convincing case that wholeness comes from the joint activity of giving and receiving. Women are experts at giving, but can surely use the help she offers to become equally expert at receiving."
—Rosalind C. Barnett, Ph.D., co-author of The New Soft War on Women: How the Myth of Female Ascendance is Hurting Women, Men—and the Economy, and senior scientist at Women's Studies Research Center, Brandeis University
 
"Born to Receive is the missing half of the equation that equals flourishing health. This book gives you the steps to becoming a healthy, happy receiver!"
 —Christiane Northrup, M.D., ob/gyn physician and author of the New York Times bestsellers: Women's Bodies, Women's Wisdom and The Wisdom of Menopause
 
"Women have finely-tuned the art of giving—now it's time to learn how to receive with grace and gratitude.  The practical tools and tips contained in Born to Receive will help you to develop the critical skills needed to transition from simply surviving to joyfully thriving." 
 —Lois P. Frankel, Ph.D., author of Nice Girls Don't Get the Corner Office 
 
"When you want to take on the life of your dreams, you will want to know how to 'receive' help. Born to Receive is a practical guide for women to lean in to super powers that don't involve grabbing and forcing. Through clear insights and techniques, Amanda Owen shows us how to actively engage our right to receive and specific ways to start opening the floodgates."
 —Tama Kieves, best-selling author of This Time I Dance! Creating the Work You Love and Inspired & Unstoppable: Wildly Succeeding in Your Life's Work! www.TamaKieves.com
 
"Born to Receive is a must-read for anyone who believes that receiving is taking, or selfish—and consequently feels depleted, unbalanced, or resentful. Amanda Owen has done an amazing job of exploring why we need and deserve to get more out of life, and how to do it."
 —Lori Deschene, founder of tinybuddha.com and author of Tiny Buddha's Guide to Loving Yourself

"Women's quest for a balanced life collides with a culture that has us convinced that pleasing for others is more important than paying attention to our own needs. We are more comfortable in the role of caregiver, and we neglect the fact that we cannot serve others if we cannot learn to serve ourselves first. From this day forward, I'm committing to a complaint fast instead of a food diet. I am sending Cinderella to rehab, and for one day a week, I will ask someone to help me instead of the other way around!  This book is filled with new ideas and a radically different approach to achieving your goals, reducing stress, and creating better health by using the power that already belongs to you."
—Sonia von Matt Stoddard, Awareness Magazine
 
"Amanda Owen once again proves herself to be a wonderful advocate and supporter of women and their right to receive the endless love, appreciation, and abundance they deserve each day.  Her book is a wonderful tool to have on this deserved journey!"
—Howard Falco, author of I AM and Time in a Bottle