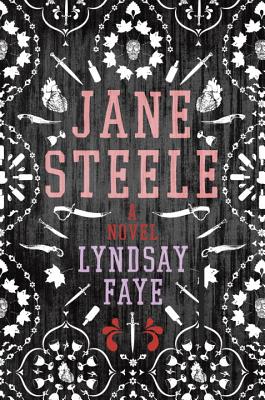 $27.00
Email or call for price.
Staff Reviews
---
"Reader, I murdered him." Welcome to Jane Steele. Jane Steele is a reimagining of Jane Eyre. Jane is smart, strong and also a murderess. She takes Jane Eyre as idol and their stories have similar paths except our Jane "takes care of" all the people you wish Jane Eyre would have been able to in her story. I like books where the female has a strong individual voice and this book gives me exactly that. I found Lyndsay Faye through the Baker Street Babes, an all female Sherlock Holmes podcast. If you like this book give me mysteries a try!
—
Heather G.
April 2016 Indie Next List
---
"It would be the easy way out for me to describe Jane Steele as an utterly delightful and charmingly murderous retelling of Charlotte Bronte's Jane Eyre. However, I am honor-bound to inform readers that Faye has created much more than that: she has spun a snappy, tongue-in-cheek masterpiece that both thrills readers to the bone and expertly plucks their heartstrings in all the right places. One can't help but cheer on the tenacious Steele as she drinks, swears, stabs, and gallops her way through her quest to find love, home, and self, while stepping delicately over the bodies of her tormentors -- so as not to ruin her dress -- along the way. An absolutely marvelous book!"
— Rebecca Speas (E), One More Page, Arlington, VA
Description
---
Nominated for the 2017 Edgar Award for Best Novel The reimagining of Jane Eyre as a gutsy, heroic serial killer that The New York Times Book Review calls "wonderfully entertaining" and USA Today describes as "sheer mayhem meets Victorian propriety."

"A thrill ride of a novel. A must read for lovers of Jane Eyre, dark humor, and mystery."
--PopSugar.com "Reader, I murdered him." A sensitive orphan, Jane Steele suffers first at the hands of her spiteful aunt and predatory cousin, then at a grim school where she fights for her very life until escaping to London, leaving the corpses of her tormentors behind her. After years of hiding from the law while penning macabre "last confessions" of the recently hanged, Jane thrills at discovering an advertisement. Her aunt has died and her childhood home has a new master: Mr. Charles Thornfield, who seeks a governess. Burning to know whether she is in fact the rightful heir, Jane takes the position incognito and learns that Highgate House is full of marvelously strange new residents--the fascinating but caustic Mr. Thornfield, an army doctor returned from the Sikh Wars, and the gracious Sikh butler Mr. Sardar Singh, whose history with Mr. Thornfield appears far deeper and darker than they pretend. As Jane catches ominous glimpses of the pair's violent history and falls in love with the gruffly tragic Mr. Thornfield, she faces a terrible dilemma: Can she possess him--body, soul, and secrets--without revealing her own murderous past? A satirical romance about identity, guilt, goodness, and the nature of lies, by a writer who Matthew Pearl calls "superstar-caliber" and whose previous works Gillian Flynn declared "spectacular," Jane Steele is a brilliant and deeply absorbing book inspired by Charlotte Bronte's classic Jane Eyre.
About the Author
---
Lyndsay Faye is the author of five critically acclaimed books: Dust and Shadow; The Gods of Gotham, which was nominated for an Edgar for Best Novel; Seven for a Secret; The Fatal Flame; and Jane Steele. Faye, a true New Yorker in the sense she was born elsewhere, lives in New York City with her husband, Gabriel.