Shakespeare, Not Stirred: Cocktails for Your Everyday Dramas (Hardcover)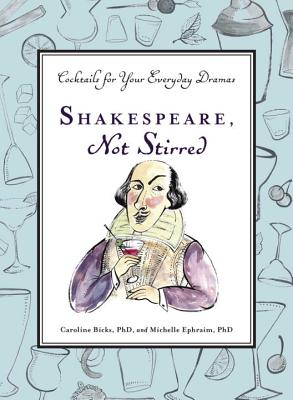 $17.00
Email or call for price.
Description
---
In Shakespeare, Not Stirred, two professors mix equal parts booze and Bard to help you through your everyday dramas. It's like having Shakespeare right there in your living room, downing a great drink and putting your crappy day in perspective. So get out your cocktail shaker and lend him your ears.
 
Each original cocktail and hors d'oeuvre recipe connects Shakespeare's characters to life's daily predicaments:


   • Drown your sorrows after a workplace betrayal with Othello's Green-Eyed Monster
   • Distract yourself from domestic drama with Kate's Shrew-driver or Cleopatra's Flings in a Blanket
   • Recapture your youth with Puck's Magic 'Shrooms
   • Mark a romantic occasion with Beatrice and Benedick's Much Ado About Frothing
Featuring classic images from the Folger Shakespeare Library (hilariously doctored to feature some hard-partying Shakespearean protagonists) and Mini-Bards you can raid for extra context and commentary, Shakespeare, Not Stirred is a completely intoxicating experience.
About the Author
---
Caroline Bicks and Michelle Ephraim are both popular, tenured Shakespeare professors at their respective universities, and their Shakespeare-inspired personal essays and articles have appeared in such venues as The New York Times, The Washington Post, Lilith, and All Things Considered.

Caroline Bicks received her Ph.D. from Stanford University and has been on the faculty at Boston College for twelve years, as well as a teacher at the prestigious Bread Loaf School of English. She is the author of Midwiving Subjects in Shakespeare's England and coeditor of The History of British Women's Writing, 1500–1610, Volume 2. Bicks also writes humorous parenting pieces that have appeared on Babble, McSweeney's, and in the show and essay collection Afterbirth: Stories You Won't Read in a Parenting Magazine. Michelle Ephraim received her Ph.D. from the University of Wisconsin–Madison and has been on the faculty at Worcester Polytechnic Institute for fifteen years. She is the author of Reading the Jewish Woman on the Elizabethan Stage as well as numerous articles on sixteenth- and seventeenth-century literature. Ephraim's humorous life writing has appeared in publications such as The Morning News, Tikkun, and Word Riot, and has been featured on Open Salon.
Praise For…
---
"A perfect combination of delicious Shakespeare, delectable food and delightful drinks. Falstaff would heartily approve!"
--Ian Doescher, New York Times bestselling author of the William Shakespeare Star Wars series

"Shakespeare, Not Stirred is the perfect gift for that friend of yours who fancies himself a lofty intellectual but actually, when you get right down to it, just loves to drink."
--Rachel Dratch

"Shakespeare famously wrote, 'Better a tipsy witty fool than a foolish tipless wit'... or something like that. Regardless, if you want to laugh, maybe get a little tipsy, and actually learn a thing or two about The Bard's works, Shakespeare, Not Stirred will more than hit the spot."
--Christopher Monks, editor of McSweeney's Internet Tendency

"I love a good cocktail and have loved Shakespeare since high school and I'm always wanting to try new things (in the case of cocktails) and trying to remember the plot twists (in the case of Shakespeare). Reading Shakespeare, Not Stirred gave me both--wonderful new cocktails to try and an amazing refresher English lit class by two women who happen to be English professors and incredibly funny.  I'm now thinking of starting a regular book club/cocktail party to go through all the plays...and drinks."
--Rosalind Wiseman, New York Times bestselling author of Queen Bees and Wannabees

"After guzzling every libation in Shakespeare, Not Stirred I became the most eloquent and witty drunk in my town, and so can you!"
--Gary Shteyngart, author of Little Failure and Super Sad True Love Story