Trespassing Across America: One Man's Epic, Never-Done-Before (and Sort of Illegal) Hike Across the Heartland (Hardcover)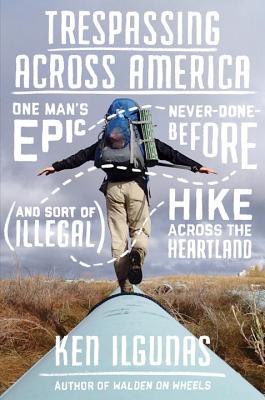 $27.00

Special Order - Subject to Availability
Description
---
Winner of the Nebraska Center for the Book Award, Travel  • A Sigurd Olson Nature Writing Award Notable Book  • Honoree of the Society of Midland Authors Annual Literary Award for Biography/Memoir

Now that President Donald Trump has revived the Keystone XL pipeline that was rejected by former President Obama, Trespassing Across America is the book to help us understand the kaleidoscopic significance of the project. Told with sincerity, humor, and wit, Ilgunas's story is both a fascinating account of one man's remarkable journey along the pipeline's potential path and a meditation on climate change, the beauty of the natural world, and the extremes to which we can push ourselves—both physically and mentally.
 
It started as a far-fetched idea—to hike the entire length of the proposed route of the Keystone XL pipeline. But in the months that followed, it grew into something more for Ken Ilgunas. It became an irresistible adventure—an opportunity not only to draw attention to global warming but also to explore his personal limits. So in September 2012, he strapped on his backpack, stuck out his thumb on the interstate just north of Denver, and hitchhiked 1,500 miles to the Alberta tar sands. Once there, he turned around and began his 1,700-mile trek to the XL's endpoint on the Gulf Coast of Texas, a journey he would complete entirely on foot, walking almost exclusively across private property.

Both a travel memoir and a reflection on climate change, Trespassing Across America is filled with colorful characters, harrowing physical trials, and strange encounters with the weather, terrain, and animals of America's plains. A tribute to the Great Plains and the people who live there, Ilgunas's memoir grapples with difficult questions about our place in the world: What is our personal responsibility as stewards of the land? As members of a rapidly warming planet? As mere individuals up against something as powerful as the fossil fuel industry? Ultimately, Trespassing Across America is a call to embrace the belief that a life lived not half wild is a life only half lived.
About the Author
---
Ken Ilgunas has worked as an elementary school tutor, an Alaskan tour guide, and a backcountry ranger at the Gates of the Arctic National Park. He has hitchhiked 10,000 miles across North America and paddled 1,000 miles across Ontario in a birch-bark canoe. Ilgunas has a B.A. from SUNY Buffalo in history and English, and an M.A. in liberal studies from Duke University. The author of the travel memoir Walden on Wheels, he is from Wheatfield, New York.
Praise For…
---
"A combination of Thoreau, John Steinbeck, and Ian Frazier . . . an unforgettable read." —Men's Journal

"A timely and riveting book . . . written by a courageous young man struggling with the chaos he is inheriting from his elders . . . The book mirrors its young author: impulsive, tenacious, reflective and, amazingly, cautious . . . a welcome message of resistance and hope." —Evaggelos Vallianatos, Huffington Post

"[A] fascinating and breezy new effort . . . [Ilgunas] does a masterful job weaving the details of his daily travels into a work of prose that is difficult to put down . . . a very good book from a writer we should hope has many more waiting to come out." —Bruce Andriatch, The Buffalo News
 
"Ilgunas is something of an heir to Bill Bryson in his ability to find humor and irony in random encounters on the road. But he also brings to his work a John McPhee-like talent for placing big-picture environmental issues into an accessible narrative that's both entertaining and perceptive. Woven into this narrative are profound insights both about the beauty of the natural world and our alternately loving, twisted and exploitative relationship with it. Ilgunas's writing is funny, self-knowing and often moving." —Joanna O'Sullivan, Asheville Citizen-Times
 
"[A] compelling book . . . outlines a journey that started about a pipeline and became much more." —Melanie Wilkinson, York News-Times
 
"A rich, perceptive book, an amusing and interesting tale beautifully mixed with thoughtful insights into Ilgunas himself as well as the world that he was seeing more closely than most people ever do . . . at times funny, and at other times philosophical and even poetic." —Linda C. Brinson, Greensboro News & Record

"One of the great adventure stories of modern times." —Vick Mickunas, Dayton Daily News

"When Ken Ilgunas sets out to walk the proposed route of the Keystone XL pipeline from Alberta to Texas, he knows he is heading into the heartland of the debate about climate change. What he can't yet know is that, by confronting the challenges of this epic journey, he will emerge renewed, emboldened and filled with hope. An exhilarating adventure." —Candace Savage, author of Prairie: a Natural History and A Geography of Blood

"You could argue that a cross-country pipeline is itself a trespass—through watersheds, communities, lives—so moments when various authorities challenge Ilgunas's route work as tiny cosmic jokes. But this is not heavy book. Trespassing Across America is a delight. In the end, walking across the country turns out not to be about you, but about the country and all the land and people that make it one." —Robert Sullivan, author of Rats and The Thoreau You Don't Know