But What If We're Wrong?: Thinking About the Present As If It Were the Past (Hardcover)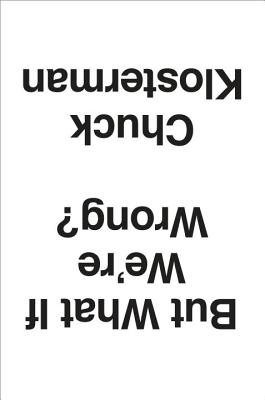 Staff Reviews
---
I can't say he's really breaking any new ground here but if you are a fan of Chuck Klosterman then you will, in all likelihood, like this book. It's full of delightfully circular arguments that usually lead him back to the beginning or to the conclusion "we can't really know but it's fun to think about." The idea of the book is predicting how future generations will view us. A few of the things he looks at are musicians, writers, political ideas, and scientific thought. It's a fun book and a great read, but if you're looking for anything definitive, this isn't for you.
—
Danny
Description
---
The tremendously well-received New York Times bestseller by cultural critic Chuck Klosterman, exploring the possibility that our currently held beliefs and assumptions about the world will eventually be proven wrong -- now in paperback.

But What If We're Wrong? is a book of original, reported, interconnected pieces, which speculate on the likelihood that many universally accepted, deeply ingrained cultural and scientific beliefs will someday seem absurd. Covering a spectrum of objective and subjective topics, the book attempts to visualize present-day society the way it will be viewed in a distant future. Klosterman cites original interviews with a wide variety of thinkers and experts -- including George Saunders, David Byrne, Jonathan Lethem, Alex Ross, Kathryn Schulz, Neil deGrasse Tyson, Brian Greene, Junot Díaz, Amanda Petrusich, Ryan Adams, Dan Carlin, Nick Bostrom, and Richard Linklater. Klosterman asks straightforward questions that are profound in their simplicity, and the answers he explores and integrates with his own analysis generate the most thought-provoking and propulsive book of his career.
About the Author
---
Chuck Klosterman is the bestselling author of eight nonfiction books (including Sex, Drugs, and Cocoa Puffs; I Wear the Black Hat; But What If We're Wrong?; and Killing Yourself to Live) and two novels (Downtown Owl and The Visible Man). He has written for The New York Times, The Washington Post, GQ, Esquire, Spin, The Guardian, The Believer, Billboard, The A.V. Club, and ESPN. Klosterman served as the Ethicist for The New York Times Magazine for three years, appeared as himself in the LCD Soundsystem documentary Shut Up and Play the Hits, and was an original founder of the website Grantland with Bill Simmons.
Praise For…
---
"Full of intelligence and insights, as the author gleefully turns ideas upside down to better understand them.... This book will become a popular book club selection because it makes readers think. Replete with lots of nifty, whimsical footnotes, this clever, speculative book challenges our beliefs with jocularity and perspicacity." —Kirkus (starred review)

"Klosterman conducts a series of intriguing thought experiments in this delightful new book...Klosterman's trademark humor and unique curiosity propel the reader through the book. He remains one of the most insightful critics of pop culture writing today and this is his most thought-provoking and memorable book yet." —Publishers Weekly (starred review)

"A spin class for the brain… Klosterman challenges readers to reexamine the stability of basic concepts, and in doing so broadens our perspectives…. An engaging and entertaining workout for the mind led by one of today's funniest and most thought-provoking writers." —Library Journal (starred review)

"Klosterman is a joy to hang out with: He relishes the contradictions he examines while making complex ideas comprehensible. In this new world, though, his voids of certainty aren't just exhilarating, but ominous." —Ryan Vlastelica, A.V. Club (Favorite Books of 2016)

"But What If We're Wrong? is a book about the big things we're wrong about that don't get discussed, just because everyone assumes they can never happen. That's as true for culture as it is for science, and the uniquely intellectual and dexterous Klosterman dives in with verve. Bonus points for interviews with some fascinating—and stubborn—people in the process." —Bloomberg Best Books of 2016, recommended by Ian Bremmer, President of Eurasia Group

"Klosterman is outlining the ideology of a contrarian here and reminding us of the important role that revisionism plays in cultural writing. What matters is the way he thinks about thinking—and the way he makes you think about how you think. And, in the end, this is all that criticism can really hope to do." —Sonny Bunch, The Washington Post

"[Klosterman's] most wide-ranging accomplishment to date… As inquisitive, thoughtful and dryly funny as ever, But What If We're Wrong?... [is] crackling with the writer's signature wit." —Will Ashton, Pittsburgh Post-Gazette
 
"In But What If We're Wrong? [Klosterman] takes on the really big picture . . . He ranges far and wide over the realm of known knowns and known unknowns." —Brigitte Frase, Minneapolis Star Tribune
 
"I have often wondered how the times I live in will be remembered once they turn into History. It never occurred to me to figure out how to write a book about it, though, which is one of the reasons why Chuck Klosterman is smarter than I am." —Aimee Levitt, The Chicago Reader

"Klosterman has proven himself an insightful and evolving philosopher for popular consumption . . . In his latest, But What If We're Wrong?, Klosterman probes the very notions of existence and longevity, resulting perhaps in the most mind-expanding writing of his career." —Max Kyburz, Gothamist
 
"Chuck Klosterman is no time traveler, but he's got a lot of ideas about how the future will shake out . . . in [But What If We're Wrong?] he ponders the limits of humanity's search for truth." —Chris Weller, Tech Insider
 
"Prolific pop-culture critic Chuck Klosterman tackles his most ambitious project yet in new book But What If We're Wrong?, which combines research, personal reflections and interviews." —Alexandra Cavallo, The Improper Bostonian

"This book is brilliant and addictively readable. It's also mandatory reading for anyone who loves history and for anyone who claims to have a capacity for forecasting. It'll probably make them angry because it turns so many sacred assumptions upside down—but that's what the future does. Klosterman's writing style is direct, highly personal and robotically crisp—he's like a stranger on the seat next to you on a plane who gives you a billion dollar idea. A terrific book." —Douglas Coupland
Coverage from NPR