Fever Dream: A Novel (Hardcover)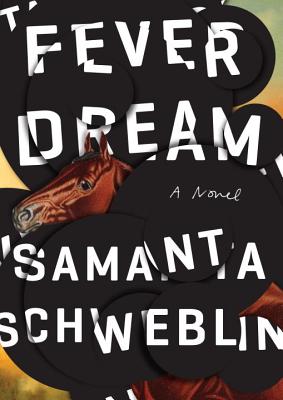 $25.00
Email or call for price.
Staff Reviews
---
Many times, reading a novel can shine a light into a dark corner and bring about a new revelation about some aspect of the reader's life. Fever Dream does no such thing. Instead, it directs that light just off center, casting long, deep shadows and leaving the reader with just as many questions as answers; questions about the nature of love, of parenthood, and of loss, and just how far a parent will go for their child.
—
Scott
Reading FEVER DREAM is exactly like experiencing one: it's vivid, intense, and frightening in a confused, half-seen way. As Amanda tells the story of her undoing to David, time expands and contracts, as disorienting for the reader as for the narrator. She lingers over small details, the ones David tells her are important. Some of these are striking in their beauty, some are a shade off, just wrong enough to raise your hackles. Like Juan Gabriel Vásquez, Schweblin manages to pack a powerful story into a relatively slim book.
—
Lauren
January 2017 Indie Next List
---
"Haunting, foreboding, eerie, and ominous, Schweblin's Fever Dream is the first of the Argentine author's books to appear in English. Despite its brevity, Fever Dream throbs with a quickened pulse, as heightening tension is its most effective quality. An intriguing yet purposefully vague plot adds to the story's mystique, one of peril, poison, and the unexplained terror of worms. Metaphorical in scope, Schweblin's impressively constructed tale leaves much to the imagination but is all the richer for doing so. Unsettling and compelling, this is a delirious, potent novel not to be overlooked."
— Jeremy Garber, Powell's Books, Inc, Portland, OR
Description
---
NOW A FEATURE FILM COMING SOON TO NETFLIX

"Genius." —Jia Tolentino, The New Yorker

Finalist for the Man Booker International Prize!

Experience the blazing, surreal sensation of a fever dream...

A young woman named Amanda lies dying in a rural hospital clinic. A boy named David sits beside her. She's not his mother. He's not her child. Together, they tell a haunting story of broken souls, toxins, and the power and desperation of family.      
 
Fever Dream is a nightmare come to life, a ghost story for the real world, a love story and a cautionary tale. One of the freshest new voices to come out of the Spanish language and translated into English for the first time, Samanta Schweblin creates an aura of strange psychological menace and otherworldly reality in this absorbing, unsettling, taut novel.
About the Author
---
Samanta Schweblin was chosen as one of the 22 best writers in Spanish under the age of 35 by Granta. She is the author of three story collections that have won numerous awards, including the prestigious Juan Rulfo Story Prize, and been translated into 20 languages. Fever Dream is her first novel and is longlisted for the Man Booker International Prize. Originally from Buenos Aires, she lives in Berlin.

Megan McDowell has translated books by many contemporary South American and Spanish authors, and her translations have been published in The New Yorker, Harper's, The Paris Review, McSweeney's, Words Without Borders, and Vice, among other publications. She lives in Chile.
Praise For…
---
"To call Schweblin's novella eerie and hallucinatory is only to gesture at its compact power; the fantastical here simply dilates a reality we begin to accept as terrifying and true.... Schweblin's book is suffused with haunting images and big questions." —New York Times Book Review

"Samanta Schweblin's electric story reads like a Fever Dream." —Vanity Fair

"I picked up Fever Dream in the wee hours, and a low, sick thrill took hold of me as I read it. I was checking the locks in my apartment by page thirty. By the time I finished the book, I couldn't bring myself to look out the windows…. [T]he genius of Fever Dream is less in what it says than in how Schweblin says it, with a design at once so enigmatic and so disciplined that the book feels as if it belongs to a new literary genre altogether." —Jia Tolentino, The New Yorker

"A nauseous, eerie read, sickeningly good." —Emma Cline, The Girls

"Subtle, dreamy and indelibly creepy." —The Economist (Best Books of 2017)

"Never have I ever been so afraid to read a book right before bed" —Marie Claire

"A spare, hypnotic literary page-turner." —O, the Oprah Magazine

"Mesmerizing... Schweblin, though, is an artist of remarkable restraint… Schweblin renders psychological trauma with such alacrity that the conceit of a poisoned environment feels almost beside the point." —Washington Post

"This small debut novel packs a mighty, and lingering, punch.... [A] compact, but explosive, package. Schweblin delivers a skin-prickling masterclass in dread and suspense.... With virtuoso skill, well served in Megan McDowell's finely textured translation, Schweblin fuses a study in maternal anxiety with an ecological horror story. She refracts both strands through the eerie prism of her narrative, almost as if Henry James had scripted a disaster movie about toxic agribusiness." —The Economist

"Elusiveness takes a terrifyingly creepy form in this dazzling short novel." —NPR

"Unsettling... [T]he novel represents a perfect marriage of form and subject, in which its narrative instability — which is so of the literary moment — viscerally recreates the insecurities of life in the Argentine countryside today.... [Schweblin] has found ways to electrify and destabilize the physical world... [Fever Dream is] the scariest of all things: a ghost story that is, in essence, true." —Los Angeles Times

"It's rare for a book to do exactly what its title says it will do without any caveats or reservations. It's even more rare for a book to achieve the kind of woozy, elliptical, intimate horror implied by a title like Fever Dream. But this debut novel by Argentinian short story writer Samanta Schweblin — translated from Spanish by Megan McDowell — does exactly that.... Fever Dream is a novel stripped down to its barest elements, all dialogue and atmosphere, and working with only those elements, it manages to create an authentic nightmare… If you're after creeping, insidious, psychologically compelling horror, then you won't do better." —Vox

"An absorbing and inventive tale... Schweblin is a fine mythmaker, singular in her own fantastical artistry." —Houston Chronicle

"Mesmerizing, frightening... Schweblin's writing, translated from the original Spanish by Megan McDowell, is sparse, precise, but full of looming disquiet. It's an astonishing work from the Latin American author." —Broadly

"A remarkable accomplishment in literary suspense." —New York Journal of Books

"If you want to read something that terrifies you and upsets you, and makes you feel like you're going crazy, yet also makes you feel like you can't put it down and you never want it to end because you love it so much, this is the book for you…  It's some of the most compelling, fantastic writing I've ever read!" —BookRiot

"This is a weird hallucination of a book—reading it feels like an experience, like something that happens to you, as infectious and mysterious and unstoppable and possibly magical as the disease that powers its plot." —LitHub
 
"Fever Dream is worth reading for its inventiveness alone. Schweblin gives us memorable characters and a haunting parable, all in fewer than 200 short pages." —Huffington Post

"A taut, exquisite page-turner vibrating with existential distress and cumulative dread.... While the book resides in the realm of the uncanny, its concerns are all too real. Once the top blows off Schweblin's chest of horrors, into which we'd been peeking through a masterfully manipulated crack, what remains is an unsettling and significant dissection of maternal love and fear, of the devastation we've left to the future, and of our inability to escape or control the unseen and unimagined threats all around us. In a literary thriller of the highest order, Schweblin teases out the underlying anxieties of being vulnerable and loving vulnerable creatures and of being an inhabitant of a planet with an increasingly uncertain future." —Kirkus, STARRED review

"[A] pulsating debut…Schweblin guides her reader through a nightmare scenario with amazing skill." —Publishers Weekly

"The unique style, the quick paced rhythm and the amazingly wise and compact storytelling create a special novel that will stay in your mind long after you put this book down." —Etgar Keret, author of The Seven Good Years

"Samanta Schweblin is a magician, and reading her work is an intense, almost physical experience. This mind-bending book sheds new light—or, rather, new darkness—on the intense power of love in a poisoned world. You must read it. Prepare to be mesmerized, riveted, terrified, and changed." —Helen Phillips, author of The Beautiful Bureaucrat

"A wonderful nightmare of a book: tender and frightening, disturbing but compassionate. Fever Dream is a triumph of Schweblin's outlandish imagination."
–Juan Gábriel Vasquez, author of The Sound of Things Falling and Reputations

"Fever Dream is a small masterpiece, a beautiful and chillingly contemporary book. Every word throbs a kind of wisdom that can only come from a meticulous and fully engaged observation of reality." —Alejandro Zambra, author of Multiple Choice and My Documents

"Samanta Schweblin will injure you, however safe you may feel." —Jesse Ball, author of A Cure for Suicide and How to Set a Fire and Why

"Samanta Schweblin is one of the most promising voices in modern literature." —Mario Vargas Llosa
 
"She has a unique, inventive voice, and her stories have this ability to veer off into strange and unexpected territories with sublime grace. I admire and envy this gift." —Daniel Alarcón, author of At Night We Walk in Circles

"In spare, lucid prose, Schweblin demonstrates again and again that she knows the weight of what is left unsaid in the comings and goings of everyday life. Then, in the turn of a phrase, she forces the reader to shift perspective; she has a gift for sketching comfortable worlds and then disrupting them with images of dark, startling power." —Electric Literature