Mapping the Bones (Hardcover)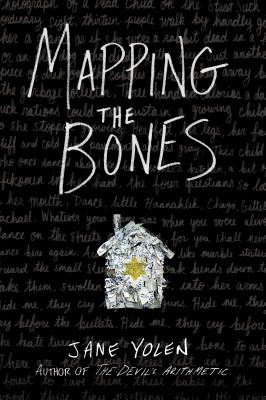 $17.99
Email or call for price.
Description
---
From the best-selling and award-winning author of The Devil's Arithmetic, Jane Yolen, comes her first Holocaust novel in nearly thirty years. Influenced by Dr. Mengele's sadistic experimentations, this story follows twins as they travel from the Lodz ghetto, to the partisans in the forest, to a horrific concentration camp where they lose everything but each other.

It's 1942 in Poland, and the world is coming to pieces. At least that's how it seems to Chaim and Gittel, twins whose lives feel like a fairy tale torn apart, with evil witches, forbidden forests, and dangerous ovens looming on the horizon. But in all darkness there is light, and the twins find it through Chaim's poetry and the love they have for each other. Like the bright flame of a Yahrzeit candle, his words become a beacon of memory so that the children and grandchildren of survivors will never forget the atrocities that happened during the Holocaust.

Filled with brutality and despair, this is also a story of poetry and strength, in which a brother and sister lose everything but each other. Nearly thirty years after the publication of her award-winning and bestselling The Devil's Arithmetic and Briar Rose, Yolen once again returns to World War II and captivates her readers with the authenticity and power of her words.

Praise for Mapping the Bones:

"Jane Yolen's Mapping the Bones is a swift and deadly drama with overtones of dark fable we all wish we could forget. But this book, a shining star held in a trembling palm, requires us to remember." --Gregory Maguire, internationally bestselling author of Wicked

"Mapping the Bones is spare and beautiful and haunting. Jane Yolen has created a masterpiece." --Kimberly Brubaker Bradley, New York Times bestselling author of The War That Saved My Life

"Master storyteller Jane Yolen has outdone herself. This is a compelling, important, necessary, and timely book that deserves the widest audience possible." --Lesléa Newman, award-winning author of Still Life with Buddy

"In the hands of the superb Jane Yolen, folklore and fact connect in a harrowing testimony to horror and to love. Brutal, relentless, prophetic, and full of truth." --Elizabeth Wein, New York Times bestselling author of Code Name Verity

"A compassionate, unflinching, unforgettable Nazi labor camp Hansel & Gretel tale woven by America's finest spinner of Holocaust stories for young readers." --Julie Berry, author of the Printz Honor Book The Passion of Dolssa

"[An] expansive, eloquent novel." --Publishers Weekly

"Yolen does a superb job of dramatizing the horrors of WWII and the Holocaust, bringing vivid fear and suspense to her captivating story. It makes for altogether memorable and essential reading." --Booklist

"[A] breath-taking and heartbreaking look at the horrors of war and the lengths people go to overcome." --Voice of Youth Advocates

"Fans of Yolen's The Devil's Arithmetic will be engrossed in this story until the last page." --School Library Journal

"[A] well-rounded story of a very difficult time that shows the resiliency of these young people." --School Library Connection
About the Author
---
Born and raised in New York City, Jane Yolen now lives in Hatfield, Massachusetts. She attended Smith College and received her master's degree in education from the University of Massachusetts. The distinguished author of more than 170 books, Jane Yolen is a person of many talents. When she is not writing, Yolen composes songs, is a professional storyteller on the stage, and is the busy wife of a university professor, the mother of three grown children, and a grandmother. All of Yolen's stories and poems are rooted in her sense of family and self. The Emperor and the Kite, which was a Caldecott Honor Book in 1983 for its intricate paper-cut illustrations by Ed Young, was based on Yolen's relationship with her late father, who was an international kite-flying champion. Owl Moon, winner of the 1988 Caldecott Medal for John Schoenherr's exquisite watercolors, was inspired by her husband's interest in birding.
Praise For…
---
Praise for Mapping the Bones:

"Jane Yolen's Mapping the Bones is a swift and deadly drama with overtones of dark fable we all wish we could forget. But this book, a shining star held in a trembling palm, requires us to remember." —Gregory Maguire, internationally bestselling author of Wicked
 
"Mapping the Bones is spare and beautiful and haunting. Jane Yolen has created a masterpiece." —Kimberly Brubaker Bradley, New York Times bestselling author of The War That Saved My Life

"Master storyteller Jane Yolen has outdone herself. This is a compelling, important, necessary, and timely book that deserves the widest audience possible." —Lesléa Newman, award-winning author of Still Life with Buddy

"In the hands of the superb Jane Yolen, folklore and fact connect in a harrowing testimony to horror and to love. Brutal, relentless, prophetic, and full of truth." —Elizabeth Wein, New York Times bestselling author of Code Name Verity

"A compassionate, unflinching, unforgettable Nazi labor camp Hansel & Gretel tale woven by America's finest spinner of Holocaust stories for young readers." —Julie Berry, author of the Printz Honor Book The Passion of Dolssa

"[An] expansive, eloquent novel." —Publishers Weekly

"Yolen does a superb job of dramatizing the horrors of WWII and the Holocaust, bringing vivid fear and suspense to her captivating story. It makes for altogether memorable and essential reading." —Booklist

"[A] breath-taking and heartbreaking look at the horrors of war and the lengths people go to overcome." --Voice of Youth Advocates

"Fans of Yolen's The Devil's Arithmetic will be engrossed in this story until the last page." --School Library Journal

"[A] well-rounded story of a very difficult time that shows the resiliency of these young people." --School Library Connection