Homesick for Another World: Stories (Hardcover)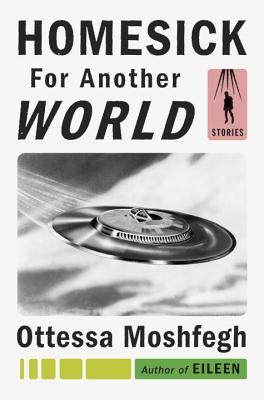 $26.00
Email or call for price.
Staff Reviews
---
Ottessa Moshfegh is incomparable! HOMESICK FOR ANOTHER WORLD is a collection of stories that are so weird, so darkly hilarious, and so poignant, I found myself veering wildly between the characters' vivid emotions. They are all damaged people who cling to the things that destroy them, who wallow in the ugliness around them, and who view their lives with a sort of detached amusement. Moshfegh's genius lies in her ability to write about those grubby, base subjects in a way that's beautiful, poetic even. Her stories are the gutter and the stars.
—
Lauren
Sometimes people fall into the gritty, grimy cracks and crevasses of the world and some people go looking for them. They revel in it, they wallow in it, believe it's all they deserve, or they believe that's all the world truly is. Otessa Mosfegh opens up those cracks and crevasses and lets us peer inside. I've never read longing and denial so clearly and devastatingly written. These stories are populated by characters on the fringe, some because they went looking and some because it's all they've ever known, but all of them with an overwhelming sense of displacement, captured in a moment teetering on the edge of tragedy. Homesick for Another World hits all the right notes. It may be the best book this year.
—
Heather
February 2017 Indie Next List
---
"This phenomenal collection of short stories has ruined me forever. Ottessa Moshfegh is brilliant when it comes to showing off the uglier, twisted side of humanity, the part that we would never share on Facebook or Instagram. Her characters are often desperate, hungry for something they might be able to obtain if only they could name it. Their bitterness often leads to grotesque, yet honest, reactions to the world around them. I can't wait to recommend this dark little oddity to as many readers as possible."
— Becca Chavez (E), Tattered Cover Book Store, Denver, CO
Description
---
A New York Times Book Review Notable Book of 2017

An electrifying first collection from one of the most exciting short story writers of our time

"I can't recall the last time I laughed this hard at a book. Simultaneously, I'm shocked and scandalized. She's brilliant, this young woman."—David Sedaris

Ottessa Moshfegh's debut novel Eileen was one of the literary events of 2015. Garlanded with critical acclaim, it was named a book of the year by The Washington Post and the San Francisco Chronicle, nominated for a National Book Critics Circle Award, short-listed for the Man Booker Prize, and won the PEN/Hemingway Award for debut fiction. But as many critics noted, Moshfegh is particularly held in awe for her short stories. Homesick for Another World is the rare case where an author's short story collection is if anything more anticipated than her novel.

And for good reason. There's something eerily unsettling about Ottessa Moshfegh's stories, something almost dangerous, while also being delightful, and even laugh-out-loud funny. Her characters  are all unsteady on their feet in one way or another; they all yearn for connection and betterment, though each in very different ways, but they are often tripped up by their own baser impulses and existential insecurities. Homesick for Another World is a master class in the varieties of self-deception across the gamut of individuals representing the human condition. But part of the unique quality of her voice, the echt Moshfeghian experience, is the way the grotesque and the outrageous are infused with tenderness and compassion.  Moshfegh is our Flannery O'Connor, and Homesick for Another World is her Everything That Rises Must Converge or A Good Man is Hard to Find. The flesh is weak; the timber is crooked; people are cruel to each other, and stupid, and hurtful. But beauty comes from strange sources. And the dark energy surging through these stories is powerfully invigorating. We're in the hands of an author with a big mind, a big heart, blazing chops, and a political acuity that is needle-sharp. The needle hits the vein before we even feel the prick.
About the Author
---
Ottessa Moshfegh is a fiction writer from New England. Her first book, McGlue, a novella, won the Fence Modern Prize in Prose and the Believer Book Award. Her stories have been published in The Paris Review, The New Yorker, and Granta, and have earned her a Pushcart Prize, an O. Henry Award, the Plimpton Discovery Prize, and a grant from the National Endowment for the Arts. Eileen, her first novel, was shortlisted for the National Book Critics Circle Award and the Man Booker Prize, and won the PEN/Hemingway Award for debut fiction; My Year of Rest and Relaxation, her second novel, was a New York Times bestseller.
Praise For…
---
"Dark, confident, prickling stories . . . . Moshfegh uses ugliness as if it were an intellectual and moral Swiss Army knife . . . Her stories veer close to myth in a manner that can resemble fiction by the English writer Angela Carter. There's some Flannery O'Connor, Harry Crews and Katherine Dunn in her interest in freaks and quasi-freaks . . . At her best, she has a wicked sort of command. Sampling her sentences is like touching a mildly electrified fence. There is a good deal of humor in "Homesick for Another World," and the chipper tone can be unnerving. It's like watching someone grin with a mouthful of blood."
- Dwight Garner, New York Times

"A fluent, deeply talented artist . . . Moshfegh quickly established herself as an important new voice in the literary world, and her concerns for those isolated not only in the margins of society but within the physical confines of the body itself mirrored the work of brilliant predecessors like Mary Gaitskill, Christine Schutt and, in some ways, Eileen Myles. Homesick for Another World continues that exploration but with a wider range, over a larger landscape. It's a paradox that in order to locate a sense of national character—and that ever-elusive American dream—art must continually probe the places where that dream seems to have all but disappeared."
—The New York Times Book Review

"I can't recall the last time I laughed this hard at a book. Simultaneously, I'm shocked and scandalized. She's brilliant, this young woman."—David Sedaris

"On second and third reading, these stories reveal coils of plain language and quick narratives tight as songs. What is at first urgent and disorienting becomes a hymn, improving with repetition, all of it worth memorizing."
—Village Voice

"[A] stunning debut short story collection . . . Moshfegh displays a preternatural ability in short fiction, her stories impeccably shaped, her sentences sharp, and her voice controlled and widely confident; the stories of Homesick For Another World are near perfect examples of the form . . . What makes the pieces composing Homesick so thrilling, in addition to their technical inscrutability, is their ability to surprise—with their ferocity, depravity, and casual violence, with their very ability to so consistently unsettle . . . Amid the collection's dark tone, Moshfegh imbues an equally dark humor, at times absurd, at others melancholy and bone-dry . . . If you're the kind of person who laughs when the grandma gets axed in "A Good Man Is Hard To Find," you'll be right at home in Homesick."
—AV Club

"Ottessa Moshfegh's story collection, "Homesick for Another World," couldn't come at a better time. Notions of class and power are in an unpredictable flux. A new elite rises, flipping the deck into the air. Nobody knows where the cards will land. So here comes Moshfegh, whose imaginative writing about train-wreck characters, rich and poor, adheres to a relentlessly dim worldview where a divided America comes together in the muck . . . The best stories in the collection, however, contain memorable, conflicting images of squalor and beauty, chaos and pattern." 
— Associated Press

"All psychologically astute, astringently funny and wonderfully entertaining."
— Minneapolis Star Tribune

"Startling and impressive new short story collection. . . Despite her unsparing dissection of their paranoias, fetishes, and failings, Moshfegh doesn't condescend to her characters; she is both gimlet-eyed and compassionate . . . there is both piercing wit and unexpected poignancy to be found in Moshfegh's original and resonant collection."
—Boston Globe

"The characters in this collection are an unlovely bunch but make for an irresistible read . . . Moshfegh — a Boston-born, Los Angeles-based writer whose Man Booker-shortlisted novel Eileen (2016) infused the same sensibility into a witty, skillfully told suspense story — has other tones and tricks at her command. She writes terrific, attention-grabbing openings, and impactful last lines that don't strain for a lapidary effect. Her damaged-girl deadpan snark is second to none . . . the authority of her storytelling means that she's able to bring the reader along with her on some surprising paths to her typically desolate destinations."
—Financial Times 

"Homesick for Another World will scorch you like a blowtorch." —John Waters, The New York Times Book Review

"Stunning short story collection . . . There's not a story in Homesick for Another World that's anything less than original and perfectly constructed. Moshfegh's talent is unique, and her characters — unfiltered, cold, frequently pathetic — are all the more memorable for their faults and obliviousness. Anyone who's experienced the special kind of homesickness that lacks a home will find something to relate to in Moshfegh's unsettling, sharp stories."
—NPR

"These stories are Moshfegh's deepest, darkest moments of introspection. Let them in."
—Electric Literature

"The title and cover of Homesick for Another World might lead you to believe Ottessa Moshfegh's stories are set in outer space, but she's done the opposite: approached Earth as if it were an alien planet . . . Moshfegh imbues her anguished realism with equal parts murky dread and clever turns of phrase. But for stories about isolation and loneliness, they are also oddly funny…  a short story collection that's as consistent—and often brilliant—as they come."
— GQ
 
"Ottessa Moshfegh's startling new stories are darkly, prickly, gross — and impressive….
Despite her unsparing dissection of their paranoias, fetishes, and failings, Moshfegh doesn't condescend to her characters; she is both gimlet-eyed and compassionate. These are "sad. . . lonely and troubled" people, but many are improbably appealing; even the most twisted and tortured have recognizably human qualities . . .  if you can stomach the discomfort, there is both piercing wit and unexpected poignancy to be found in Moshfegh's original and resonant collection." — Boston Globe
 
"Psychologically astute, astringently funny and wonderfully entertaining . . . Moshfegh's singular stories are unified by bold ideas, intoxicating detail and perfectly calibrated humor and pathos."
— Minneapolis Star Tribune

"Sentences looped and pulled into perfect slipknots: Moshfegh's ear is original, and her command of form, expert. I would read anything she writes."
—Harper's
 
"Homesick for Another World showcases her mastery with tales of a range of creeps and weirdos in despair… This cast of boors may not be the kind of folks readers would seek out to spend time with in real life. But in Moshfegh's stories, their company is irresistible."
—Time

"Homesick for Another World is an impressive study of human vulnerability and self-deception, through which the reader is guided by a cynical and darkly funny literary voice."
—1843 Magazine

"Expertly crafted stories . . . There's not a throw-away story in the collection. Each resonates with seemingly effortless, ineffable prose, rarely striking an inauthentic note—particularly memorable are the endings, which often land to devastating effect. The author's acute insight focuses obsessively, uncomfortably, humorously on excreta, effluvia, and human foible, drilling to the core of her characters' existential dilemmas. Moshfegh is a force."
— Publishers Weekly (starred)

"[Moshfegh] is fearless in her probing of her characters' emotional wounds, proceeding with such a sure touch readers are compelled, not repelled. The directness of her style demands that we register the life 'stuffed between the mattress and the wall.' While it is not always an easy read, this collection will leave readers with a sharper, more compassionate sense of the human condition."
— Booklist (starred review)

"A smartly turned and admirably consistent collection about love and its discontents."
— Kirkus