Devotions: The Selected Poems of Mary Oliver (Hardcover)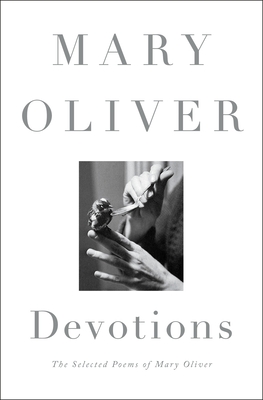 $30.00
Not Available In-Store - Usually Ships from Warehouse in 1-5 Days
Staff Reviews
---
A poet friend asked me to let her know my favorite poem from this Mary Oliver collection. As I read on, I settled on The Old Poets of China"(p 178). Yes, it is my fav.
"Wherever I am, the world comes after me.
It offers me its busyness. It does not believe
that I do not want it. Now I understand
why the old poets of China went so far and high
into the mountains, then crept into the pale mist."
At times in the reading, Mary Oliver's style reminded me of the work of James Wright and how I love his poems.
And then I came upon Mary Oliver's poems from Three Rivers Poetry Journal 1980 and "Three Poems for James Wright" 1982 (p 391). They were indeed friends from Ohio.
Devotions is a fine collection!
 
—
Pinna
Description
---
Pulitzer Prize-winning poet Mary Oliver presents a personal selection of her best work in this definitive collection spanning more than five decades of her esteemed literary career.

Throughout her celebrated career, Mary Oliver has touched countless readers with her brilliantly crafted verse, expounding on her love for the physical world and the powerful bonds between all living things. Identified as "far and away, this country's best selling poet" by Dwight Garner, she now returns with a stunning and definitive collection of her writing from the last fifty years.

Carefully curated, these 200 plus poems feature Oliver's work from her very first book of poetry, No Voyage and Other Poems, published in 1963 at the age of 28, through her most recent collection, Felicity, published in 2015. This timeless volume, arranged by Oliver herself, showcases the beloved poet at her edifying best. Within these pages, she provides us with an extraordinary and invaluable collection of her passionate, perceptive, and much-treasured observations of the natural world.
About the Author
---
Born in a small town in Ohio, Mary Oliver published her first book of poetry in 1963 at the age of 28. Over the course of her long career, she received numerous awards. Her fourth book, American Primitive, won the Pulitzer Prize for Poetry in 1984. She led workshops and held residencies at various colleges and universities, including Bennington College, where she held the Catharine Osgood Foster Chair for Distinguished Teaching. She died in 2019.
Praise For…
---
"In "Devotions: The Selected Poems of Mary Oliver" (Penguin), one of our most beloved writers offers both the best of her work and a spiritual road map of sorts. Spanning more than 50 years and featuring more than 200 poems, the collection shows Oliver, in the early years, turning away from grief and finding in nature a "vast, incredible gift." Over time, as she carefully observes and records, Oliver extols the beauty and complexity around her and reminds us of the interconnectedness of living. She also asks important questions, such as "have you ever dared to be happy/ ... have you ever dared to pray," and "Tell me, what it is you plan to do/ with your one wild and precious life?" Those lines resonate as much today as when she first penned them decades ago. No matter where one starts reading, "Devotions" offers much to love, from Oliver's exuberant dog poems to selections from the Pulitzer Prize-winning "American Primitive," and "Dream Work," one of her exceptional collections. Perhaps more important, the luminous writing provides respite from our crazy world and demonstrates how mindfulness can define and transform a life, moment by moment, poem by poem." —The Washington Post

"It's as if the poet herself has sidled beside the reader and pointed us to the poems she considers most worthy of deep consideration." — Chicago Tribune