Born a Crime: Stories from a South African Childhood (Hardcover)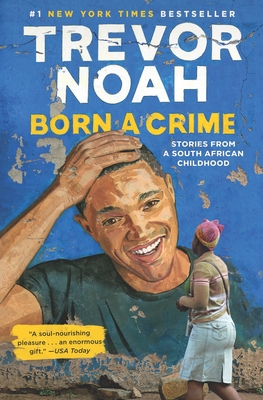 $28.00

Not Available In-Store - Usually Ships from Warehouse in 1-5 Days
Staff Reviews
---
Trevor Noah is known for his hilarious stand up comedy, but he brings so much more to the table! He is one of the most astute political and social commentators of his generation. He is an accomplished polyglot, an incredibly gifted storyteller, and he seems like a genuinely awesome human being. I cannot recommend this book highly enough!!!
—
Rachel
December 2016 Indie Next List
---
"Noah's perspective of growing up as the son of a black woman and white man in South Africa during apartheid, mixed with his trademark humor, is both insightful and poignant. We in the U.S. are often presented with what Chimamanda Ngozi Adichie has termed 'the danger of the single story,' which depicts history only from the point of view of the oppressors. It is refreshing and enlightening to learn history from someone directly affected by the heinousness of the apartheid laws."
— Karena Fagan (E), Bookshop Santa Cruz, Santa Cruz, CA
Description
---
#1 NEW YORK TIMES BESTSELLER • The compelling, inspiring, and comically sublime story of one man's coming-of-age, set during the twilight of apartheid and the tumultuous days of freedom that followed

NAMED ONE OF PASTE'S BEST MEMOIRS OF THE DECADE • NAMED ONE OF THE BEST BOOKS OF THE YEAR BY Michiko Kakutani, New York Times • USA Today • San Francisco Chronicle • NPR • Esquire • Newsday • Booklist

Trevor Noah's unlikely path from apartheid South Africa to the desk of The Daily Show began with a criminal act: his birth. Trevor was born to a white Swiss father and a black Xhosa mother at a time when such a union was punishable by five years in prison. Living proof of his parents' indiscretion, Trevor was kept mostly indoors for the earliest years of his life, bound by the extreme and often absurd measures his mother took to hide him from a government that could, at any moment, steal him away. Finally liberated by the end of South Africa's tyrannical white rule, Trevor and his mother set forth on a grand adventure, living openly and freely and embracing the opportunities won by a centuries-long struggle.

Born a Crime is the story of a mischievous young boy who grows into a restless young man as he struggles to find himself in a world where he was never supposed to exist. It is also the story of that young man's relationship with his fearless, rebellious, and fervently religious mother—his teammate, a woman determined to save her son from the cycle of poverty, violence, and abuse that would ultimately threaten her own life.

The stories collected here are by turns hilarious, dramatic, and deeply affecting. Whether subsisting on caterpillars for dinner during hard times, being thrown from a moving car during an attempted kidnapping, or just trying to survive the life-and-death pitfalls of dating in high school, Trevor illuminates his curious world with an incisive wit and unflinching honesty. His stories weave together to form a moving and searingly funny portrait of a boy making his way through a damaged world in a dangerous time, armed only with a keen sense of humor and a mother's unconventional, unconditional love.

Praise for Born a Crime

"Compelling . . . By turns alarming, sad and funny, [Trevor Noah's] book provides a harrowing look, through the prism of Mr. Noah's family, at life in South Africa under apartheid. . . . Born a Crime is not just an unnerving account of growing up in South Africa under apartheid, but a love letter to the author's remarkable mother."—Michiko Kakutani, The New York Times
About the Author
---
Trevor Noah is a comedian from South Africa.
Praise For…
---
"[An] unforgettable memoir."—Parade

"You'd be hard-pressed to find a comic's origin story better than the one Trevor Noah serves up in Born a Crime. . . . [He] developed his aptitude for witty truth telling [and]…every hardscrabble memory of helping his mother scrape together money for food, gas, school fees, and rent, or barely surviving the temper of his stepfather, Abel, reveals the anxious wellsprings of the comedian's ambition and success. If there is harvest in spite of blight, the saying goes, one does not credit the blight-but Noah does manage to wring brilliant comedy from it."—O: The Oprah Magazine
 
"What makes Born a Crime such a soul-nourishing pleasure, even with all its darker edges and perilous turns, is reading Noah recount in brisk, warmly conversational prose how he learned to negotiate his way through the bullying and ostracism. . . . What also helped was having a mother like Patricia Nombuyiselo Noah. . . . Consider Born a Crime another such gift to her—and an enormous gift to the rest of us."—USA Today

"[Noah] thrives with the help of his astonishingly fearless mother. . . . Their fierce bond makes this story soar."—People

"This isn't your average comic-writes-a-memoir: It's a unique look at a man who is a product of his culture—and a nuanced look at a part of the world whose people have known dark times easily pushed aside."—Refinery29

"Noah's memoir is extraordinary . . . essential reading on every level. It's hard to imagine anyone else doing a finer job of it."—The Seattle Times

"Powerful prose . . . told through stories and vignettes that are sharply observed, deftly conveyed and consistently candid. Growing organically from them is an affecting investigation of identity, ethnicity, language, masculinity, nationality and, most of all, humanity—all issues that the election of Donald Trump in the United States shows are foremost in minds and hearts everywhere. . . . What the reader gleans are the insights that made Noah the thoughtful, observant, empathic man who wrote Born a Crime. . . . Here is a level-headed man, forged by remarkable and shocking life incidents, who is quietly determined and who knows where home and the heart lie. Would this unique story have been published had it been about someone not a celebrity of the planet? Possibly not, and to the detriment of potential readers, because this is a warm and very human story of the type that we will need to survive the Trump presidency's imminent freezing of humane values."—Mail & Guardian (South Africa)

"[Noah's] story of surviving—and thriving—is mind-blowing."—Cosmopolitan

"A gifted storyteller, able to deftly lace his poignant tales with amusing irony."—Entertainment Weekly

"Noah has a real tale to tell, and he tells it well. . . . Among the many virtues of Born a Crime is a frank and telling portrait of life in South Africa during the 1980s and '90s. . . . Born a Crime offers Americans a second introduction to Trevor Noah, and he makes a real impression."—Newsday

"An affecting memoir, Born a Crime [is] a love letter to his mother."—The Washington Post

"Witty and revealing . . . Noah's story is the story of modern South Africa; though he enjoyed some privileges of the region's slow Westernization, his formative years were shaped by poverty, injustice, and violence. Noah is quick with a disarming joke, and he skillfully integrates the parallel narratives via interstitial asides between chapters. . . . Perhaps the most harrowing tales are those of his abusive stepfather, which form the book's final act (and which Noah cleverly foreshadows throughout earlier chapters), but equally prominent are the laugh-out-loud yarns about going to the prom, and the differences between 'White Church' and 'Black Church.'"—Publishers Weekly (starred review)

"[A] substantial collection of staggering personal essays . . . Incisive, funny, and vivid, these true tales are anchored to his portrait of his courageous, rebellious, and religious mother who defied racially restrictive laws to secure an education and a career for herself—and to have a child with a white Swiss/German even though sex between whites and blacks was illegal. . . . [Trevor Noah's] electrifying memoir sparkles with funny stories . . . and his candid and compassionate essays deepen our perception of the complexities of race, gender, and class."—Booklist (starred review)

"A gritty memoir . . . studded with insight and provocative social criticism . . . with flashes of brilliant storytelling and acute observations."—Kirkus Reviews
Coverage from NPR