If Jack's in Love (Paperback)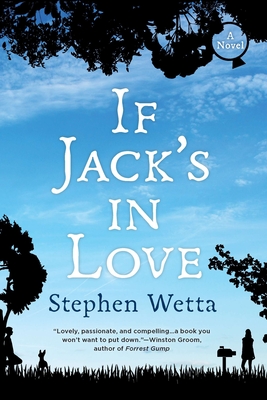 $15.00

Special Order - Subject to Availability
Staff Reviews
---
The characters in Wetta's debut novel are unbelievably raw and real—Jack Witcher, his 12 year-old protagonist, is the most unforgettable child narrator since Scout from To Kill A Mockingbird. Likewise, the people populating his family and neighborhood are equally compelling and complex, shown muddling through the author's masterful construction of small-town angst in the upheaval of the '60s. With subplots such as a murder mystery or hilariously awkward first (and forbidden!) love, and timeless themes such as racism, poverty, and self-discovery, there's plenty of meaty substance in If Jack's In Love to please any reader. This is an exemplar of high-thinking literary fiction with a compulsively readable satirical twist.
—
Jennie
October 2011 Indie Next List
---
"Jack Witcher's voice is one of the most heartbreaking I've heard in a long time. He's 12 going on 13 and in love with Myra Joyner. When Myra's brother goes missing and Jack's older brother, Stan, becomes the leading suspect in the disappearance, Jack's world starts to unravel. Not that he ever had it very good: his father is unemployed and hangs around the house watching soap operas; his brother is a pot-smoking 'hippie freak' with a terrible temper; and his mother is trying to understand why her family is the laughingstock of the town. Wetta has written a coming-of-age novel set in 1967 that is at once dark, witty, and charming."
— Ken Favell, Books & Company, Oconomowoc, WI
Description
---
Every neighborhood has that house: The one with the broken down cars in the front yard; the one where the father is always out of work and starting fights with other dads;the one no one wants to go near. Twelve-year-old Jack Witcher lives in that house.

And that's just where his problems begin.

It is 1967 and Jack's father has lost his job, yet again. The war in Vietnam is perpetually on the news, and Jack is in love with a girl named Myra. But Myra's family is the opposite of Jack's. Her father is well dressed and well spoken. Her brother is the town's golden boy. Jack schemes to win Myra's love with the only person in town who will deign to be his friend, the town jeweler and sole Jew. But when Myra's brother goes missing, Jack's pot-smoking older brother becomes suspect number one...
About the Author
---
Stephen Wetta is a native of Richmond, Virginia. He received his bachelor's degree from Virginia Commenwealth University and his PhD from New York University. He is currently an English professor at Hunter College. If Jack's in Love is his first novel.
Praise For…
---
"Terrific…you should read this wonderfully written marvel of a book: a work both gripping and hilarious, joyous and heartbreakingly bittersweet." —The Wall Street Journal

"It took Stephen Wetta fifty-five years to write his promising first novel … I only hope Mr. Wetta writes a little faster next time so I'll be around to say I told you so." —Pete Dexter

"This is a lovely, passionate, and compelling … a book you won't want to put down." —Winston Groom, author of Forrest Gump

"At turns unsparing, tender, and disturbing….intelligently, wonderfully conceived." —Publisher's Weekly, starred review

"Heartfelt, heartbreaking, suspenseful, and riveting… The novel, full of beautifully realized characters and predicaments, gets everything exactly right." —Timothy Schaffert, award-winning author of The Coffins of Little Hope

"I loved this novel! Like To Kill a Mockingbird, Whistling in the Dark… Jack Witcher will charm you, break your heart . . . surprise you on nearly every page … [and] stay with you long after the final satisfying page." —Katrina Kittle, author of The Blessings of the Animals

"A powerful story … Wetta captures with great charm and grit the joys and aches of a first love complicated by social boundaries and familial expectations…. a fast-moving tale." —Lee Martin, author of The Bright Forever and Break the Skin