The Necromancer's House (Paperback)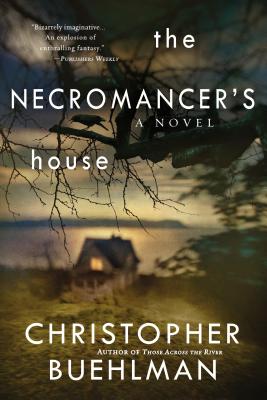 $16.00
Not Available In-Store - Usually Ships from Warehouse in 1-5 Days
Staff Reviews
---
The Necromancer's House was one of those books that once I picked it up, I had to struggle to put it down to go to work and earn money for more books. It blends of dark and macabre with twisted humor. This story features the boogeymen of various cultures, creating an interesting arc to follow and see how the combination of villains and heroes interact. Andrew Blankenship is lucky enough to have plenty of "issues," both natural and supernatural. The flawed hero, who despite his deep vices and proclivity to lose control, does his best to remain loyal and protective of those he has taken under his wing.
—
Chris's Staff Picks
Description
---
"You think you got away with something, don't you? But your time has run out. We know where you are. And we are coming."

Andrew Ranulf Blankenship is a stylish nonconformist with wry wit, a classic Mustang, and a massive library. He's also a recovering alcoholic and a practicing warlock. His house is a maze of sorcerous booby traps and escape tunnels, as yours might be if you were sitting on a treasury of Russian magic stolen from the Soviet Union thirty years ago.

Andrew has long known that magic is a brutal game requiring blood sacrifice and a willingness to confront death, but years of peace and comfort have left him more concerned with maintaining false youth than with seeing to his own defense. Now a monster straight from the pages of Russian folklore is coming for him, and frost and death are coming with her.
About the Author
---
Christopher Buehlman is the winner of the 2007 Bridport Prize for Poetry and the author of The Lesser Dead, Between Two Fires and Those Across the River, and several plays. He spends half the year in St. Petersburg, Florida, and the rest on the road
Praise For…
---
Praise for The Necromancer's House

"[An] eruption of characters who evoke Dickensian whimsy and range from the merely unusual to the bizarrely imaginative...an explosion of enthralling fantasy. [A] vibrant, bracing atmosphere."—Publishers Weekly (starred review)

"You find yourself believing the unbelievable and fearing what you thought belonged only in those Old World, pre-sanitized fairytales."—Andrew Pyper, author of The Demonologist

Praise for Between Two Fires

"Cormac McCarthy's The Road meets Chaucer's Canterbury Tales in this frightful medieval epic...Buehlman...doesn't scrimp on earthy horror and lyrical writing in the face of unspeakable horrors...an author to watch."—Kirkus Reviews

"I was spellbound from the moment I opened the front cover…Intense and chilling…The ultimate good-versus-evil battle."—Night Owl Reviews

"Fans of historical fantasy and horror will find this epic darkly rewarding."—Publishers Weekly

Praise for Those Across the River
One of Publishers Weekly's Top-Ten SF, Fantasy & Horror Novels
A World Fantasy Award Nominee for Best Novel

"One of the best first novels I've ever read."—Charlaine Harris, #1 New York Times bestselling author

"What a treat. As much F. Scott Fitzgerald as Dean Koontz. A graceful, horrific read."—Patricia Briggs, #1 New York Times bestselling author

"Beautifully written…with a cast of Southern characters so real you can almost see the sweat roll down the page. The ending is exceedingly clever."—Boston Herald

"Wonderfully eerie from start to finish—a novel sure to enthrall readers of all stripes."—Grant Blackwood, #1 New York Times bestselling author

"An unsettling brew of growing menace spiked with flashes of genuine terror—do not miss this chilling debut. Christopher Buehlman is a writer to watch. I look forward to hearing from him again. And soon."—F. Paul Wilson, New York Times bestselling author

"Seduces you with eloquent prose and sensual period details, then clamps down on your jugular…An outstanding debut."—Hank Schwaeble, Bram Stoker Award–winning author of Diabolical

"Buehlman's lyrical prose vividly captures a landscape made familiar by William Faulkner and Flannery O'Connor. A delightfully genre-bending juxtaposition of supernatural horror and gothic drama."—California Literary Review

"A horror story that manages just the right balance between building dread and suspense and delivering action."—The A.V. Club

"Sublimely crafted...It is clear that Mr. Buehlman brings his poetic background to bear in creating the rhythm and meter of the story…A well-crafted novel that is a pleasure to read."—The New York Journal of Books

"Masterful debut novel…moody and lush…[a] spellbinding tale of terror…filled with cowardice and bravery, foolishness and wisdom, grief and grace, and, alas, helplessness and beauty. Buehlman has written one of the best books of the year."—Shelf Awareness

"Creepy, suspenseful...Recommended for horror fans and those willing to be scared enough to want to stay out of the woods."—Library Journal

"In its unnerving depiction of small-town creepiness and heathen savagery, this surefooted debut resembles nothing more than Thomas Tryon's Harvest Home…Viscerally upsetting…This is lusty, snappy writing, and horror fans will eat it up (or vice versa)."—Booklist

"Buehlman packs suspense and secrets into his debut novel…keep[s] readers on their toes right up until the big reveal."—Publishers Weekly

"Fans of novels like Salems' Lot or classic radio dramas will find this story impossible to put down…[It] feels completely fantastical by our rational minds but believable by our deepest fears."—Suspense Magazine