Sweet Surrender (Paperback)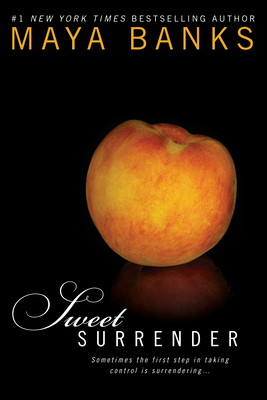 Other Books in Series
This is book number 1 in the Sweet series.
Description
---
FROM NEW YORK TIMES BESTSELLING AUTHOR OF THE BREATHLESS TRILOGY MAYA BANKS

First Book in the Sweet Series by Maya Banks, and it "might just singe your fingertips off."—New York Times bestselling author Nalini Singh

Under Faith Malone's soft exterior lies a woman who knows what she wants: A man who'll take without asking—because she's willing to give him everything…

Dallas cop Gray Montgomery wants only to find guy who killed his partner and bring him to justice. What he's found so far a link between the killer and Faith—and if Gray has to get close to her to catch his man, all the better. She's everything Gray desires in a woman, but he suspects she's playing games. No way would she allow a man to call the shots in their relationship. Or would she?

Faith sees in Gray the strong, dominant man she needs, but he seems determined to keep her at a distance. So she takes matters into her own hands to prove to him it's no game she's playing. She's willing to surrender to the right man. Gray would like to be that man. But catching his partner's killer has to be his first priority. Until Faith is threatened and Gray realizes he will do anything to protect her…
About the Author
---
Maya Banks resides in Texas with her family. She is also the author of the Breathless Trilogy, the KGI novels including Softly at Sunrise, and the Colters series including Colters' Promise.
Praise For…
---
Praise for the novels of Maya Banks, author of the Breathless Trilogy

"[For] fans who prefer torrid temperatures."—Midwest Book Review

"Definitely a recommended read . . . filled with friendship, passion, and most of all, a love that grows beyond just being friends."—Fallen Angel Reviews

"Ignites the pages…Exciting erotic romance."—The Best Reviews

"Grabbed me from page one and refused to let go until I read the last word . . . When a book still affects me hours after reading it, I can't help but Joyfully Recommend it!" —Joyfully Reviewed

"I guarantee I will reread this book many times over, and will derive as much pleasure as I did in the first reading each and every subsequent time."—Novelspot

"An excellent read that I simply did not put down . . . A fantastic adventure . . . covers all the emotional range."—The Road to Romance

"A must-read author . . . her [stories] are always full of emotional situations, lovable characters, and kick-butt story lines."—Romance Junkies