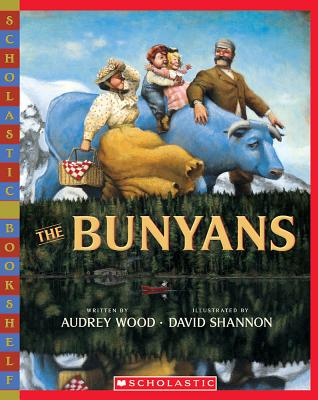 Description
---
Let the Scholastic Bookshelf be your guide through the whole range of your child's reading experience -- laugh with them, learn with them, read with them
You may know that Paul Bunyan was taller than a redwood tree and stronger than fifty grizzly bears--but you may NOT know that he also had a wife and two kids who helped him create some of the most striking natural wonders of North America With warmth, humor, and dazzling landscapes, award-winning writer Audrey Wood and acclaimed illustrator David Shannon team up to present the tall-tale beginnings of Niagara Falls, the Rocky Mountains, Old Faithful, and more. The Bunyans are a family you will never forget.
About the Author
---
Audrey Wood has been writing award-winning children's books for more than thirty years, and she is a fourth-generation artist. She often collaborates with her husband, Caldecott Honor illustrator Don Wood (THE NAPPING HOUSE; KING BIDGOOD'S IN THE BATHTUB; IT'S DUFFY TIME!), and she created many bestselling books with their son, Bruce Wood (ALPHABET MYSTERY; TEN LITTLE FISH). Audrey has illustrated numerous popular books herself, including SILLY SALLY, A DOG NEEDS A BONE, and BLUE SKY (2012). She lives with her husband in Hawaii, under the blue sky, rain sky, and changing-all-day sky. David Shannon is the internationally acclaimed creator of more than thirty picture books, including NO, DAVID!, a Caldecott Honor Book and his second NEW YORK TIMES Best Illustrated Book of the Year. In addition to three more David picture books, Shannon s bestsellers include TOO MANY TOYS; HOW GEORGIE RADBOURN SAVED BASEBALL (newly released in 2012); A BAD CASE OF STRIPES; DUCK ON A BIKE; ALICE THE FAIRY; and GOOD BOY, FERGUS! A native of Spokane, Washington, he is an avid fisherman. He and his family live in California."