The Stonekeeper (Amulet #1) (Paperback)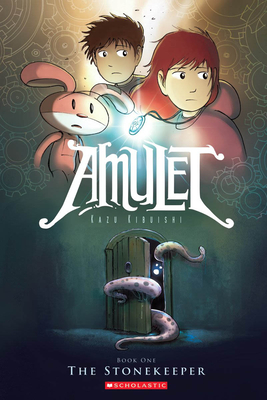 Other Books in Series
This is book number 1 in the Amulet series.
Staff Reviews
---
Are you a fan of jumping into portals that lead to underground worlds, mechanical rabbit sidekicks, or adventures to fulfill amazing prophecies? I mean, how could you not be a fan of those things right?? This is a fantastic read for graphic novel readers of all ages. Join Emily and her brother Navin as they embark on a mission to rescue their mother and save their new friends from the evil that lurks around every corner on the beautifully illustrated pages of this book.
— From
Miranda's picks
Description
---
Graphic novel star Kazu Kibuishi creates a world of terrible, man-eating demons, a mechanical rabbit, a talking fox, a giant robot---and two ordinary children on a mission.After the tragic death of their father, Emily and Navin move with their mother to the home of her deceased great-grandfather, but the strange house proves to be dangerous. Before long, a sinister creature lures the kids' mom through a door in the basement. Em and Navin, desperate not to lose her, follow her into an underground world inhabited by demons, robots, and talking animals.Eventually, they enlist the help of a small mechanical rabbit named Miskit. Together with Miskit, they face the most terrifying monster of all, and Em finally has the chance to save someone she loves.
About the Author
---
Kazu Kibuishi is the creator of the #1 New York Times bestselling Amulet series, which is available in 16 languages. He is also the creator of Copper, a collection of his popular webcomic that features an adventuresome boy-and-dog pair. Kazu also illustrated the covers of the 15th anniversary paperback editions of the Harry Potter series written by J.K. Rowling. He lives and works near Seattle, Washington, with his wife, Amy Kim Kibuishi, and their children. Visit Kazu online at boltcity.com
Kazu Kibuishi is the creator of the #1 New York Times bestselling Amulet series, which is available in 16 languages. He is also the creator of Copper, a collection of his popular webcomic that features an adventuresome boy-and-dog pair. Kazu also illustrated the covers of the 15th anniversary paperback editions of the Harry Potter series written by J.K. Rowling. He lives and works near Seattle, Washington, with his wife, Amy Kim Kibuishi, and their children. Visit Kazu online at boltcity.com
Praise For…
---
Praise for Amulet
New York Times Bestseller
"Five-no, three pages into Amulet and you'll be hooked." - Jeff Smith, creator of BONE
"[The] action-packed adventure sequences move at an exciting clip . . . Part fantasy . . . and part manga, this volume has much to appeal to readers." - Booklist
"A richly drawn graphic-fantasy series following in the footsteps of BONE and a must for all fantasy fans." - Kirkus Reviews
"Stellar artwork, imaginative character design, moody color and consistent pacing." - PW Comics Week
Praise for Amulet
New York Times Bestseller
"Five-no, three pages into Amulet and you'll be hooked." - Jeff Smith, creator of BONE
"[The] action-packed adventure sequences move at an exciting clip . . . Part fantasy . . . and part manga, this volume has much to appeal to readers." - Booklist
"A richly drawn graphic-fantasy series following in the footsteps of BONE and a must for all fantasy fans." - Kirkus Reviews
"Stellar artwork, imaginative character design, moody color and consistent pacing." - PW Comics Week