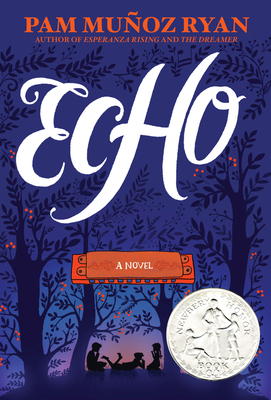 Staff Reviews
---
Heartbreaking, gut-wrenching, and ultimately soul-soothing, this is one of the most profoundly emotional books I have ever read. Part fairy tale and part historical fiction, Echo follows an enchanted harmonica across three dovetailing stories whose troubled young characters are separated by time and space but connected by the mystical power of music. As I was reading about these characters, I felt like author Pam Muñoz Ryan was introducing me to new friends – I laughed with them, I cried with them, I danced with them, and I embraced them. Their lives affected me deeply, and their stories will live with me forever. Handling heavy issues and upsetting themes with grace and optimism, Echo is harmony among discord, a modern classic that deserves to be passed down through the ages for generations to come. Read it and be enriched.
—
Jason
Description
---
2016 Newbery Honor BookNew York Times BestsellerAn impassioned, uplifting, and virtuosic tour de force from a treasured storyteller!Lost and alone in a forbidden forest, Otto meets three mysterious sisters and suddenly finds himself entwined in a puzzling quest involving a prophecy, a promise, and a harmonica.Decades later, Friedrich in Germany, Mike in Pennsylvania, and Ivy in California each, in turn, become interwoven when the very same harmonica lands in their lives. All the children face daunting challenges: rescuing a father, protecting a brother, holding a family together. And ultimately, pulled by the invisible thread of destiny, their suspenseful solo stories converge in an orchestral crescendo.Richly imagined and masterfully crafted, Echo pushes the boundaries of genre, form, and storytelling innovation to create a wholly original novel that will resound in your heart long after the last note has been struck.
About the Author
---
Pam Muñoz Ryan is the recipient of the Newbery Honor Medal and the Kirkus Prize for her New York Times bestselling novel, Echo, as well as the NEA's Human and Civil Rights Award and the Virginia Hamilton Literary Award for multicultural literature for her body of work. Her celebrated novels, Echo, Esperanza Rising, The Dreamer, Riding Freedom, Becoming Naomi Léon, and Paint the Wind, have received countless accolades, among them two Pura Belpré Awards, a NAPPA Gold Award, a Jane Addams Children's Book Award, and two Américas Awards. Her acclaimed picture books include Amelia and Eleanor Go for a Ride and When Marian Sang, both illustrated by Brian Selznick, and Tony Baloney, illustrated by Edwin Fotheringham, as well as a beginning reader series featuring Tony Baloney. Ryan lives near San Diego, California, with her family.
Praise For…
---
Awards and Praise for Echo:A New York Times Notable BookA Publishers Weekly Best BookAn ILA Notable Book for a Global SocietyAn ALA Notable Children's BookWinner of the 2015 Kirkus Prize for Young Readers* "The story of Otto and the cursed sisters honor timeless and traditional folktales [and] Ryan has created three contemporary characters who, through faith and perseverance, write their own happy endings, inspiring readers to believe they can do the same." -- School Library Journal, starred review* "A grand narrative that examines the power of music to inspire beauty in a world overrun with fear and intolerance." -- Kirkus Reviews, starred review* "Each individual story is engaging, but together they harmonize to create a thrilling whole." -- Publishers Weekly, starred review"A masterpiece." -- Christopher Paul Curtis, author of Newbery Medal-winning Bud, Not Buddy"Daring and beautiful." --Linda Sue Park, author of Newbery Medal-winning A Single Shard

Awards and Praise for Echo:A New York Times Notable BookA Publishers Weekly Best BookAn ILA Notable Book for a Global SocietyAn ALA Notable Children's BookWinner of the 2015 Kirkus Prize for Young Readers* "The story of Otto and the cursed sisters honor timeless and traditional folktales [and] Ryan has created three contemporary characters who, through faith and perseverance, write their own happy endings, inspiring readers to believe they can do the same." -- School Library Journal, starred review* "A grand narrative that examines the power of music to inspire beauty in a world overrun with fear and intolerance." -- Kirkus Reviews, starred review* "Each individual story is engaging, but together they harmonize to create a thrilling whole." -- Publishers Weekly, starred review"A masterpiece." -- Christopher Paul Curtis, author of Newbery Medal-winning Bud, Not Buddy"Daring and beautiful." --Linda Sue Park, author of Newbery Medal-winning A Single Shard