God Is Not Great: How Religion Poisons Everything (Paperback)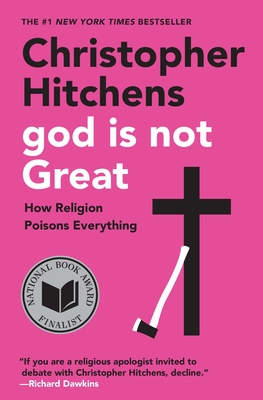 $17.99

Not Available In-Store - Usually Ships from Warehouse in 1-5 Days
Staff Reviews
---
Hitchens isn't the first writer to unleash a blistering (and bestselling) anti-religion polemic in recent years, but his is easily the most fun to read. In God is Not Great: How Religion Poisons Everything, he makes mincemeat of every sacred cow that lumbers across his path, never once yielding to the traditional—and in his view, dangerous—habit of respectful deference in matters of religious debate. When his pen flashes from its scabbard, heads roll. The result is one of the more biting and entertaining manifestos in the growing literature of the atheism movement. —Brandon
—
Brandon
Description
---
"If you are a religious apologist invited to debate with Christopher Hitches, decline." –Richard Dawkins
 
A stylish new paperback edition of GOD IS NOT GREAT, Hitchens' devastating critique of religious faith—a #1 New York Times bestseller.

With a close and studied reading of the major religious texts, Christopher Hitchens documents the ways in which religion is a man-made wish, a cause of dangerous sexual repression, and a distortion of our origins in the cosmos. With eloquent clarity, Hitchens frames the argument for a more secular life based on science and reason, in which hell is replaced by the Hubble Telescope's awesome view of the universe, and Moses and the burning bush give way to the beauty and symmetry of the double helix.

In the tradition of Bertrand Russell's Why I Am Not a Christian and Sam Harris's The End of Faith, Christopher Hitchens makes the ultimate case against religion.
About the Author
---
Christopher Hitchens (1949-2011) was a prolific author, columnist, editor, and book critic, writing on issues ranging from politics, to religion, to the nature of debate itself. Hitchens' 2007 manifesto God Is Not Great was a #1 New York Times bestseller and National Book Award nominee. His other New York Times bestsellers include Hitch 22, Arguably, and Mortality. 
Praise For…
---
"[An] impressive and enjoyable attack on everything so many people hold dear... Hitchens has outfoxed the Hitchens watchers by writing a serious and deeply felt book, totally consistent with his beliefs of a lifetime. And God should be flattered: unlike most of those clamoring for his attention, Hitchens treats him like an adult."—New York Times

"[Hitchens] has somehow turned out an atheist book that, whatever one's stance on divine providence, is thoroughly enjoyable...in its profane interrogation of the sacred, [it] achieves a kind of joyous impudence...His narrative leans briskly and unrelentingly forward, subverting an unsettling all kinds of complacencies, religious and otherwise."—Wall Street Journal