Les Miserables: Complete and Unabridged (Mass Market Paperback)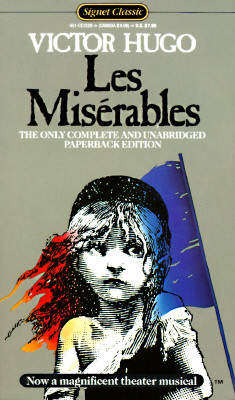 $9.95
Special Order - Subject to Availability
Description
---
Victor Hugo's towering novel of Jean Valjean, his unjust imprisonment, and his lifelong flight from a relentless police officer.
About the Author
---
Born in 1802, the son of a high officer in Napoleon's army, Victor Hugo spent his childhood against a background of military life in Elba, Corsica, Naples, and Madrid. After the Napoleonic defeat, the Hugo family settled in straitened circumstances in Paris, where, at the age of fifteen, Victor Hugo commenced his literary career with a poem submitted to a contest sponsored by the Academie Francaise. Twenty-four years later, Hugo was elected to the Academie, having helped revolutionize French literature with his poems, plays, and novels. Entering politics, he won a seat in the National Assembly in 1848; but in 1851, he was forced to flee the country because of his opposition to Louis Napoleon. In exile on the Isle of Guernsey, he became a symbol of French resistance to tyranny; upon his return to Paris after the Revolution of 1870, he was greeted as a national hero. He continued to serve in public life and to write with unabated vigor until his death in 1885. He was buried in the Pantheon with every honor the French nation could bestow.

Lee Fahnestock and Norman MacAfee have translated two volumes of the letters of Jean-Paul Sartre, edited by Simone de Beauvoir: "Witness to My Life" and "Quiet Moments in a War." For their work together, they have received an NEA Translation fellowship and the American Literary Translators Association Award. Lee Fahnestock has translated fiction as well as four volumes of the poetry of Francis Ponge, including "The Making of the Pre "and "The Nature of Things." The French Government honored her with the Chevalier de l'ordre des arts et des lettres. Norman MacAfee's other books include "One Class: Selected Poems; The Gospel According to RFK: Why It Matters Now;" the opera "The Death of the Forest"; and translations of Pier Paolo Pasolini's poetry.