Lost and Found: One Woman's Story of Losing Her Money and Finding Her Life (Paperback)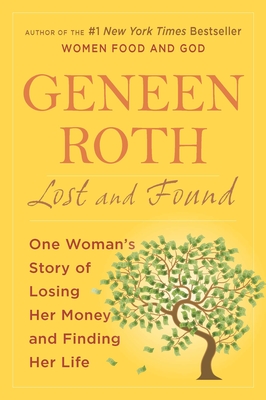 $16.00
Not Available In-Store - Usually Ships from Warehouse in 1-5 Days
Staff Reviews
---
When Geneen Roth and her husband, Matt, lost their life savings in Bernard Madoff's Ponzi schemes, she started to realize that her relationship with money unconsciously resembled, in many ways, her relationship with food. She concluded that how we form our beliefs about what we need or desire are very similar whether those beliefs are about food or money. Feelings of deficiency prompt the desire for more food or money, but this trance of deficiency doesn't disappear with when more is obtained. She found that sufficiency is knowing that there is enough and that we ourselves are enough. Enjoying what we already have without feeling shame or guilt guides us to sufficiency. Lost and Found takes us on a journey to understand that investing in our inner lives can change how we live on this earth.
—
Pinna
Description
---
The #1 New York Times bestselling author of Women Food and God maps a path to meeting one of our greatest challenges-how we deal with money.
When Geneen Roth and her husband lost their life savings in the Bernard Madoff debacle, Roth joined the millions of Americans dealing with financial turbulence, uncertainty, and abrupt reversals in their expectations. The resulting shock was the catalyst for her to explore how women's habits and behaviors around money-as with food-can lead to exactly the situations they most want to avoid. Roth identified her own unconscious choices: binge shopping followed by periods of budgetary self-deprivation, "treating" herself in ways that ultimately failed to sustain, and using money as a substitute for love, among others. As she examined the deep sources of these habits, she faced the hard truth about where her "self-protective" financial decisions had led. With irreverent humor and hard-won wisdom, she offers provocative and radical strategies for transforming how we feel and behave about the resources that should, and can, sustain and support our lives.
About the Author
---
Geneen Roth is a writer and a teacher who has gained international prominence through her work in the field of eating disorders. She is the founder of the Breaking Free workshops, which she has conducted nationwide since 1979. She is also the author of Feeding the Hungry Heart, Breaking Free from Compulsive Eating, and When Food Is Love. A frequent guest on television and radio programs, she has written for and been featured in Tie, Ms., New Woman, Family Circle, and Cosmopolitan. Her poetry and short stories have been published in numerous anthologies. Born in New York City, she now lives in northern California.
Praise For…
---
"Roth is courageous in her honesty."—Michelle Singletary, The Washington Post
 
"Roth teaches by example the transformative power of awareness. With compassion and humor she dismantles unconscious compulsions that bespeak an inner poverty, dissipating what she calls the 'trance of deficiency' that hijacks financial relationships and self-worth. Fans familiar with the heart and wisdom that infuses Roth's candid writing style and makes her books memorable won't be disappointed."—Publisher's Weekly
 
"Encourages stressed-out people to step back and look the good things they have—even such simple things as a treasured tea cup—to help liberate themselves from old patterns."—Robin Mcmacken, Grand Rapid Press (Michigan)