More Money, Please: The Financial Secrets You Never Learned in School (Paperback)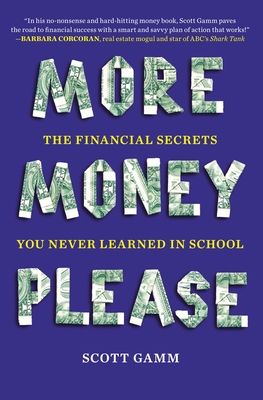 $16.00

Special Order - Subject to Availability
Description
---
Personal finance 101—without the homework or quizzes

Most of us graduate high school with a basic understanding of history, math, science, and literature, but when it comes to personal finance—arguably the topic that we use most in our daily lives—we feel lost or overwhelmed. No longer! Cast aside your fear of FICO scores and your confusion about credit cards, because Scott Gamm, founder of HelpSaveMyDollars.com and student at NYU Stern School of Business is here to help.

MORE MONEY, PLEASE is a comprehensive, easy-to-understand introduction to money management. Gamm walks readers through the basics of personal finance, from savings accounts to student loans, including:

•The rules for building a budget—and sticking with it
•How to pay for college without getting into tons of debt
•Why getting a credit card is a good thing—if you pick the right one
•How to use your smart phone to pay bills on time
•Why it's important to save for retirement right now

A must-read for college students and recent grads, MORE MONEY, PLEASE will show you how to take control of your finances.
About the Author
---
Scott Gamm is the founder of HelpSaveMyDollars.com, a financial website focused on helping consumers save money. He has appeared on NBC's Today show, CNBC's Closing Bell, MSNBC, CNN, Inside Edition, Fox Business Network, ABC News, and CBS. He is a writer for CNBC.com, Forbes, and TheStreet.com, and a contributor to The Huffington Post and BusinessInsider.com. Scott has contributed to articles for FoxBusiness.com, the Associated Press, Reuters, Family Circle, USA Today, Woman's World magazine, and others.

Scott studies finance, marketing, and communications at New York University Stern School of Business.
Praise For…
---
"In his no-nonsense and hard-hitting money book, Gamm paves the road to financial success with a smart and savvy plan of action...that works!" –Barbara Corcoran, real estate mogul and star of ABC's Shark Tank

"Gamm delves deep into the financial issues that young people need to understand. There are no gimmicks--just straightforward and simple advice." –David Bach, #1 New York Times bestselling author of The Automatic Millionaire

"More Money, Please is the go-to source for smart and simple answers to the most pressing financial issues facing young people. An excellent read!" –Jean Chatzky financial expert and best-selling author of Money 911

"More Money, Please sheds light on the financial woes that have plagued young people for decades. If you're ready get your financial house in order, read Scott Gamm's book!" –William D. Cohan, New York Times bestselling author of Money and Power: How Goldman Sachs Came to Rule the World

"Gamm demystifies everything from credit scores to student loans in an easy-to-understand and entertaining way. Highly recommended!" –Stephanie Nelson, New York Times bestselling author of The Coupon Mom

"An energetic, encouraging financial guide… Gamm's muscular writing style is perfect for his audience of students and recent graduates." –Publishers Weekly