Hitler: A Global Biography (Hardcover)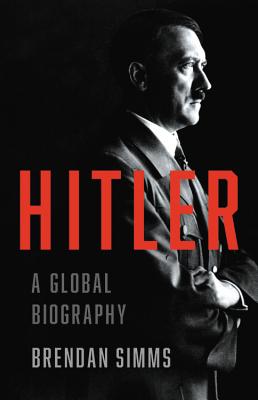 $40.00

Special Order - Subject to Availability
Description
---
From a prize-winning historian, the definitive biography of Adolph Hitler
Hitler offers a deeply learned and radically revisionist biography, arguing that the dictator's main strategic enemy, from the start of his political career in the 1920s, was not communism or the Soviet Union, but capitalism and the United States. Whereas most historians have argued that Hitler underestimated the American threat, Simms shows that Hitler embarked on a preemptive war with the United States precisely because he considered it such a potent adversary. The war against the Jews was driven both by his anxiety about combatting the supposed forces of international plutocracy and by a broader desire to maintain the domestic cohesion he thought necessary for survival on the international scene.
A powerfully argued and utterly definitive account of a murderous tyrant we thought we understood, Hitler is essential reading for anyone seeking to understand the origins and outcomes of the Second World War.

About the Author
---
Brendan Simms is a professor in the History of International Relations and fellow at Peterhouse College, Cambridge. He is the author of eight previous books, including The Longest Afternoon: The 400 Men Who Decided the Battle of Waterloo and Europe: The Struggle for Supremacy, from 1453 to the Present, shortlisted for the Lionel Gelber Prize. He lives in Cambridge, UK.
Praise For…
---
"Fascinating...[Simms] believes that, despite the attention Hitler has received, there is an unknown Hitler that other biographers and historians have missed-the Hitler who spent his political career grappling with the emergence of America as the dominant power of the 20th century. After reading Hitler: A Global Biography, one has to agree. A thought-provoking guide to seeing what happens when dictators read America wrong."—Arthur Herman, Wall Street Journal

"This vivid and painstakingly researched volume revises fundamentally how historians ought to view the geopolitical motivations of the Nazi leader. Simms argues that Hitler did not see the Soviet Union as the primary obstacle to his expansionist ambitions. From the start, his real enemies were the United Kingdom and the United States.... Engaging and essential reading for anyone interested in Hitler's policymaking."—Foreign Affairs

"A powerful new biography."—Timothy Snyder, New York Times

"[Hitler] challenges some of our longstanding ideas about the man who ruled Nazi Germany between 1933 and 1945...Highly provocative."—Financial Times

"[Simms] builds on previous scholarship to make a bold thesis-that Hitler's principal obsession was not communism but rather 'Anglo-America' and global capitalism...A vigorous, original study that adds to the ongoing scholarship."—Kirkus

"A radically new assessment of the Fuhrer's world view and the motivation for his plunging the world into a terminal struggle for survival."—Daily Mail

"Simms...challeng[es] much recent scholarship...A preoccupation with Anglo-American capitalism, he contends, drove the Third Reich's ideology in its formative years, more than the oft-cited obsession with Bolshevism...He has made sound use of the Bavarian archives."—Observer

"If many Hitler books are scarcely worth reading, this one commands attention through its originality and sheer intelligence...A thoroughly thought-provoking, stimulating biography which all historians of the Third Reich will have to take seriously."—Irish Times

"Impressive and intriguing...By drawing our attention to the centrality of historical emigration to Hitler's racial vision of a Great Germany, Simms adds a new dimension to our understanding of the thinking that drove history's most notorious figure. Crisply written and well-researched, there is much in this book that enlightens and stimulates."—The Interpreter

"Simms argues forcefully that [Hitler's] primary motivation was a fear that Germany would be crushed by the Anglo-Saxon capitalism epitomised by the US and the British Empire."—History Today

"A worthwhile reexamination of some long-standing assumptions about the Third Reich...Thought-provoking."—National Review

"This vigorously researched book will no doubt spark controversy for its bold thesis, but Simms delivers. His revisionist thesis...is backed with solid evidence from the Bavarian archives, making this a must read."—Choice

"A pathbreaking and elegantly written account of Hitler and his foreign policy that is rooted in the existing literature but goes beyond it to make new claims. Simms marshals considerable evidence to show that Hitler was more preoccupied with a worldwide struggle with America and Britain then he was by Jews and Bolshevism. His claims of Aryan racial superiority masked concerns about German inferiority; he hoped to improve the 'racial stock' by positive as well as negative eugenics. Simms rejects revisionist claims that see Hitler's foreign policy as constrained or compelled by German society and institutions. A must read for anyone interested in the Third Reich and the long shadow it cast over the 20th century."—Richard Ned Lebow, professor of War Studies, King's College London

"Brendan Simms has a bold hypothesis -- that it was Hitler's fixation on the United States and Great Britain, and his fear of German decay and degeneracy that drove his strategic thinking and behavior, and he argues it with exceptional eloquence and force. This fascinating book will force us to rethink the strategy of the Second World War in a way that none other has in more than a generation."—Eliot Cohen, Robert E. Osgood Professor of Strategic Studies at the School of Advanced International Studies, Johns Hopkins University

"After more than 100,000 publications on the evil of Adolf Hitler and the Nazi responsibility for Second World War, it is difficult to offer much new. But Brendan Simms has written a provocatively novel interpretation of the ascendance of Hitler, and why he prompted and lost a global war: his Hitler was always driven more by envy and fear of Anglo-American capitalists than fright of the Soviet Bolsheviks-and more from worries about the comparative inferiority of the German Volk than from arrogance about its purported superiority. Enthralling and enlightening revisionist history at its best."—Victor Davis Hanson, author of The Second World Wars

"Combining intellectual verve with gravity, this analytical biography's tightly integrated arguments are based on prodigious research and original conceptualizations. Often gripping, the book's fresh thinking concerning Hitler's anxieties about Anglo-America and the qualities of Germany's population directs readers to reconsider established perceptions about his intentions, motivations, and behavior."—Ira Katznelson, author of Fear Itself: The New Deal and the Origins of Our Time