A Sovereign People: The Crises of the 1790s and the Birth of American Nationalism (Hardcover)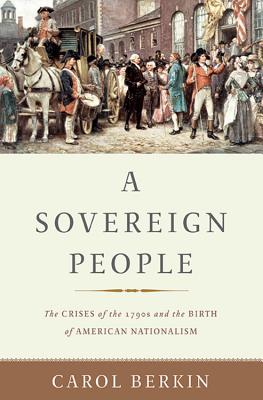 $30.00

Special Order - Subject to Availability
Description
---
The momentous story of how George Washington, Alexander Hamilton, and John Adams navigated the crises of the 1790s and in the process bound the states into a unified nation

Today the United States is the dominant power in world affairs, and that status seems assured. Yet in the decade following the ratification of the Constitution, the republic's existence was contingent and fragile, challenged by domestic rebellions, foreign interference, and the always-present danger of collapse into mob rule.

Carol Berkin reveals that the nation survived almost entirely due to the actions of the Federalist leadership -- George Washington, Alexander Hamilton, and John Adams. Reacting to successive crises, they extended the power of the federal government and fended off foreign attempts to subvert American sovereignty. As Berkin argues, the result was a spike in nationalism, as ordinary citizens began to identify with their nation first, their home states second.

While the Revolution freed the states and the Constitution linked them as never before, this landmark work shows that it was the Federalists who transformed the states into an enduring nation.
About the Author
---
Carol Berkin is the Baruch Presidential Professor of History at the CUNY Graduate Center. She is the author of many acclaimed books, including A Brilliant Solution. Berkin lives in New York City and Guilford, Connecticut.
Praise For…
---
"A Sovereign People is right that Americans--against the odds--forged a strong and lasting nationalism in the 1790s."--Wall Street Journal

"In this distinctive new interpretation of the events of the 1790s, Berkin...portrays the decade not as the era that inaugurated American party politics but as the seedtime of American nationalism.... [An] enjoyable and lively survey." --Publishers Weekly
"[An] insightful political history... Berkin makes a reasonable case that the Founders' resolve left the U.S. a viable nation." --Kirkus Reviews

"In A Sovereign People, Carol Berkin has given us a powerful story about the birth of America-but one that most of us missed in school. After the Declaration and the Revolutionary War and the Constitutional Convention, what then? As Washington says to Hamilton in Lin-Manuel Miranda's musical, 'Winning was easy, young man. Governing's harder.' Just how much harder comes through in Berkin's compelling narrative, as she shows how the newborn republic survived a series of potentially fatal crises in the 1790s and toughened into a viable nation."
--James Basker, President, Gilder Lehrman Institute of America

"Carol Berkin's masterful new book guides readers through the turbulent first decade of government under the Constitution. The decisions of the nation's first congresses and presidential administrations ensured the nation's survival and set precedents for our enduring national values. As we confront the challenges facing America in the 21st century, there is much we can learn from the crises of government legitimacy and sovereignty faced by the nation in the 1790s."
--Julie Silverbrook, Executive Director, The Constitutional Sources Project (ConSource)


"In a volume certain to provoke debate, Carol Berkin finishes the story begun in A Brilliant Solution, her masterful account of the forging of the Constitution. The new system of government, Berkin persuasively argues, was promptly tested by four crises. With meticulous research and vivid prose, Berkin deftly shows how the Federalist leadership not only weathered these emergencies but molded the fragile republic into a stable nation. A major book by a major historian."
--Douglas R. Egerton, author of Thunder At the Gates: The Black Civil War Regiments That Redeemed America

"No one tells the American story better than Carol Berkin, who has written captivating narratives about the colonial era, the Revolution, and the Constitution. Her compelling new book reveals that by 1800, the sovereign American people had emerged with the Constitution as their true foundation, although they would debate its meaning for centuries to come."
--Linda R. Monk, Author of The Words We Live By: Your Annotated Guide to the Constitution


"Carol Berkin's path breaking A Sovereign People highlights the way that high Federalists won the hearts and minds, not only of the rich and powerful, but of ordinary people from all walks of life, leading them to look to the nation and the Constitution rather than to the states for the source of their identity. Her astute analysis of four foreign and domestic crises brings the critical decade of the 1790s to life, capturing the tensions, the hopes and the fears of the people charged with creating the basis for a new and as yet untried nation. A tour de force."--Sheila Skemp, Clare Leslie Marquette Professor Emerita of History, University of Mississippi
"Carol Berkin has written a convincing reinterpretation of the four major crises of the 1790s. This essential book shows that the Whiskey Rebellion, Genet Affair, XYZ Affair, and Alien & Sedition Acts actually helped bind the nation together, increasing support for the government, a sense of American identity, and respect for the Constitution. Everyone interested in the history of this vital decade needs to have her book."--James H. Broussard, Director of the Lebanon Valley College Center for Political History