Where Women Run: Gender and Party in the American States (Paperback)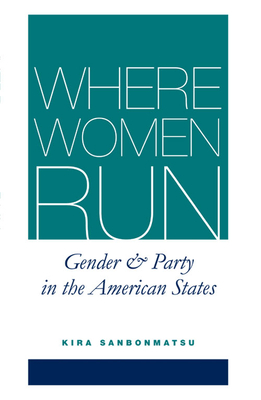 Description
---
Why don't more women run for office? Why are certain states more likely to have female candidates and representatives? Would strengthening political parties narrow the national gender gap? Where Women Run addresses these important questions through a rare and incisive look at how candidates are recruited. Drawing on surveys and case studies of party leaders and legislators in six states, political scientist Kira Sanbonmatsu analyzes the links between parties and representation, exposing the mechanism by which parties' informal recruitment practices shape who runs—or doesn't run—for political office in America.

"Kira Sanbonmatsu has done a masterful job of linking the representation of women in elective office to the activities of party organizations in the states. She combines qualitative and quantitative data to show how women are navigating the campaign process to become elected leaders and the changing role of party organizations in their recruitment and election. It is a significant contribution to the study of representative democracy."
--Barbara Burrell, Northern Illinois University

"Sanbonmatsu has produced an excellent study that will invigorate research on the role of political parties and the recruitment of women candidates. Using a variety of methods and data sources, she has crafted a tightly constructed, clearly argued, and exceedingly well-written study. A commendable and convincing job."
--Gary Moncrief, Boise State University

"Sanbonmatsu offers important insights in two neglected areas of American politics: the role of political parties in recruiting candidates and the continued under-representation of women in elected office. Connecting the two subjects through careful qualitative and statistical methods, insightful interpretation of the literature and interesting findings, the book is a significant new addition to scholarship on parties, gender, and political recruitment."
--Linda Fowler, Dartmouth College

Kira Sanbonmatsu is Associate Professor of Political Science at Rutgers University and Senior Scholar at the Eagleton Institute of Politics' Center for American Women and Politics (CAWP). She was previously associate professor at Ohio State University. She is the author of Democrats, Republicans, and the Politics of Women's Place.