Faust: Parts One and Two (Paperback)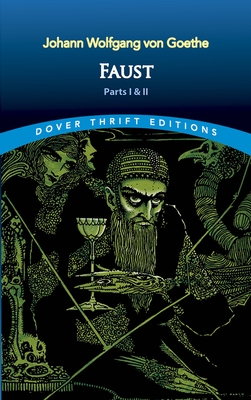 Description
---
The best-known work of the Enlightenment literary giant Johann Wolfgang von Goethe, Faust took a lifetime to write. For more than sixty years, Goethe worked on his masterpiece and ultimately divided it into two parts, the second of which was published in 1832, the year of his death. Hailed as Germany's greatest contribution to world literature, Faust drew upon the legends surrounding a sixteenth-century sorcerer as well as Marlowe's Dr. Faustus. But Goethe's epic interpretation further explores the tension between learning and experience, and in this version Faust sells his soul not simply for magic powers but also for a heightened sense of existence.
Part One of the dramatic poem concerns the magician's devilish pact with Mephistopheles and his seduction of Gretchen, an innocent girl. Part Two incorporates a vast array of influences -- theological, mythological, philosophical, political, musical, and literary--to relate Faust's life at court, his romance with Helen of Troy, and his salvation. This edition features the acclaimed translation by Bayard Taylor.
About the Author
---
The greatest German literary figure of the modern era, Johann Wolfgang von Goethe (1749-1832) was a poet, playwright, novelist, scientist, critic, theater director, and statesman. He is best known for Faust, which he started at the age of 23 and finished shortly before his death, 60 years later. The Sorrows of Young Werther, written at the age of 25, quickly achieved cult status and remains an exemplar of the Sturm und Drang literary movement. In addition to hundreds of poems of all kinds, Goethe wrote a series of classic memoirs of his childhood and travels as well as numerous essays on scientific subjects. Translator Bayard Taylor (1829-1878) was a well-known poet and travel writer whose interpretation of Faust was praised by Encyclopedia Americana as "one of the finest attempts of the kind in any literature."