Great Battles of All Time (Paperback)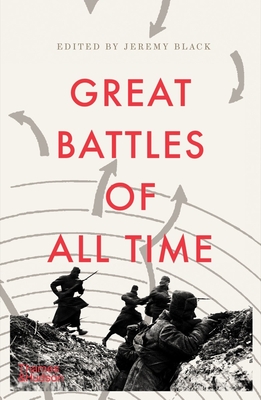 Description
---
Twenty-five military historians from around the world describe the decisive conflicts that shaped history from the fifth century BCE to the present.
Cannae and Agincourt, Waterloo and Gettysburg, Stalingrad and Midway, this compact volume collects the most influential battles and conflicts in history. Covering the past twenty-five centuries, editor Jeremy Black analyzes the effects these events have had on the development of states and civilizations.
Organized chronologically in seven parts, the chapters feature ancient and medieval worlds as well as the wars of the past hundred years, including recent conflicts in the Middle East. The contributors analyze land battles as well as sieges such as Constantinople (1453) and Tenochtitlan (1521); naval battles such as Actium (31 BCE), Trafalgar (1805), and Tsushima (1905); and the crucial conflicts in the air during the Battle of Britain (1940) and the American attack on Japan (1945).
The Great Battles in History's coverage is truly worldwide in scope, from the battle in Teutoburg Forest in 9 CE, where the Germans defeated the Romans, to Hakata Bay in 1281, where the Japanese defeated the Mongols, and the first battle of Panipat in 1526, where the Mughals conquered Hindustan. Black presents a masterly overview of advances in military technology, and of the changing tactics and strategy of battlefield commanders from Hannibal to Napoleon Bonaparte, Bernard Montgomery, and Dwight D. Eisenhower.
This compendium is essential reading for anyone interested in military history.
About the Author
---
Jeremy Black is one of the United Kingdom's most respected and prolific historians. He is a senior fellow at Policy Exchange, an emeritus professor of history at Exeter University, and a renowned expert on the history of war. His recent books include A Brief History of Italy, A Brief History of Spain, and France: A Short History.