An American Language: The History of Spanish in the United States (American Crossroads #49) (Paperback)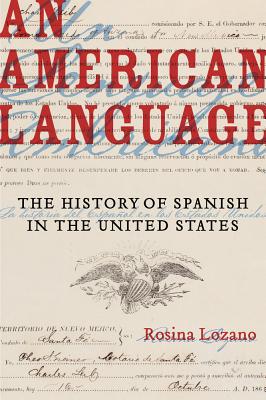 Staff Reviews
---
When Spanish-speaking Mexican residents of the Southwest became citizens of the United States through the Treaty of Guadalupe Hidalgo in 1848, we find Spanish in state and territorial session laws, on state constitutions, on election materials, in schools; we find that its instruction was even endorsed and encouraged by federal agencies. Lozano's examination of the deep, rich history of Spanish in the U.S. is a superb new resource.
—
Claudia
Description
---
"This is the most comprehensive book I've ever read about the use of Spanish in the U.S. Incredible research. Read it to understand our country. Spanish is, indeed, an American language."—Jorge Ramos

An American Language is a tour de force that revolutionizes our understanding of U.S. history. It reveals the origins of Spanish as a language binding residents of the Southwest to the politics and culture of an expanding nation in the 1840s. As the West increasingly integrated into the United States over the following century, struggles over power, identity, and citizenship transformed the place of the Spanish language in the nation. An American Language is a history that reimagines what it means to be an American—with profound implications for our own time.
About the Author
---
Rosina Lozano is Associate Professor of History at Princeton University.
Praise For…
---
"A well-written and -researched account of the complicated history of language in the United States and its relationship to power and people."
— History of Education Quarterly
"An outstanding contribution to historiography. It will become a standard reference on language in the American Southwest. Its wealth of primary sources and thematic interventions in a variety of topics brilliantly demonstrates just how much can be uncovered by a focus on that most basic of topics—language."
— Southwestern Historical Quarterly
"An American Language is not only an important book because the conflict over who gets to speak Spanish in the U.S. continues, but because Lozano does a thorough job at documenting and telling the history of Spanish in U.S. society. Lozano has made a significant contribution not only to the history of Spanish, but to language policy, politics, and planning. It is an asset to language rights advocates and pushes the boundaries of Spanish in the U.S. as a field of inquiry."
— Spanish in Context
"An American Language provides an original discussion of linguistic citizenship and offers insight into the historical racialization of Spanish-speakers. . . . Lozano skillfully garners archival sources to offer an insightful comparative analysis of the changing status of Spanish in the United States, and the role that Spanish-speakers—from treaty citizens to Chicanos—played in refusing second-class citizenship based on their use of Spanish."
— Journal of American History
"A sophisticated and intricate narrative about the foundational history of Spanish in the United States, as well as the history of ethnic Mexican U.S. citizens (treaty citizens, Mexican immigrants, and U.S.–born citizens of Mexican descent)."
— Journal of Arizona History
"Con este título la profesora Lozano hace una valiosa aportación al estudio de la historia de los hispanohablantes en el sur de los Estados Unidos, analizando su contexto político y social. La autora ha demostrado con este trabajo tan revelador que se pueden abrir nuevos caminos dentro de esa fructífera vía, aún poco investigada."
— Journal of the Association for Spanish and Portuguese Historical Studies
"Lozano has made a strong case for language as a tool for expressing power. . . . In sum, the author succeeds at illuminating the dynamic history of Spanish language rights in the United States. And, in the process she also offers an important corrective to the notion of a monolingual national politic."
— Latino Book Review
"An American Language has breadth and vision. . . . [and] the implications of its findings surely reach to our day."
— Latin American Research Review