Lone Women: A Novel (Hardcover)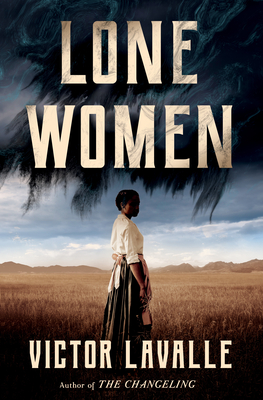 Staff Reviews
---
It is a phrase that may be overused, but let me tell you: I literally could not put this book down. The narrative is compelling and the characters are well-rounded and easy to root for. I am a sucker for historical fiction with a diverse cast, and Lone Women absolutely delivers on that front. Usually I expect a certain amount of anachronism when that happens, but LaValle did his research and it shows. Lone Women is a well-done tale of guilt, perseverance, and power.
— From
Bee's Picks
April 2023 Indie Next List
---
"This book was absolutely amazing. Adelaide is a superbly drawn protagonist. You feel for her and the growth of her character was beautiful to read. The novel reads like a wonderful character study, with a shade of horror mixed in."
— Trina Ortiz, Arts & Letters Bookstore, Granbury, TX
Description
---
NATIONAL BESTSELLER • Blue skies, empty land—and enough wide-open space to hide a horrifying secret. A woman with a past, a mysterious trunk, a town on the edge of nowhere, and an "absorbing, powerful" (BuzzFeed) new vision of the American West, from the award-winning author of The Changeling.

"Propulsive . . . LaValle combines chills with deep insights into our country's divides."—Los Angeles Times

ONE OF BOOKPAGE'S TEN BEST BOOKS OF THE YEAR 
A BEST BOOK OF THE YEAR: The New York Times Book Review, Time, NPR, The Washington Post, Chicago Public Library, Kirkus Reviews

Adelaide Henry carries an enormous steamer trunk with her wherever she goes. It's locked at all times. Because when the trunk opens, people around Adelaide start to disappear.

The year is 1915, and Adelaide is in trouble. Her secret sin killed her parents, forcing her to flee California in a hellfire rush and make her way to Montana as a homesteader. Dragging the trunk with her at every stop, she will become one of the "lone women" taking advantage of the government's offer of free land for those who can tame it—except that Adelaide isn't alone. And the secret she's tried so desperately to lock away might be the only thing that will help her survive the harsh territory.

Crafted by a modern master of magical suspense, Lone Women blends shimmering prose, an unforgettable cast of adventurers who find horror and sisterhood in a brutal landscape, and a portrait of early-twentieth-century America like you've never seen. And at its heart is the gripping story of a woman desperate to bury her past—or redeem it.
About the Author
---
Victor LaValle is the author of seven works of fiction: four novels, two novellas, and a collection of short stories. His novels have been included in best-of-the-year lists by The New York Times Book Review, Los Angeles Times, The Washington Post, Chicago Tribune, The Nation, and Publishers Weekly, among others. He has been the recipient of a Guggenheim Fellowship, an American Book Award, the Shirley Jackson Award, and the Key to Southeast Queens. He lives in the Bronx with his wife and kids and teaches at Columbia University.
Praise For…
---
"Enthralling . . . The combination of LaValle's agile prose, the velocity of the narrative and the pleasure of upended expectations makes this book almost impossible to put down . . . Lone Women deftly weaves history, horror, suspense and the perspectives of those rarely recorded in the West."—The New York Times

"Propulsive [with] a fast-paced plot—though I found myself gripped just as much by Adelaide's defiant, glorious stubbornness and guarded wit. Lone Women combines elements of Western fiction, horror and magical realism, while featuring queer, POC characters inventing lives for themselves in the last years of the American frontier. It's impossible to categorize and impossible to put down."—NPR, "Books We Love"

"LaValle populates his Western with an array of grotesques, killers, hypocrites, and sinners, but he also makes room for diversity that the genre has too long suppressed. It's a corrective to the founding myth of America, a book filled with bloodshed and pain, but always holding out for the hope of a happy ending."—Esquire, "Best Horror Books of 2023"

"LaValle gets coy in Lone Women, teasing us by trickling details that gradually reveal Adelaide's intricate connection to the creature. Meanwhile, he adroitly intertwines the eerie fairy tale with early 20th-century historical realism."—The Washington Post

"A blend of historical fiction and horror that you won't be able to put down."—The Root

Hold your breath as you read, but LaValle has built a brutal and compelling portrait of early-twentieth-century America that may just keep you up at night."—Chicago Review of Books

"In his new book, Lone Women, author Victor LaValle transports readers to the desolate plains of 1915 Montana . . . though it's set more than a century ago, this eerie story of a haunted would-be homesteader cobbling together a life she doesn't want to escape from feels both prescient and modern."—ESSENCE

"If you haven't read a LaValle novel, prepare to stock up. LaValle combines chills with deep insights into our country's divides."—Los Angeles Times

"[A] tense horror novel that'll have you flipping pages faster than you can say 'keep the lights on' . . . Lone Women is must-read fiction."—Reader's Digest

"Victor LaValle is one of the best . . . and Lone Women is an absolute page turner. It's a tale of hardship and strength and community, but also of the creeping quiet of the American Midwest, of loneliness, and the hauntings we cannot rid ourselves of."—Tordotcom

"Lone Women is a searing and unsettling mixture of historical detail, Western imagery, and terrifying twists and turns, from an author who continues to reinvent horror with every page."—CrimeReads

"Highly recommended for historical fiction readers just as much as die-hard horror fans."—Vulture

"LaValle's work is always darkly magical, suspenseful and deeply compelling. . . . [In] Lone Women . . . expect richness, surprise and beauty from this visionary new rendering of the historic American West."—Salon

"The novel is, in a word, delightful, and whether or not it is the first Victor LaValle book you pick up, it most certainly won't be your last."—LitReactor

"Let me tell you this about Victor LaValle: he is a man we can trust. I won't give anything else away, but I will say that I loved the ending. Two thumbs up."—Emma Straub

"An expert at suspense, LaValle is at his best in the American West's untamed wilds."—People

"[A]  tightly written horror novel . . . This is such an absorbing, powerful horror novel with one of the best endings I've read in a while."—Buzzfeed

"Some books, special books, have a narrative style that grab the reader by the throat while whispering the words of angels in the ear . . . Lone Women [is] such a fine read, one that will stick in readers' memories long after the book is closed."—Cemetery Dance

"The author of The Changeling transforms genre in an arresting blend of history, horror, and suspense, showcasing a Black woman's odyssey through the American West at the beginning of the 20th century."—Oprah Daily