Small Spaces (Small Spaces Quartet #1) (Paperback)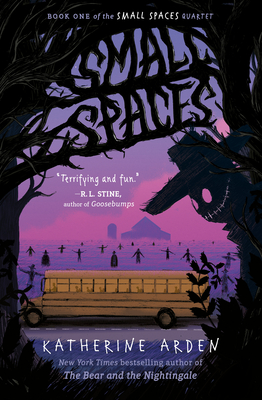 Other Books in Series
This is book number 1 in the Small Spaces Quartet series.
Description
---
New York Times bestselling adult author of The Bear and the Nightingale makes her middle grade debut with a creepy, spellbinding ghost story destined to become a classic. Now in paperback.

After suffering a tragic loss, eleven-year-old Ollie who only finds solace in books discovers a chilling ghost story about a girl named Beth, the two brothers who loved her, and a peculiar deal made with "the smiling man"—a sinister specter who grants your most tightly held wish, but only for the ultimate price.
Captivated by the tale, Ollie begins to wonder if the smiling man might be real when she stumbles upon the graves of the very people she's been reading about on a school trip to a nearby farm. Then, later, when her school bus breaks down on the ride home, the strange bus driver tells Ollie and her classmates: "Best get moving. At nightfall they'll come for the rest of you." Nightfall is, indeed, fast descending when Ollie's previously broken digital wristwatch begins a startling countdown and delivers a terrifying message: RUN.
Only Ollie and two of her classmates heed these warnings. As the trio head out into the woods—bordered by a field of scarecrows that seem to be watching them—the bus driver has just one final piece of advice for Ollie and her friends: "Avoid large places. Keep to small."
And with that, a deliciously creepy and hair-raising adventure begins.
About the Author
---
Katherine Arden is the New York Times bestselling author of the Winternight trilogy and the Small Spaces quartet. In addition to writing novels, she enjoys aimless travel, growing vegetables, and running wild through the woods with her dog. She lives in Vermont.
Praise For…
---
Praise for Small Spaces:
★ ★ ★ Three Starred Reviews
22 State Awards
A Kirkus Best Book of 2018 – Middle-Grade
A Publishers Weekly Best Book of 2018 – Middle-Grade
A Chicago Public Library's Best of the Best Books of 2018
An Amazon Best Book – October 2018
A CCBC Choices List Pick – 2019
An ALA Notable Children's Book – 2019

★ "Atmospheric horror at its best. Chillingly tender." —Kirkus, starred review 

★ "With a tantalizing pace and palpable suspense, all nicely grounded in realistic emotions, this well-wrought spine-tingler is destined to be a hit (just make sure the lights stay on)." —Booklist, starred review

★ "Riveting…The story moves at a good pace with just enough clues to keep the reader intrigued and guessing." —School Library Connection, starred review

"Is it a mystery? A fairy tale? A horror thriller? As the suspense gripped me, I just wanted to know one thing—WHAT HAPPENS NEXT? Terrifying and fun." —R. L. Stine, author of the Goosebumps and Fear Street series
 
"The perfect book to be read by firelight during a chilly autumn evening—though you might find yourself inching closer to the light as the story nears its terrifying conclusion. Katherine Arden is a gifted storyteller with a wicked imagination!" —J. A. White, author of The Thickety series and Nightbooks

"This book scared the snot out of me. Fast-paced and spine-tinglingly delightful. I defy you to read the first two chapters without staying up the rest of the night to finish. You've been warned!" —Jonathan Auxier New York Times bestselling author of The Night Gardener

"This supernatural thriller [is] a page-turner, but it's Ollie's journey through grief and into friendship that makes it memorable." —The Horn Book Magazine
 
"A winning combination of thrills, chills, humor, and heart. Hand to fans of Holly Black's Doll Bones and readers who enjoy the works of Mary Downing Hahn and Jonathan Stroud." —The School Library Journal

"Arden…shrouds her Halloween-time story in autumnal mists, introducing a…cast of ominous figures, from ghosts to shapeshifters and scarecrow minions. Ollie is a relatable heroine who finds strength through trusting in friendship, while her ghostly adventures lead her to learn an important truth: sometimes, the best way to honor the memory of a loved one is by moving forward, bravely, and with love." —Publishers Weekly

" The novel's menacing fantasy world of centuries-old ghosts and children being turned into scarecrows is provocative enough, but explicit references to Narnia, Wonderland, and Cerberus of Hades make for a smart and moving account of how stories may transport but grief and loss still take a lot from us." —BCCB

"In her first book for young readers, the author of adult best-seller "The Bear and the Nightingale" offers a sublimely creepy tale with middle-school drama, spooky fairytale references, a heart-stopping finale—and a poignant tale of mother and daughter love at its heart." —The Buffalo News

"For a fully fearful adventure, pick up this . . .chilling ghost story . . . certain to keep even the bravest readers up until the sun comes up." —B&N Reads