I Am, I Am, I Am: Seventeen Brushes with Death (Hardcover)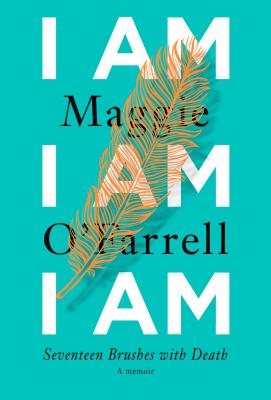 Staff Reviews
---
O'Farrell is such a good writer; her novels, some of my favorites of all time. And this new memoir is extraordinary. Hard to imagine 17 brushes with death in one lifetime but she has had them. The stories are paired with anatomical picture of the part of the human body impacted by the story and those are lovely as well. She unzips herself, lets us look inside to those deep intimate places and then partially zips up again allowing the reader to reflect and identify with the emotions and often terror she felt. We all have had brushes with death but probably didn't have the gall or ability to tell our stories in such a beautiful, heartfelt way.
—
Gayle
February 2018 Indie Next List
---
"Maggie O'Farrell's memoir left me breathless and heart-sore. There were times I literally had a fist to my own heart in sympathy. The encounters told according to each limb or organ is a genius device; it is as though each distinct part of her body had its own voice and wanted my sole attention. Even the spaces of years between each event were full of meaning and nuance. This is one of the most mesmerizing memoirs I have ever read. The breadth and scope of Maggie's 17 brushes with death left me gasping for air, and her strong voice is indelible: There is no victim here, and life is to be treasured but not treated too delicately."
— Maeve Noonan, Northshire Bookstore Saratoga, Saratoga Springs, NY
Description
---
"I Am I Am I Am is a gripping and glorious investigation of death that leaves the reader feeling breathless, grateful, and fully alive. Maggie O'Farrell is a miracle in every sense. I will never forget this book."
—Ann Patchett

An extraordinary memoir—told entirely in near-death experiences—from one of Britain's best-selling novelists, for fans of Wild, When Breath Becomes Air, and The Year of Magical Thinking.

We are never closer to life than when we brush up against the possibility of death.

I Am, I Am, I Am is Maggie O'Farrell's astonishing memoir of the near-death experiences that have punctuated and defined her life. The childhood illness that left her bedridden for a year, which she was not expected to survive. A teenage yearning to escape that nearly ended in disaster. An encounter with a disturbed man on a remote path. And, most terrifying of all, an ongoing, daily struggle to protect her daughter--for whom this book was written--from a condition that leaves her unimaginably vulnerable to life's myriad dangers.
Seventeen discrete encounters with Maggie at different ages, in different locations, reveal a whole life in a series of tense, visceral snapshots. In taut prose that vibrates with electricity and restrained emotion, O'Farrell captures the perils running just beneath the surface, and illuminates the preciousness, beauty, and mysteries of life itself.
About the Author
---
Born in Northern Ireland in 1972, MAGGIE O'FARRELL grew up in Wales and Scotland and now lives in London. She has worked as a waitress, chambermaid, bike messenger, teacher, arts administrator, and journalist in Hong Kong and London, and as the deputy literary editor of The Independent on Sunday. Her debut novel, After You'd Gone (2000) won a Betty Trask Award and was followed by My Lover's Lover (2002); The Distance Between Us (2004), winner of a Somerset Maugham Award; The Vanishing Act of Esme Lennox (2006); The Hand That First Held Mine (2010), winner of the Costa Novel Award; Instructions for a Heatwave (2013), and, most recently, This Must Be the Place (2016).
Praise For…
---
As Heard on Fresh Air
Amazon's Best Picks for February

"I Am I Am I Am is a gripping and glorious investigation of death that leaves the reader feeling breathless, grateful, and fully alive. Maggie O'Farrell is a miracle in every sense. I will never forget this book."
—Ann Patchett

"It takes a deft storyteller to alternate between charming and terrifying on the page but here it is, a set of linked stories that play with that most curious fact: that we experience life's joys and losses in the context of a mortal vessel. I would follow Maggie Farrell anywhere, even to the edge of death seventeen times."
—Kelly Corrigan, New York Times bestselling author of The Middle Place, Glitter and Glue and Tell Me More
 
"Heart-stopping... Genius... Maggie O'Farrell turned 17 near-death experiences into a literary masterwork "
—Entertainment Weekly
 
"With stunning language and inventiveness, Maggie O'Farrell unpacks these moments...so brilliantly, uncovering in the particulars of each those shining, universal experiences, that they are a pleasure to read. And, indeed, difficult to stop reading... There are echoes of Virginia Woolf not just in the rhythm of the prose but also in its dreamlike immediacy. The effect, ingeniously, is of a life told through the gaps, those near misses, on the eluding of which the rest of life hangs." 
—The Wall Street Journal

"As its title suggests, [I Am, I Am, I Am's] pounding pulse is ultimately life-affirming. It's an extraordinary book, a reminder that while life has its limits and can be unpredictable, we should push against limitations and not give in to fear. It is also, like O'Farrell's seven intricately constructed, blissfully absorbing novels, full of surprises."
—NPR

"This intense, unsparing memoir is less about death than about chance, risk and the gift of another day."
—People Magazine

"A page-turner of a memoir . . . . O'Farrell describes in beautiful prose her many near-death experiences, at once demonstrating the fragility of life—and its preciousness."
—Elle Magazine "New and Noteworthy" (March 2018)

"Gripping…this breathtaking memoir weaves together the author's near-death experiences to create a fully realized picture of what it means to fully live a life… O'Farrell's memoir contemplates not just the frailty of life, but the fortitude of the human spirit in the face of it all."
—Bustle

"[I AM, I AM, I AM is] impossible to miss."
—Paste / 10 of the Best Books of February

"Bold... clever and poignant, thought provoking and deeply affective."
—Goop

"Her stories are harrowing, but the purpose of these essays is not to frighten. It is to affirm. She did not die; she lived through all of these experiences and now recounts each one in vivid, fully alive detail — remembering the feeling of the wind in her hair, the roughness of the grass, the jolt of the plane, the sharpness of the machete."
—Minneapolis-Star Tribune

"Not a single false moment...What makes this memoir so fine, so special, is not just the power of these brushes with death, but her examination of them...The book is quite intimate in all senses of the word—physically, psychologically, mentally, and emotionally. There is something truly generous about her style. Reading this memoir is like being taken further and further through the layers of a human life down to some mysterious core from which all meaning emanates. It shows us what it means to be vulnerably alive, to digest the seemingly indigestible fact of our mortality. This is a memoir to be cherished."
—The Rumpus

"Astounding…awe-inspiring…a tour de force"  
—Booklist, starred review


Praise from the UK:


"A rich celebration of every breath O'Farrell has taken."
—The Independent
 
"Where other writers may be playing with paper, O'Farrell takes up a bow and arrow and aims at the human heart."
—The Times
 
"Extraordinary… uncomfortable and compelling – a page turner… Fluent, poised, packed with colourful details. Her prose seems invulnerable. It has the sheen of fiction."
—Guardian, Book of the Month, August 2017 
 
"O'Farrell emerges as determined, loyal, fierce and stoic; not to be messed with… The message is that we must live in the moment, finding joy and freedom where we can, but O'Farrell writes so convincingly about the peril that each episode just serves as another detailed, technicolour reminder that we, and more terrifyingly, our loved ones, are only ever one bad decision, faulty choice or sliver of ill-fortune away from catastrophe. This is a mesmerising read."
—Sunday Times 
  
"O'Farrell has a compelling and arresting writing style that fills in a scene quickly and engagingly, to great dramatic and narrative effect… It is heady, engaging stuff – a bristling, rollercoaster of a read."
—New Statesman
  
"Electric… Astonishing… Should be read by everyone… Affecting: wise, terrifying, vital and important… I can count on one hand the books that made me cry and still have two fingers spare. I Am, I Am, I Am is one of them."
—Irish Times
Coverage from NPR