Deep State: Trump, the FBI, and the Rule of Law (Hardcover)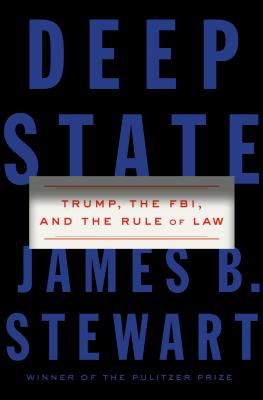 Description
---
"Important and stunning. This is must-read material if you want to understand what the Trump administration is still up to right now." --Lawrence O'Donnell

From bestselling author James Stewart, the definitive story of the war between President Trump and America's principal law enforcement agencies, answering the questions that the Mueller report couldn't – or wouldn't

When Trump fired James Comey, he triggered the appointment of Robert Mueller as an independent special counsel and caused the FBI to open a formal investigation into the President himself. This set in motion a chain of events, which would join in unprecedented and potentially mortal combat two vital institutions of American democracy: the Presidency and the Federal Bureau of Investigation, the investigative arm of the Department of Justice.

The stakes could not be higher: the rule of law itself, the foundation of the American constitution and Anglo-American democracy for centuries. In this epic battle, there is no room for compromise. There can only be winners and losers, to invoke a distinctly Trumpian view of the world. But there is plenty of room for collateral damage. The reputations of both sides have already been harmed, perhaps irrevocably, and at great cost to American democracy and its institutions.

Drawing on scores of interviews with key FBI, Justice Department, and White House officials, and voluminous transcripts, notes, and internal reports, Stewart tells the dramatic saga of the FBI and its simultaneous investigations of both Hillary Clinton and Donald Trump – the first time in American history the FBI has been thrust into the middle of both parties' campaigns for the Presidency. Packed with drama and a cast of fascinating characters, Deep State goes where others cannot, revealing the truth of the grand and world-changing struggle that has defined the Trump presidency.
About the Author
---
James B. Stewart is the author of Heart of a Soldier, the bestsellers Blind Eye and Blood Sport, and the blockbuster Den of Thieves. He is currently a columnist for the New York Times and a professor at Columbia Journalism School, and in 1988 he won a Pulitzer Prize for his reporting on the stock market crash and insider trading.