You Were Never Really Here (Movie Tie-In) (Paperback)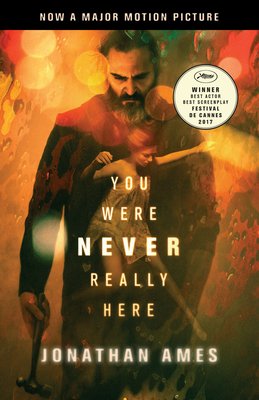 $10.95

Not Available In-Store - Usually Ships from Warehouse in 1-5 Days
Staff Reviews
---
This book is direct and brutal, like a hammer blow to a soft-target. And, as the protagonist Joe is described, it is without a single ounce of fat. Ames utilizes the 97-page length masterfully, I read it in no more than a few hours and it left me shook. The protagonist is Joe, a gun-for-hire who suffered childhood abuse and PTSD from his service in the Gulf War and the FBI's human trafficking division thereafter. He specializes in locating abducted young girls, extracting them, and exacting vengeance on their abductors, with his choice weapon, a hammer. The risk in a book like this is that it will devolve into a crass celebration of violence or a revenge fantasy. But on the contrary the book is about the explosive and horrific consequences of violence, in particular abuse; whether it be physical abuse, psychological abuse, or abuse of power. And Joe is the living manifestation of these consequences. — From Salvatore's Picks
Description
---
Now a major motion picture starring Joaquin Phoenix, You Were Never Really Here is a gritty, harrowing story of corruption and one man's violent quest for vengeance.

Joe has witnessed things that cannot be erased. A former FBI agent and Marine, his abusive childhood has left him damaged beyond repair. He has completely withdrawn from the world and earns his living rescuing girls who have been kidnapped into the sex trade.

When he's hired to save the daughter of a corrupt New York senator held captive at a Manhattan brothel, he stumbles into a dangerous web of conspiracy, and he pays the price. As Joe's small web of associates are picked off one by one, he realizes that he has no choice but to take the fight to the men who want him dead.

Brutal and redemptive in equal measure, You Were Never Really Here is a toxic shot of a thriller, laced with corruption, revenge and the darkest of inner demons.
About the Author
---
Jonathan Ames is the author of the novels I Pass Like Night, The Extra Man, Wake Up, Sir!, the graphic novel The Alcoholic (illustrated by Dean Haspiel), the novella You Were Never Really Here, and the essay collections What's Not to Love?, My Less Than Secret Life, I Love You More Than You Know, and The Double Life Is Twice as Good. He is the editor of Sexual Metamorphosis: An Anthology of Transsexual Memoirs and has been awarded a Guggenheim Fellowship. He is also the creator of two television shows: the HBO series Bored to Death and the STARZ series Blunt Talk. His novel The Extra Man was made into a film starring Kevin Kline, and You Were Never Really Here has also been adapted for the screen, starring Joaquin Phoenix.
Praise For…
---
Praise for You Were Never Really Here

"Brutal, unrelenting, and utterly compelling. . . . This white-hot short novel blasts through its 100 pages like a fireball stampeding through a tunnel."
—Booklist

"Evocative. . . . Ames pulls no punches in his buildup to a grim conclusion that Jim Thompson devotees will appreciate." 
—Publishers Weekly (starred review)

"Ames is an adept purveyor of the very noir, particular scenes of violence. He achieves more in less than 100 pages than most crime novels three times the length do"
—The Times, Crime Books of the Year 2016

"A striking and powerful noir debut that can be consumed in a single sitting. . . . Ames reveals himself here as a stylish thriller writer"
—Daily Mail

"[A] fast-moving, agreeably violent and perfectly pared-down novella"
—Spectator