Water: A Biography (Paperback)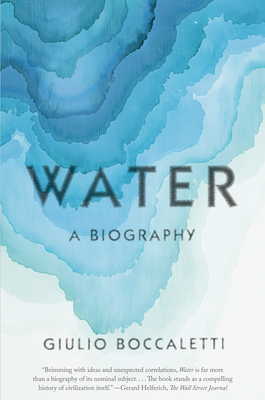 Description
---
Spanning millennia and continents, a revealing history that "tackles the most important story of our time: our relationship with water in a world of looming scarcity" (Kelly McEvers, NPR Host). 

"Far more than a biography of its nominal subject ... The book stands as a compelling history of civilization itself." —The Wall Street Journal Book Review
 
Writing with authority and brio, Giulio Boc­caletti—honorary research associate at the Smith School of Enterprise and the Environment, Univer­sity of Oxford—shrewdly combines environmental and social history, beginning with the earliest civ­ilizations of sedentary farmers on the banks of the Nile, the Tigris, and the Euphrates Rivers. Even as he describes how these societies were made possible by sea-level changes from the last glacial melt, he incisively examines how this type of farming led to irrigation and multiple cropping, which, in turn, led to a population explosion and labor specialization.
 
We see with clarity how irrigation's structure informed social structure (inventions such as the calendar sprung from agricultural necessity); how in ancient Greece, the communal ownership of wells laid the groundwork for democracy; how the Greek and Roman experiences with water security resulted in systems of taxation; and how the modern world as we know it began with a legal framework for the development of water infrastructure.
 
Extraordinary for its monumental scope and piercing insightfulness, Water: A Biography richly enlarges our understanding of our relationship to—and fundamental reliance on—the most elemental substance on earth.
About the Author
---
GIULIO BOCCALETTI is a globally recognized expert on natural resource security and environmental sustainability. He is an honorary research associate at the Smith School of Enterprise and the Environment, University of Oxford. Trained as a physicist and climate scientist, he holds a doctorate from Princeton University, where he was a NASA Earth Systems Science Fellow. He has been a research scientist at MIT and was a partner at McKinsey & Company, where he was one of the leaders of its Sustainability and Resource Productivity Practice, and the chief strategy officer and global ambassador for water at The Nature Conservancy, one of the world's largest environmental organizations. Boccaletti frequently writes on environmental issues for the news media, including Project Syndicate and The Guardian, and is an expert contributor to the World Economic Forum. His work on water has been featured in the PBS documentary series H2O: The Molecule That Made Us. He lives in London.
Praise For…
---
"Brimming with ideas and unexpected correlations, Water is far more than a biography of its nominal subject . . . The book stands as a compelling history of civilization itself."—The Wall Street Journal Book Review
 
"This is one of the most ambitious books that I've read in a long time. It is both deep and broad."—NPR, All Things Considered
 
"[A] wonderfully detailed account of humankind's relationship with water . . . During this time of accelerated population growth, climate change, and political instability, Water is essential reading."—Booklist
 
"A renowned expert on natural resource security and environmental stability, lending Water a pressing, historically fascinating, and informative arc . . . Water, the book, is a smart new chapter on the same subject that turned Joan Didion's head toward the Hoover Dam."—Sloane Crosley, Departures

"A fascinating analysis that will bridge the interests of environmentalists and historians, political scientists, or economists."—Library Journal

"Boccaletti brilliantly traces the history of how human civilization has been shaped by its attempts to control water for economic and societal benefit. As the impacts of climate change become clearer, policymakers the world over would be well-served to recognize water as a public good, respecting the importance of this invaluable, shared resource to our very survival."—Sally Jewell, U.S. Secretary of the Interior 2013-17
 
"Provides essential reading for those seeking to explore how humanity's relationship with nature has influenced the development of legal and political systems and offers invaluable insights into current debates surrounding climate change and sustainability. I couldn't recommend it more highly." —Lee C. Bollinger, President and Seth Low Professor of the University, Columbia University

"Giulio Boccaletti's book is a remarkable achievement: a readable history of the world, seen through the history of water management. He shows, with clarity and erudition, how this is in reality a political, not a technological issue. Throughout history, humans have tried to conquer water, but water always wins; and it would be better for humanity if we realised it. The book is a real tour de force; it should be essential reading for every politician, as well as the rest of us." —Chris Wickham, Chichele Professor of Medieval History, University of Oxford

"A masterly, compelling history of the relationship between society and water. It weaves politics, history, and science in a riveting narrative that spans millennia. Giulio Boccaletti has spent years working on water issues at the highest level and it shows. This is a monumental work, which is a must read for anyone wanting to understand the role of water in human history." —Peter Brabeck-Letmathe, Chairman Emeritus, Nestlé Group
 
"A leading expert has now shown us he's also a great storyteller. Giulio Boccaletti tackles the most important story of our time: our relationship with water in a world of looming scarcity."— Kelly McEvers, NPR Host
 
"Giulio Boccaletti makes a strikingly original and persuasive case that the history of human civilization can be understood as a never-ending struggle over water. Boccaletti's command of a vast range of material, across time and space, is astonishing." — Nicholas Lemann, Joseph Pulitzer II and Edith Pulitzer Moore Professor of Journalism, Columbia University.
 
"It was an inspired idea to write a 'biography' of water and Giulio Boccaletti has carried it off in style. His book is impressively global in scope. It ranges from the earliest human societies to questions of water security in our own time, combining bold lines of argument with compelling examples. Ambitious, assured and very well written, Water: A Biography is an impressive and very welcome addition to the literature." —David Blackbourn, Cornelius Vanderbilt Distinguished Chair of History, Vanderbilt University.
 
"In this deeply researched and vivid story, Giulio Boccaletti deftly reveals how the struggle to master water is also the root of all organized society. From antiquity to today's precipice of water scarcity, he spins a dramatic, sweeping story that forces the reader to reappraise all of human history through a water lens. A transformative, dramatic and revelatory tale of how our struggle to master water defines us as humans." —John Bredar, Vice-President for National Programming, WGBH
 
"What makes this fascinating book stand out from other accounts of how water has shaped human history across the ages is Boccaletti's brilliant and nuanced treatment of the political and economic dimensions of water's role in history. The breadth and substance of the narrative are outstanding. The book is a tour de force!" —Michael Hanemann, Julie A. Wrigley Chair in Sustainability, Arizona State
 
"The story of Water is our story. Giulio Boccaletti takes us on an extraordinary journey through water history, from the retreating glaciers of the ice age which shaped the landscape and the livelihoods of local communities, to the emergence of nation states and the industrialised world, presided over by democrats, despots and dreamers. This book is a cautionary tale for our times" —Alan Yentob, BBC Producer and Presenter
 
"As humanity strays across planetary boundaries, Boccaletti's political biography of water is essential reading. This bold and ambitious saga offers important lessons and instils humility in the reader, both of which we need as we face the dangers of increasing pressure on nature, climate change, and corrosive inequality." —Rachel Kyte, Dean, The Fletcher School, Tufts University
 
"A dazzling tale spanning millennia, geography, science, and human civilizations, that is more than the story of water. It is a story of ideas and institutions; of tensions between individual enterprise and collective action; of human needs and planetary dynamics. I am astonished at its breadth, depth, and scholarship, at once encyclopaedic yet also highly readable." —Lynn Scarlett, Chief External Affairs Officer, The Nature Conservancy
 
"Magisterial.  Boccaletti has pinned down our complex relationship with our most vital resource. We live, like the ancients, in a hydraulic civilization – one determined to a remarkable degree by where and when we can find water.  As he reveals with startling clarity, we face a water crisis as profound as our climate crisis.  The fate of the Anthropocene hangs on the fate of water." —Fred Pearce, author of When The Rivers Run Dry
 
"Excellent. Boccaletti takes the reader on a polyglot tour de force that shows how the flow of human history, economics and geopolitics is utterly connected to the constant blue thread of our need for water. Water A Biography poses challenging questions about how best to secure our water future and, as a result, ensure our very existence." —Dominic Waughray, Managing Director, World Economic Forum

"Water could have no better biographer than Giulio Boccaletti who takes us on a fascinating journey, telling the story of how humanity's interactions with this most precious resource have shaped our history, our present, and will define our future.  Brilliant and enlightening." —Eric D. Beinhocker, Professor, Blavatnik School of Government, University of Oxford
 
"A tour de force world history focused on water and how we use it . . . Ingenious"—Kirkus Reviews (starred)